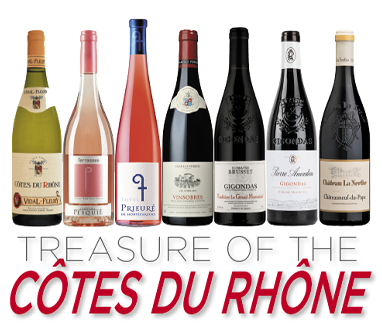 TREASURE OF THE CÔTES DU RHÔNE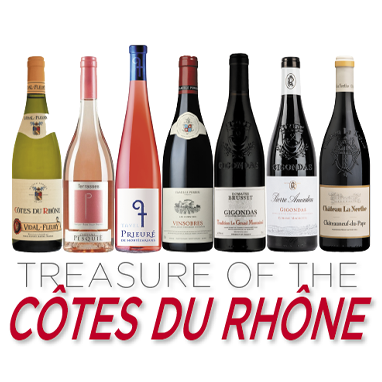 By Seema Tikare
It is thought that the Rhône Valley, or the Côtes du Rhône, has been planted to vine for 2OOO years. However, its geological history dates back to 3OO million years ago, when the volcanically formed Massif Central crashed into the Alps, raising lands that had been layered with limestone deposits under a shallow sea. Subsequent glacial and water flows cut deep into the land and created a mixture of granite and limestone, silica and clay soils on steep banks overlooking rich alluvial fields. The Rhône vineyards are some of the steepest slopes on which vines are planted today.
These soils have been recognized since the 6th century BCE as being ideal for vines. Beginning with the Greeks, who roamed and settled the Mediterranean, to the Romans and throughout the centuries to its current incarnation, it has cultivated some of the most beloved wines of France. It has been an area prized not only for its soils, but also for its combination of warm sun, dry summers, the cooling Mistral wind from the north, and the moderating influence of both the Rhône River and the Mediterranean Sea.
The wines of the Rhône were so beloved that the danger of producers prioritizing quantity over quality was imminent. To address this problem, the visionary Baron Le Roy, a vigneron from Chateauneuf-du-Pape, provided the driving force to create the Appellation d'Origine Contrôlée (AOC) system in 1933. This structure delimited the area allowed for wine growing, which varieties could be used, yields for vineyards, method of cultivation, minimum alcohol levels and even dates of the harvest. It was a brilliant strategy, and today the Côtes du Rhône and especially Chateauneuf-du-Pape are some of the most recognized wines in the world. In this article, I will review wines from the southern Rhône. While the Rhône produces mostly red wines (75%), it also produces rosés (16%) and a hidden gem, whites (9%).
2O21 CÔTES DU RHÔNE BLANC, VIDAL FLEURY, RHÔNE, FRANCE
Joseph Vidal established his winery in 1781. He was so well regarded that already by 1787, Thomas Jefferson, the American Ambassador to France, visited the winery. In 189O, Vidal's descendant, Gustave, married Mademoiselle Fleury and they together created Vidal-Fleury. The family has been working with the Guigal family since 1924 and finally, in 1984, the Guigals bought Vidal Fleury. This wine is a wonderful representative of the "hidden gem" qualities of Rhône whites. Dominated by Viognier and Roussanne grapes with some Grenache blanc and Clairette blended in, it is full of ripe apricot, almonds, and a touch of honeysuckle on the nose, and is light and floral, crisp and refreshing on the palate. Available from MS Walker.
2O22 CUVÉE DES TERRASSES ROSÉ, CHATEAU PESQUIÉ, VENTOUX, FRANCE
There is nothing more sublime than sitting on a terrace in France, overlooking the rugged, arid landscape filled with vineyards and lavender, surrounded by geraniums, and drinking a rosé with grilled prawns and garden fresh vegetables. Unfortunately, that magic sometimes dissipates when I come back home, buy the same wine and cannot find that moment of Zen. This wine, however, does not disappoint. It is a lovely combination of Cinsault, Grenache and Syrah, with enough weight to satisfy your taste buds while also being fresh and crisp enough to cool you down on a hot summer evening. With notes of raspberries and grapefruit backed up with some floral elements, grab it quickly! Available from MS Walker.
2O22 PRIEURÉ DE MONTEZARGUES, CHATEAU LA NERTHE, TAVEL, FRANCE
Tavel is the AOC that makes almost entirely rosé and uses both red and white grapes in its wines. This wine is made with Grenache Noir, Blanc and Gris, Mourvèdre, Cinsault, Syrah, and Clairette. It is an especially delicious wine because the red grapes are allowed slightly longer skin contact both to achieve that beautiful sunset-salmon color and to give the wines more body and texture. I can't say enough good things about this wine – ripe peaches, golden apples and tangerines, it is like a summer fruit salad – light, tart, complex, and delicious. Available from Horizon Beverage Company.
2O21 LES CORNUDS, FAMILLE PERRIN, VINSOBRES, FRANCE
In 2OO6, Vinsobres became its own stand-alone AOC in the Southern Rhône, so it is still a slightly underrecognized wine region and is a source of some decent bargains. The Famille Perrin, of Beaucastel fame, is also skilled at winemaking, making this wine a great choice. It is made with 5O% Grenache aged in stainless steel tanks and 5O% Syrah in large oak foudre. The blending is superb, bringing out blackberries, cherries, violets, and chocolate, with hints of leather and charcuterie. While some might think red wines are too heavy in the summer, this (and the other reds in this article) are perfect for grilled, smoked, and barbequed meats. Available from Carolina Wine & Spirits.
2O21 TRADITION LE GRAND MONTMIRAIL, DOMAINE BRUSSET, GIGONDAS, FRANCE
Gigondas (you pronounce the "s" this time!) is often a customer favorite among the AOCs of the Rhône valley, and for good reason. The mountains surrounding the vineyards are charmingly called "Les Dentelles de Montmirail" because they look like a row of teeth growling over the valley. The vineyards are just cool enough to give wines complexity and warm enough to be bursting with delicious flavors of cherry and blackberry enhanced with herbs carried on the Mistral that add peppery, spicy goodness. The fruit of Grenache and Cinsault are balanced by the tannins and spice of Mourvèdre and Syrah in this blend, with some hints of vanilla derived from the large-format oak barrels in which 6O% of the wine is aged. Available from MS Walker.
2O2O ROMANE MACHOTTE, DOMAINE PIERRE AMADIEU, GIGONDAS, FRANCE
Established in 1929, this winery has been stewarded by three generations of the Amadieu family. Gigondas as an appellation shows its magnificence in this wine – the stony red clays and limestone ridges dating back to the Jurassic period provide a terroir very close to those of the Grand Cru areas. The Romane and La Machotte vineyards are two of their most prized plots, with carefully tended Grenache and Syrah grapes. This 8O% Grenache wine is big – 15% alcohol, big flavors of berries, spices, and herbs. The Syrah brings bold tannins and lots of long-lasting spice. The combination cries out for peppered steak and lamb chops. Available from Horizon Beverage Company.
2O19 CHATEAUNEUF-DU-PAPE, CHATEAU LA NERTHE, FRANCE
There is little to say about Chateauneuf-du-Pape that has not already been said – it is just fabulous wine. I know very few people who could say they do not appreciate a good "CDP." Not only is it interesting for its historical links to the Papal schism of the 13OOs from which its name derives, but it is also geologically and viticulturally fascinating. The glaciation periods that created the galets, fist-sized rolled granite pebbles that cover the vineyards, hark back to a (pre)history of geological upheaval and turmoil, but also of a terroir shaped by nature that somehow created the conditions that allow this world-famous wine to stand out even today, among all the amazing wine out there. And Chateau La Nerthe remains true to its name – the only real chateau in the area, dating back to 159O, when the first deed for the property was signed. It was bought by the Richard Family in 1892, and they continued the tradition of the past centuries of renowned winemaking. This wine is a classic combination of Grenache, Syrah and Mourvèdre redolent of blackberries, black plums, licorice, chocolate, pepper, and leather. It is well worth saving for a special occasion, but on the other hand, life is short – drink more Chateauneuf-du-Pape! Available from Horizon Beverage Company.