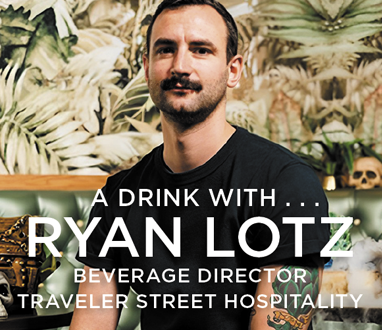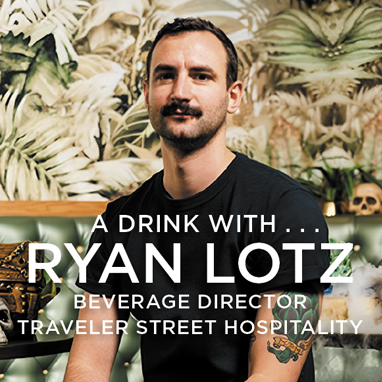 By Maia Merrill Gosselin
Ryan Lotz is a veritable force of nature. With four busy restaurants under his purview, he'd have to be. On any given day you might find the upbeat and energetic beverage director running a staff meeting at brasserie Black Lamb, developing cocktails with the bar team at tropical-themed Shore Leave, tasting sake for sushi restaurant No Relation or planning wine dinners at Italian eatery Bar Mezzana (all South End-centric). And then of course there are all the other responsibilities that come with the role of being a beverage director, from training staff to working with vendors to wine list development. For most of us mere mortals it's exhausting just contemplating it but for Ryan, it's all in a day's work.
Like so many of his industry brethren, Ryan's path in this business was anything but direct. A native of Staten Island, he originally moved to Boston in 2OO5 to attend BU and study art history. But a job working at Lineage under Chef Jeremy Sewall in Brookline led to the realization that this was something he could pursue as a long-term career. He made the decision to go "all in" and got to work. It didn't take long for Ryan to establish himself as a bartender and develop a following. Of course, there's so much more to working the bar than mixing up drinks. Ryan has the right combination of a great personality, vast knowledge of cocktail culture and a tireless work ethic although he is quick to note that he had the benefit of learning from some of the industry's most renowned mixologists. It didn't take long for Ryan to find success. Over the years, he's worked at such venerable establishments as The Hawthorne and No. 9 Park, which eventually led him to Traveler Street Hospitality. In fact, he was recently named BOSTON MAGAZINE's Best Beverage Director 2O23. Quite an accolade! I caught up with Ryan to discuss life as a busy beverage director of four restaurants (and partner at two of them), get his take on the greater Boston scene and hear about some of those invaluable mentors who guided him along. Humble and appreciative, he is clearly a natural leader with a flair for the business. It's not hard to see why he's considered one of the best of the best!
MAIA GOSSELIN You originally came to Boston to study art history but the call of the biz is hard to ignore! When did you realize that working in the on-premise, and specifically with beer, wine and spirits, was the future for you?
RYAN LOTZ I can't take full credit for this realization to be honest! Chef Jeremy Sewall, while I was working for him (at Lineage in Brookline), noticed that I really enjoyed being in the front-of-house and nudged me in that direction. He was right! I just took to it and really enjoyed it. I loved teaching other folks how to bartend, and over time I grew to love managing and mentoring people. Having come from an art history background, caring about the products and things I was serving and their cultural history and significance just sort of came naturally.
MG With four distinctly unique beverage programs under your direction, what does an average (if there is such a thing) day for you entail?
RL It definitely depends! There are days when I work the floor of the restaurant but more often than not, my days involve a few meetings where we talk about how things are going and what we can improve on, checking if any of our teams need a little more help and attention. Lots of research and planning for things like menu changes or special events. Most days I've probably got a tasting or two whether it's new wines or if we're working on new cocktails for the bars.
MG You have achieved notable success in your career, congratulations! What inspires you to continue to learn and be challenged?
RL Thank you! I just love this industry! Hospitality is so special and you get to use such a unique but diverse set of skills. I really enjoy taking care of people and in particular at this point I think I mostly love teaching and helping my teams learn and grow. The passion that they bring to work every day is certainly a continuing inspiration.
MG From The Hawthorne to No. 9 Park, you've worked at some of Boston's most iconic spots and built notable programs over the years. What are you the proudest of?
RL I can't say I'm more or less proud of anything really — it's all been pretty amazing. Lineage being my start was the most unexpected in that there was no real reason for it to have become a thing. But we treated that bar like our own little cocktail Field of Dreams and it came up out of nowhere. It was just one or two people besides myself and the owners had no business letting some 21-year-old change their whole bar but it worked! Opening the Hawthorne was a whirlwind. Being trusted to manage the bar program at No. 9 Park which had some real legends before me was amazing, and everything I've done with Traveler Street Hospitality has been beyond my wildest dreams. All that said, I'd say I'm the most proud of the relationships I've been able to foster with guests, mentors and colleagues. The beverage industry is such a great community and I feel lucky to continually be welcomed with such open arms.
MG You definitely keep things interesting and innovative at the restaurants. Describe some of the unique programs and events you put on through the year and how you conceived of them.
RL Really they're just inspired by things I enjoy or things our staff enjoy. Italy has long been an inspiration for me. The regions are so unique I always wanted to do a pairing dinner where we explored the different places and introduced folks to new wines. Scare Leave (a month-long Halloween pop-up in Shore Leave's space) grew naturally out of our success partnering with the folks from Sippin' Santa and our love of throwing big events and parties at Shore Leave. We do a decent amount of Drag Nights too which was always something I wanted to do; I really wanted Shore Leave to prioritize being a Queer Inclusive space on top of having great drinks and rum. I guess ultimately it all just harkens back to me wanting to share things that I think are fun and cool whether it's drag or wine.
MG So much has changed in the industry over the last few years. What are some of the positives you're seeing? What are some of the challenges?
RL Shutdowns really forced restaurants and bars to reevaluate operations and make their businesses more sustainable for them and their staff, whether that was an adjustment to hours, new menus, or new staffing models. I see hospitality employees living much more well-rounded lives. I think as far as challenges, we lost of lot of folks with deep knowledge and experience who moved on during the periods we were shut down or limited. There's a lot of new blood, and I feel like a lot fewer people to help teach them.
MG Speaking of that mass exodus, there's a substantial employee void that remains to this day. Server and bartender training is certainly a priority to help build this back. How do you handle this with the four restaurants?
RL I've never once — even before COVID — felt like our training programs were ever perfect, and we've been constantly changing them for years. I don't think I'll ever feel like they're fully comprehensive, but I'm not even sure that's possible when it comes to this industry. So much of that training is on the job from your peers. We're pretty lucky to still have a lot of folks as longtime employees who really help with continuity.
MG You clearly put 1OO% into your work. As we all know, this is an industry that can take a toll and result in burnout if one isn't careful. How do you keep your passion and energy fresh?
RL Eight hours of sleep a day minimum. Some sort of movement practice be it yoga or a bike ride or the gym — or these days PT since I'm working on healing a herniated disc — on-again-off-again meditation. Honestly, just being organized! Running a good to-do list and being realistic with how much of it is reasonable to get done in a day and knowing when it's time to pass a task off or work on it another day. Putting literally everything into a Google calendar so I know when I have something I'm committed to. I'm generally pretty good at respecting my time off and powering down, and if I'm not my very caring partner Shawn will remind me.
MG There's a lot happening in the greater Boston restaurant scene these days. What do you envision things looking like in the coming years in terms of growth and trends?
RL I'm really curious to see where the industry is heading! I think we'll see a lot more styles of cuisine outside of the usual Franco-Italian lean that the city seems to always have. Food journalism is rapidly changing to highlight diversity and cuisines that have often been relegated to fast-casual or takeout. I think we're going to see a lot of new restaurants as folks recover from COVID shutdowns still and second restaurants from people.
MG Mentors are invaluable in this business. Who are some people who have played this role in your life and what have you learned from them?
RL Early on, Jeremy Sewall (now of Row 34) who taught me a lot about hiring and building a team. Longtime bartending great Scott Marshall who is now in Savannah, Georgia. Beyond being the kindest person to work with, Scott is just preternaturally gifted behind a bar; he can talk to anyone, he's immensely knowledgeable, and he is the fastest person I have ever worked with. Industry legend Misty Kalkofen who is extremely generous with her time and knowledge. She is my first person to go to with literally everything, and she has such an exacting commitment to excellence.
MG Favorite thing to do on your day off?
RL Cook dinner at home and open a bottle of wine.
MG And finally, when the shift is over and you're mixing one up for yourself . . . what's in your cocktail (or wine) glass?
RL I think 9O% of the time it's a glass of sparkling wine. The rest of the time it's probably a Negroni, but it would probably be a Daiquiri if I had a lime.
PHOTO • CHRIS MCINTOSH