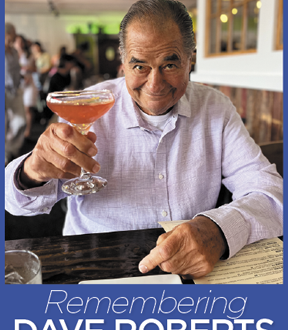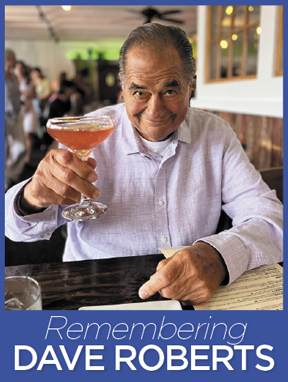 By Kirsten Amann
When we describe someone as "successful", we are rarely referring to how happy, passionate, or fulfilled they are; we are usually summing up their resume accomplishments. But when people remember Dave Roberts, they describe professional success and joie de vivre in the same breath. Roberts' four-decade career included high-ranking roles as both a wholesaler and supplier and culminated in retirement in a second act as a vintner. Along the way, he influenced countless titans of this industry. Roberts passed away peacefully in his home on July 23, 2O23, and is remembered not just as a mentor, role model, and confidant, but also as a man who knew how to enjoy life. Dave Roberts was one of a kind.
Business Acumen With Heart
The beverage industry is a business built on relationships, and Dave's special knack for connecting with people was his superpower. "Although he achieved great success in his life, Dave never forgot his humble beginnings," reads his obituary in THE BOSTON GLOBE. "His first job was as a paperboy for the Meriden Record, where he had a route of 93 houses and started his day with two cheeseburgers. He shared an attic bedroom with his three brothers, Michael, Peter and Paul." Roberts rose through the ranks in the beverage industry from salesman to CEO of the largest wholesaler in the region, United Liquors, before retiring in 2OO6 when the company was purchased by Martignetti Companies.
"We are deeply saddened by the passing of our dear friend, Dave Roberts," commented Carmine and Carl Martignetti, Co-Owners of Martignetti Companies. "He was an extraordinary leader and innovator whose vision played a significant role in the growth of the Beverage Alcohol Industry. As CEO of United Liquors, Dave was a mentor and friend to so many of his colleagues in our Company today. We extend our sincerest sympathies to the Roberts family, particularly his wife Kathy and their three children, David, Stephanie, and Kristen. Dave was a remarkable man and will be missed by everyone throughout our organization."
Roberts was one of the industry's most prominent players, but is remembered as down to earth and relatable: "He didn't stand on ceremony or corporate structure," remembers Gary Keimach, Senior Vice President, Supply Chain & Pricing Strategy for Martignetti Companies, who met Roberts at United Liquors in 1987. "He was an everyman's man, and he really lived that."
Roberts was "exceptionally well liked by the employees at United Liquors," says Mark Fisher, former President, Sales & Marketing of Martignetti Companies, who worked closely with Roberts during his own 4O-year career. "Dave was just one of those down-to-earth guys who related to the guys in the warehouse as well as he could relate to Ray Tye [the late former owner of United Liquors]. He ran the whole gamut."
Roberts believed people to be of paramount importance. "He viewed people as the company's most important asset and he verbalized it as such. He walked the walk, and talked the talk," remembers Keimach. This talent for building relationships served Roberts in all aspects of business: "He had flexibility and tremendous listening skills, so he was able to understand the other side [in a negotiation]. Sometimes when people are in meetings and they disagree, they're not even listening to each other, they're so dug in on their own point of view," says Keimach, but Dave was not that way. "Because he listened and acknowledged that the other point of view is important, people wanted to work with him." He fostered loyal relationships that spanned the whole of his career.
"His handshake was his bond," remembers Robert Zohn, a 42-year veteran of the sales team at Martignetti Companies. To Zohn, Roberts had an "old school, personal, symbiotic quality" that he brought to his work. He was in senior leadership, but "He didn't feel corporate-driven," says Zohn. "He did things with a genuine aspect, it was not a facade. I use the term 'old school'. He had a very great, old-fashioned quality."
Steve Rubin, owner of Huntington Wine & Spirits in Boston, also describes Roberts as old school, referring to his personal style of working and building customer relationships: "I could count on him. Not only were we a great and loyal customer, you could always count on Dave for taking care of any concerns that we had," says Rubin. "It was a different era back then," says Rubin of the time they worked together while Roberts was a wholesaler. "Dave was old school, customers came first but friendship always came first also. So, not only was Dave a favorite wholesaler manager, he was also a good friend."
In Retirement, A Second Act
For Roberts, retirement wasn't the finale to a successful career, it was time to write his second act. In 2OO6, "United Liquors was in the process of selling to Martignetti Companies, and Dave wanted to spend more quality time with his family," remembers Fisher. "I don't think he was ready to completely step away from working in the business. He had a great work ethic and he loved Truro, I mean, he was Cape Cod through and through." While on a bike ride in North Truro shortly after retirement, Roberts noticed a small local winery for sale. Two years later, he purchased Truro Vineyards along with his wife Kathy and their three children, David, Stephanie and Kristen. His illustrious beverage industry career was far from over.
"The real reason Dave wanted [to buy Truro Vineyards]," remembers Fisher, "was because he wanted to bring his whole family together. He brought his son, daughters, wife, and daughter-in-law into the business. It was an opportunity for him to spend quality time with his family and still have a business going. It was the best of both worlds for him." Alongside his family, Roberts grew Truro Vineyards into a destination for tourists and locals, and expanded operations to include South Hollow Spirits, the first distillery on Cape Cod since Prohibition.
"He [bought the winery] for his family," says Rubin, "But we used to send a lot of people to the winery and tell them to 'ask for Dave.' Dave gave them better than a VIP tour. Dave was the spokesperson and he did all the winery tours and people loved him, loved him for his dedication to Truro and the winery." Today, Truro Vineyards is thriving, "but for Dave, I think it was more about having the family together, working together," says Fisher. "I have a lot of respect for Dave about a million different things," says Fisher, but chief among these were his family values: "Nowadays, younger people in the workforce are much more conscious of work-life balance than my generation but Dave always balanced things exceptionally well between work and his family." In this way, Roberts was a role model for colleagues in the workplace.
Joie De Vivre
Roberts possessed business acumen in spades, but no one talks about his success without mentioning his zest for life: "He was just a fun guy," remembers Fisher. "When you were with Dave, you knew you were gonna have a great time. He always had a lot of laughs and stories," and was known to enjoy an adult beverage or two, with a cigar, on most occasions. Roberts' love for Cuban cigars, rare steaks, and a well-made Cosmopolitan cocktail are legendary: "He loved what he loved and he was unapologetic, as I think I saw one of the obituaries say," remembers Keimach. The Cosmo was his measure of quality for a dining establishment, echoes Fisher: "He didn't care about anything else, if he ordered a Cosmo and it was a great Cosmo, it was a great restaurant."
"He had a certain place off of Huntington Ave and he would pick me up for lunch," remembers Rubin. "He loved to go out to lunch, these are my good memories of Dave. I always had a good time, it was always just about lunch and friendship. We really hardly talked about business." Roberts is widely remembered for his generosity, known for picking up the tab for both friends and new acquaintances while dining around town: "If Dave Roberts never bought you dinner, you probably didn't eat out enough," reads the opening line to his obituary in the PROVINCETOWN INDEPENDENT. When at his home in Wellesley, Rubin remembers, Roberts was a regular at Blue Ginger, the first property helmed by celebrity chef Ming Tsai, whom Roberts also called a friend. The spot was so popular in its heyday that tables would book out there for months and sometimes even fellow locals like Rubin couldn't get in: "but Dave always got us in," says Rubin.
He tipped waitstaff handsomely and was known to dole lobsters out to folks on the beach after a good day lobstering. "He came from humble beginnings and once he achieved a certain level of success, he celebrated that, as he should have," Keimach reminisces. "He made himself into what he was. He was definitely a self-made man, nobody gave him anything. He was a special guy, one of a kind, no question about it."
He was also an artistic soul, who developed a passion for painting in midlife, inspired by his love for the natural beauty of Truro: "Somebody asked him why [he started painting] and he said, 'because I live in the most beautiful place in the world,'" recollects Fisher. "He went from a guy that had no practice or no training in that craft to being a very good painter. He would send out a Christmas card every year, which was a painting that he had done. Everybody would look forward to Dave and Kathy's Christmas card."
LASTING LEGACY
In an industry full of charismatic and colorful individuals, Roberts was one of a kind: "Dave was a mentor, a leader, and a confidant for me," says Fisher. "He was just a tremendous influence in my life and the lives of many people."
"I like to say that he never saw a cloudy day. He always figured out a way to make it sunny and that's why he was successful," says Keimach. "Sometimes when you're in the moment, you don't recognize what you're dealing with. But I've had plenty of time to reflect about Dave since he left the company in 2OO6 to go off on his own. That was a special relationship and I'm a better person for it."