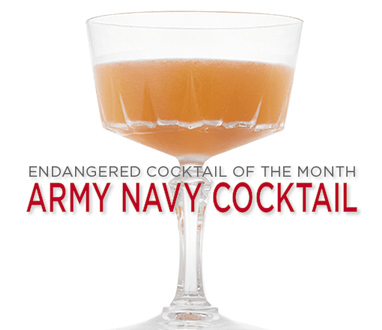 ENDANGERED COCKTAIL OF THE MONTH-ARMY NAVY COCKTAIL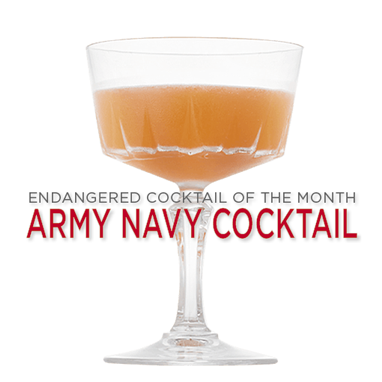 By Pink Lady
Tailgating is one of the best parts of the football season, and with the leaves peaking and autumn in full swing, now is the time to uplevel your tailgating game. The Army & Navy Cocktail is a classic that is believed to have been created to do just that in honor of the annual matchup between the U.S. Military Academy at West Point and the U.S. Naval Academy football teams, also known as the Army-Navy game.
While everyone else reaches for Oktoberfest beers at the tailgate, you'll be reaching for a bottle of gin to make this drink. It first appeared in print in David A. Embury's The Fine Art of Mixing Drinks in 1948, and has long been a mainstay at the Army & Navy Club in Washington, D.C. Whether the drink was actually created there is unknown, but it's always on the menu at the member's only officer club, which also lays claim to introducing Americans to the iconic Daiquiri.
This drink is a simple sour style cocktail made with gin, lemon juice and orgeat, originally published in Embury's book with a 2:1:1 ratio (two parts spirit, one part each of sweet and sour), which the author himself described as horrible. Embury espoused a 1:2:8 ratio for this and other sour styled drinks, or one part sweet, two parts sour, and eight parts base spirit; Embury was a man of many convictions. This drink is typically served up in a coupe, but don't be intimidated by the fancy glassware if you're partying in the parking lot: the Internet giveth, and you can snag some nice plastic coupes online.
If you get those shakers going now, you'll have the drink perfected in time for the Army & Navy 2023 match up, which will be at Gillette on December 9th. This marks the first time in the 124-year-history of the game that it will be hosted in New England, and only the third time it's been held outside the mid-Atlantic region.
ARMY & NAVY
2 ounceS of London dry, Plymouth, or Old Tom gin
3/4 ounce of lemon juice
3/4 ounce of orgeat
1 DASH Angostura bitters
SHAKE ingredients with ice in a cocktail shaker.
STRAIN into a chilled coupe glass.
Cin-cin!