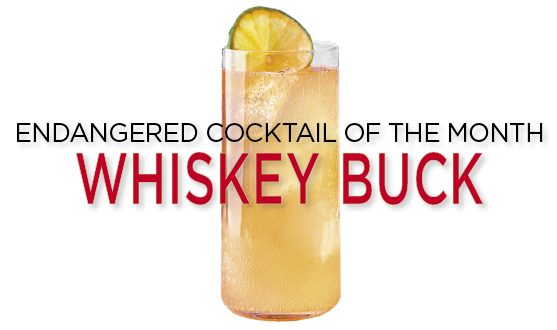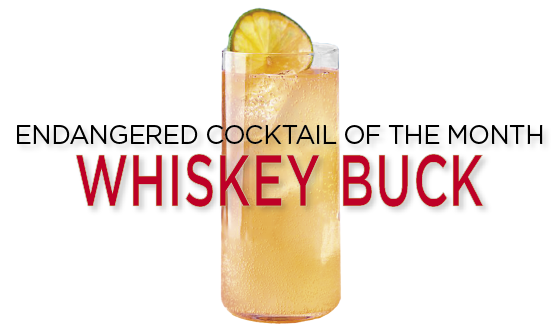 by PINK LADY
Whether you realize it or not, you've likely been imbibing some iteration of a Buck cocktail for most of your drinking career. Made with spirits, ginger ale or ginger beer, and citrus, it's a formula that is simple and refreshing, and pretty difficult to mess up. In recent years the Moscow Mule has once again become a household name, and the Dark and Stormy has always been popular among the nautical set. Ginger plus spirit, it turns out, is a hell of a match.
The Buck derives from the Horse's Neck, a drink that IMBIBE! author David Wondrich places in the category of coolers, which were popular all over the country in the late 1800s. It originated simply, as ginger ale served with a long ribbon of lemon peel as garnish, quite a dressy way to serve my favorite childhood soda. Add a dash of bitters and you have yourself a Horse's Neck with a Kick. Toss in some hard liquor and your proverbial horse is about to "buck."
The Buck appears to have originated with ginger ale, and perhaps ginger ale was certainly having a moment at the turn of the 20th century. Ginger beer was first created in England in the 1700s and is a fermented product that once contained around 11% alcohol (although many today are non-alcoholic.) Ginger ale, its cousin, was created in Ireland in the 1850s by Joseph Cantrell, and was a soft drink carbonated by carbon dioxide. This style, called golden ginger ale, would later be copied and refined into a new, dry style by John J McLaughlin in Canada in 1907. Today, that Canada Dry ginger ale is both a style and a brand of global significance, which boomed in popularity during Prohibition as a way to mask or chase rough alcohol.
Today, you'll find Bucks made with ginger beer and ginger ale interchangeably. I grew up sipping Canada dry alongside saltines when I had a tummy ache, so the strong and spicier flavors of ginger beer appeal to me: they seem more grown up and better suited to whiskey drinks. That said, the charms of ginger (in any form) plus alcohol cannot be denied, so grab a bottle of whichever you like best to mix up a Whiskey Buck for National Bourbon Heritage Month.
WHISKEY BUCK
1.5 ounceS of bourbon
.5 ounce of lime juice
Ginger beer or ginger ale
BUILD ingredients over ice in a highball glass. STIR gently to combine.
GARNISH with lime wheel.
Cin-cin!