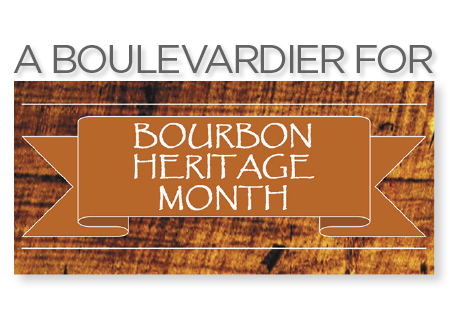 A BOULEVARDIER FOR BOURBON HERITAGE MONTH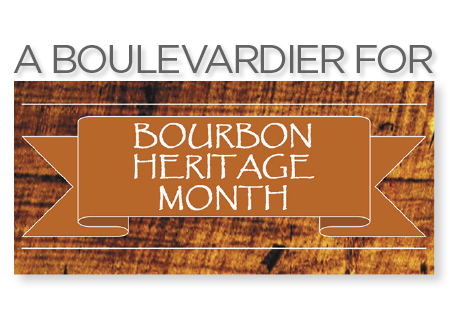 By Kirsten Amann
In places like Kentucky and Tennessee, sipping on bourbon is a year-round activity: 9O degrees and 9O percent humidity? No problem! Locals will happily enjoy their brown spirits in the hot sun. In New England, most of us reach for spirits quite seasonally and consider darker drams the stuff of cooler weather. The Kentucky Derby has acquainted us with the charms of the Mint Julep, and the Old Fashioned still reigns as one of the most ordered classic cocktails, per DRINKS INTERNATIONAL's latest cocktail report. But as the days grow shorter and summer fades into the "back to school" vibes, the Boulevardier is a perfect cocktail to add to your repertoire.
Originally an equal parts drink made with bourbon, Campari and sweet vermouth, the storied cocktail is succinct, bitter, deeply flavorful and intense. It may at first blush appear to be little more than a bourbon Negroni, and since both the Negroni and the bourbon category have surged in popularity over the last two decades, one might easily assume it to be a modern riff. But this cocktail may actually predate its Italian cousin, and to overlook the unique charms of the Boulevardier would be to undersell it.
The Boulevardier first receives mention in Barflies & Cocktails by Harry McElhone, whose New York Bar in Paris was a lively watering hole frequented by writers of the Lost Generation and other American ex-pats during the 192Os. Hemingway drank there, as did Sinclair Lewis and F. Scott Fitzgerald, and George Gershwin is said to have composed An American in Paris in the piano bar there. Harry was Scottish by birth and did stints at the Plaza Hotel in New York and Ciro's in London, before moving to France to help open a Ciro's there. McElhorne would go on to purchase the New York Bar, a location where he had previously worked, adding his own name to the brand in 1923; the bar is still run by his descendants today.
Those of us who became obsessed with classic cocktails during the early 2OOOs, (who you can thank for reviving things like good bourbon and the Negroni cocktail!) had a propensity to get very academic with our study of these forgotten classics back then. We didn't need Facebook or Twitter to fight on the internet about politics, but instead found ways to yell at one another in blog comments or web forums like eGullet about cocktail specs. McElhone's 1927 Barflies & Cocktails may also come off as a bit yell-y, but it's in the fun, "I'm on my third cocktail kind of way". The book is a collection of 3OO recipes, followed by a section devoted to bemused remembrances, notes, and anecdotes that read like private jokes about the "International Bar Flies", a 'club' for drinking and socializing Harry created for the guests who frequented his bar. The I.B.F. had strict rules, but not about which ratios to use for your daiquiri; these were tongue-in-cheek ones like: "Members bumping their chins on the bar rail in the act of falling are suspended for ten days" and "Back Slapping after six drinks should be tempered with mercy. Remember, many B.F.'s have false teeth."
The Boulevardier appears in Barflies & Cocktails, not in the section of 3OO cocktail recipes, but in "Cocktails Around Town" by coauthor Arthur Moss, a compendium of colorful commentary and builds for the favorite drinks created by members of the I.B.F. This section seems to be 85% private jokes which will be most likely lost on us modern readers, but the credit to "Man-About-Town" Erskinne Gwynne still intrigues: "Now is the time for all good Barflies to come to the aid of the party, since Erskinne Gwynne crashed in with his Boulevardier Cocktail: 1/3 Campari, 1/3 Italian vermouth, 1/3 bourbon whisky [sic]."
Erskinne Gwynne was himself an expat and a boulevardier, a term used to describe men of the time who frequented the boulevards, literally a "man about town" who was a wealthy socialite or person who visits the most fashionable locales. Gwynne was a descendant of the famous Vanderbilt family, the great nephew of Mrs. Cornelius Vanderbilt, and a nepo baby: "Most men in his social circle didn't work," wrote Jason O'Bryan in a piece for THE ROBB REPORT, "but Gwynne was a writer." Gwynne was also a consummate partier: "Handsome in his mid-2Os, always well dressed, with white-blond hair and an irrepressible sense of humor, he was a descendant of the Vanderbilt family — the 'Vanderbilt Playboy,' the papers called him — and was the kind of incorrigible public figure for whom whole sections of tabloids get devoted," writes O'Bryan.
In 1927 Gwynne became publisher of LE BOULEVARDIER, a sort of French version of today's NEW YORKER, "part humor and part literary, which one commenter described as "a sprightly publication dealing with the gossipy chit-chat of the world in which Gwynne was . . . a leading and lively participant," writes O'Bryan. LE BOULEVARDIER may not have stood the test of time, but the drink Gwynne named for it for cements its legacy today.
Modern builds for this cocktail favor a heavier hand and/or a higher proof spirit for the choice of bourbon, and a richer style vermouth, such as Carpano Antica, for the choice of red vermouth. Modern bartenders continue to argue specs on this drink, and many even swap the bourbon base for rye whiskey, which might cause me to argue with them. But as for this kind of fussing I ask: What would Erskinne Gwynne and the Bar Flies do? By my guess, they'd mix up whatever was in front of them and have a great time doing it, then have a great big laugh that LE BOULEVARDIER is better remembered as a featured drink in Harry's book than for, as Toby Cecchini wrote in a NEW YORK TIMES piece on the drink, "giving an early forum to writers like Hemingway, Joyce, Dos Passos, Sinclair Lewis, Noël Coward, Thomas Wolfe and others." Most of us writers will take whatever credit we can get.
Cheers to the Boulevardier in honor of National Bourbon Heritage Month!
BOULEVARDIER
1.5 ounces of Bourbon
1 ounce of Campari
1 ounce of sweet vermouth
STIR ingredients with ice
in a mixing glass.
STRAIN into a chilled coupe,
or STRAIN over ice in
an old fashioned glass.
GARNISH with orange peel.