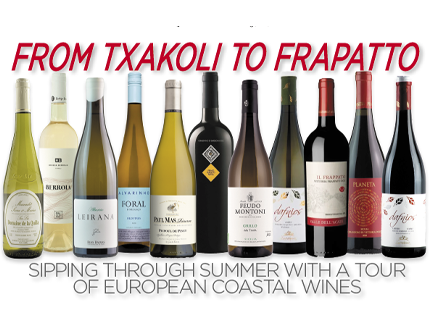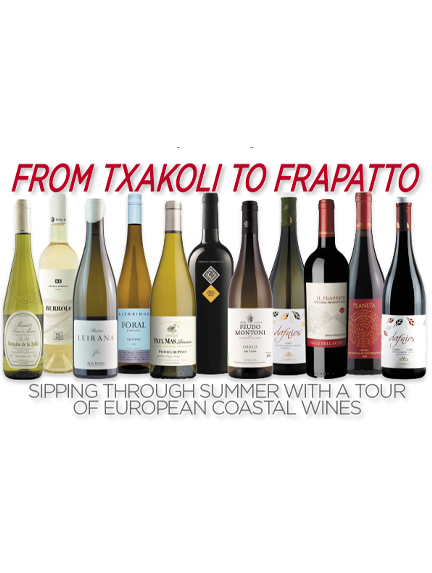 By Seema Tikare
With stories of orcas attacking and even sinking boats in the Mediterranean, all of a sudden my obsession with sailing there seems a bit imprudent. But, that has no impact on the wines that come from the coastal areas around southern Europe, so we will soldier on. The coastal areas around France, Spain, Italy and Greece are breathtakingly beautiful. There is a reason that the most stunning shade of blue is often called Mediterranean blue. And the geographic features that created the famed coastline and island are the leftover of remnants of an old, Jurassic area ocean. The limestone there is now mixed with some granite, some clay and in some areas, a great deal of volcanic soil. This combination of these soils and the climate, with hot dry summers, rain during the mild winters and reliable sunlight hours makes for an ideal terroir for grapes. The coastal grapes of the Mediterranean are adapted to conditions after a thousand years of cultivation and evolution.
There are also coastal wines from the Atlantic coast of France, Spain and Portugal. These grapes, unlike their warm weather cousins, are by contrast adapted to a cooler maritime climate that is more wind-blown and damper. Despite their less summery environs, they are light, gorgeous wines that taste of again fresh citrus, green apples, fresh flowers and sea air. The secret to these coastal wines in my opinion is that they are kissed by the salty breezes and retain some of that salinity to add a wonderful complexity to their flavors. Most of these wines, redolent of summer picnics and beaches and old-fashioned tire swings, are white, with a few very juicy, tangy reds. Beginning in the northwest, at the mouth of the Loire River, then moving south and east, we will follow the wine regions all the way to Greece.
2O2O MUSCADET SEVRE ET MAINE SUR LIE, DOMAINE DE LA QUILLA, LOIRE, FRANCE
If you love oysters, this is the wine for you. Made from the Melon de Bourgogne grape, it is crushed in whole clusters and rests on its lees, or autolyzed yeast, for 7 – 1O months. Most light, summery white wines are moved out of the winery within a few months of the harvest, but this wine is allowed to rest and gather up the biscuity flavors from those lees. This process yields a light with mouthwateringly refreshing lemon tart flavor. It has a hint of some fresh flowers and a nice saline minerality on the finish. Available from Classic Wine Imports.
2O21 TXAKOLI, BERROIA, BIZKAIAKO TXAKOLINA, BASQUE COUNTRY, SPAIN
A few years ago, only a handful of people knew about the mysterious Basque region's wines. Txakoli (pronounce Chaa-koli) is one of the stars that has emerged. Made with the even more interestingly named Hondarrabi Zuri, it is grown in a national park with limestone soils over sandy subsoils. It is fuller bodied than one would expect from a wine grown on the Bay of Biscay, but still full of juicy lemon and green apple with some hints of pear and jasmine. Because it is an artisanal wine, it is a bit more expensive than one would expect but it is worth it! Available from Ruby Wines.
2O21 ALBARIÑO, BODEGAS FORJAS DEL SALNÉS LEIRANA, RIAS BAIXAS, SPAIN
Five generations of the Forjas del Salnés Mendez family stand behind this wine but it was actually created by Rodrigo Mendez and the legendary winemaker, Raul Perez in a garage in 2OO5. It is made with 1OO% Albariño grapes from vines that are 3O – 9O years old grown on free draining soils. The vinification happens in 8O% stainless steel tanks and 2O% oak barrels. This mineral laden gem is deliciously lemony, with a hint of white blossoms, white peach and ginger but still smooth given the barrel fermentation. It is a beautiful wine to have with barbequed shrimp and grilled fish. Available from Ruby Wines.
2O22 VINHO VERDE ALVARINHO, QUINTAS DO REGUIRO FORAL DE MELGAÇO, PORTUGAL
This is not that cheap and cheerful $6 Vinho Verde. It is not that very light, slightly spritzy style we all used to like. This wine has a lot more to offer – definitely with the citrus zing but also some melon and pear and that wonderful salinity that I've been talking about. It has more body and complexity, making it a serious wine, despite its name. This family planted its vineyards with 1OO% Alvarinho (same grape, different spelling) in 1988 and their first wine was released in 1999. They have carefully tended their vines and this wine is made from other grapes planted at the very beginning of their journey. Available from Saraiva Enterprises.
2O22 PICPOUL DE PINET RESERVE, DOMAINE PAUL MAS, LANGUEDOC, FRANCE
The name of this grape, Picpoul, means "stings the lips" because of its acidity, but don't be turned off by the name. It is one of those rare discoveries that makes you say, "why didn't anyone tell me about this sooner?!" Many have said this thankfully, rescuing this obscure grape from extinction. It is served in restaurants dotting the southern coast of France — herbal and fruity and minerally, it pairs perfectly with fresh summer vegetables, rich sauces and delicate fish. Available from Ruby Wines.
2O21 VERMENTINO DI SARDEGNA "PRIMO BIANCO," CANTINA MESA, SARDINIA, ITALY
Vermentino is definitely a grape of the summer — planted from Perpignan to Portofino, Tuscany to Sardinia, it follows the coast all the way around both France and Italy. It is also known by many names such as Rolle and Pigato because it expresses itself differently depending on where it is grown. So, it is a grape of "terroir" and also shows its method of vinification. The Primo Bianco is made with a short period of skin contact and fermented at low temperature of maintain its delicate aromas. It has picked up phenolic compounds from the skins of the grape and is therefore a bit more intense than some other examples, with lots of citrus from lemon to grapefruit and some nice minerality. Available from United Liquors.
2O21 GRILLO "TIMPA," FEUDO MONTONI, SICILY, ITALY
This family, who I had the pleasure of meeting, is lovely. Warm and wonderful, and Melissa is an amazing chef, so I could rhapsodize about this wine based on just the winemaker, Fabio, but that would do this wine an injustice. Established in 1469, it is one of the oldest wineries in Sicily and has continuously been in the Sireci family from the beginning. This wine is made with Grillo, a truly Sicilian grape, bursting with summer peaches and juicy orange with orange blossoms lingering is the background. It pairs beautiful with roasted eggplants and fresh cucumber salad and even roasted meats from the grill. Available from MS Walker.
2O21 VIDIANO "DAFNIOS," DOMAINE DOULOUFAKIS, CRETE, GREECE
Vidiano is again one of those obscure grapes that has been rescued from neglect and even extinction by a new generation of Cretan winemakers. As one might expect from this wine grown on limestone soils, it is bright, refreshing wine with lemon zest and honeysuckle but also some riper flavors from apricots and melons. The fruit purity stands out in this wine bringing a certain linearity to this exuberant wine. It is wonderful with feta cheese and fresh fava beans. Available from MS Walker.
2O21 IL FRAPPATO, VALLE DELL'ACATE, SICILY, ITALY
Frappato is another one of the Mediterranean's secret. It is an obscure grape variety that should compete strongly with Pinot Noir. It has a beautiful nose with bright cherry and strawberry, pomegranate and white pepper, roses and blood orange. It is medium bodied with silky tannins and is delicious with octopus and tuna as well as bratwurst and chicken. Available from Ruby Wines.
2O21 CERASUOLO DI VITTORIA, PLANETA, SICILY, ITALY
Cerasuolo is pronounced "Chair–aa–su–olo" and is a blend of Frappato and one of Sicily's other iconic grapes, Nero d'Avola. It is not as delicate as Frappato by itself because Nero d'Avola brings deeper color, more plum and blackberry flavors and a certain spiciness. The blend is still relatively medium bodied but it stands up to bolder flavors — I like it with pizzas and pasta with peppers and mushrooms and lots of parmigiana cheese. Available from Ruby Wines.
2O19 LIATIKO "DAFNIOS," DOMAINE DOULOUFAKIS, CRETE, GREECE
Liatiko has had its ups and downs. The most common variety in the 196Os, it came to be seen as an inferior grape in the 197Os and 198Os. However, this winemaker believed in the quality of this grape and began planting again in the 199Os. He seems to have been justified. This wine is relatively light in color with bright red cherries and dried strawberry and also with firm tannins. It is aged in large oak barrels for 12 months for just this reason – to soften the tannins and make it more approachable. It bears some similarities to Nebbiolo in this way without the roses on the nose. This wine begs for some juicy hamburgers and steak. Available from MS Walker.