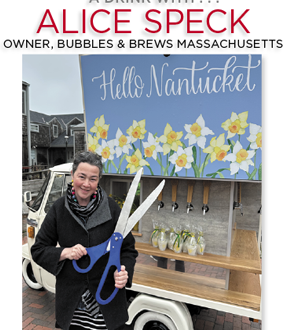 A DRINK WITH . . . ALICE SPECK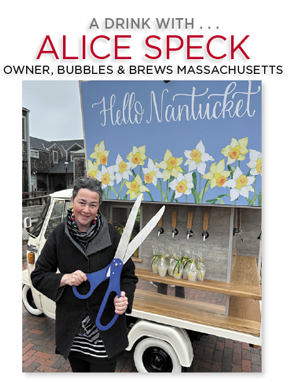 By Maia Merrill Gosselin
Alice Speck is someone who gets things done. Two years ago, she was a busy full-time mom contemplating getting into the gelato cart business. But as so often happens, during the course of her research, fate intervened and the internet decided to show her a photo of a Prosecco truck. Quickly, her focus on delectable Italian ice cream shifted to delectable Italian bubbly (wouldn't yours?) and a new dream was formed. Flash-forward to today and she is the owner and operator of Bubbles & Brews Massachusetts, a line of mobile bars that includes a growing fleet of vintage European vehicles that can be booked for a range of events from corporate functions to weddings. Beer, bubbly, cocktails and mocktails can all be batched and run through the tap lines then served up to eager patrons. Talk about an Instagrammers dream.
Since first laying eyes on that Prosecco truck, Alice – who is actually a trained art historian as well as a self-described armchair cocktailian — has gone all-in on launching a new business. She managed to acquire both a vintage Piaggio Apé and a 1963 Vespa, established and grown the brand, and has had something of a massive learning curve when it comes to navigating the many intricacies of the alcohol industry and its laws. Personally, I probably would have bookmarked the picture, shared it on social media (#goals) and moved on. But that is why I don't own a mobile bar and Alice does. I caught up with her recently to discuss all things Bubbles & Brews and find out what it's been like to start a new business while the state was still emerging from the pandemic. And of course, balance work life/home life. She recently celebrated one full year in business and it's full steam ahead with no end in sight for events being booked. Go big or go home!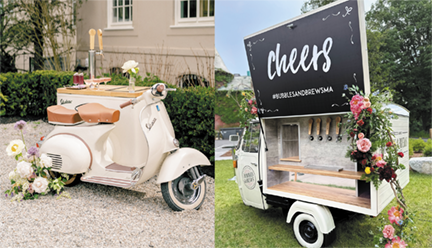 MAIA GOSSELIN You are the owner of a unique concept line of mobile bars. How did the idea for a cocktail truck come to you?
ALICE SPECK The idea came after a deep dive on the internet researching an Italian gelato cart. My neighborhood in Brookline doesn't have ice cream. I thought I could fix that; however, the world wide web showed me the Italian Prosecco cart, and it was love at first sight. I quickly ditched my idea for ice cream and moved forward with a mobile bar concept.
MG Talk a little bit about how your business works. What is in your fleet?
AS When I first discovered the Piaggio Apé reimagined as a Prosecco cart, or mobile bar, I knew it may be difficult to acquire one. This was during Covid when shipping and supply chains were a mess. I wanted an authentic Italian vehicle and aesthetics factored heavily in my decision to go with the Bubbles and Brews bar build. I loved the Apé with its seven taps, and side and rear panel signs that flip up for customization. In addition to the Apé, I have a 1963 Vespa bar from Barcelona. The design and authenticity of the vehicle made it a perfect addition to my growing fleet.
We work in a few different ways. Our clients can hire us to run bar service from our vintage Italian vehicles, bar carts, or freestanding bar, or venues, caterers, or brands can customize, and pour off of our bars with their TIPS-certified bartenders. Both the Vespa and the Apé with their customization capabilities are perfect for activations. Both bars are small enough to fit through a double door! Visualize your branding on the bar, pouring your wine, spirit, cocktail, beer, cider, etc. It's a perfect way to bring a variety of products to the public.
MG You've been in business for a little over a year, congratulations! What was this year like for you? What lessons have you learned and what was the biggest learning curve:
AS This last year was like a boxing match with unlimited rounds. At times, I've felt beat up. Biggest lesson learned my own resilience. I've figured out everything from where to source kegs and CO2, to changing spark plugs, and driving a Ford F-150 with a 14' trailer. I've hired staff, gone through a zoning variance process, supervised the build-out of my commercial kitchen, spent hours learning more about social media, and all while serving our clients. The biggest learning curve work/family balance.
MG Where is the bulk of your business? Where do you see your current growth headed for the next year?
AS At this moment, I'm 60% corporate, 30% wedding, and 10% private parties. I think corporate will continue to carve out a majority of my business. Corporate is back in the office, and ready to connect over cocktails at the in-office happy hour. I don't see that going away anytime soon.
MG You must juggle a lot of balls between being a mom and a full-time business owner! As the sole proprietor of your company, what does an average day entail for you?
AS The working parent juggle is new to me as I started this business after being a full-time mom. During this busy season, no two days are the same! I do my best to be present for my kids and my husband. I'm always doing some type of prep. I could be at the computer for emails, contracts, ordering, and menu creation. Slicing garnishes in my new commercial kitchen, or cleaning – there is always cleaning!
MG You have a true appreciation for classic cocktails. What triggered your love of this genre? How did you learn about the art of the cocktail?
AS At my first restaurant job, we sat after, and had a shift drink. There were 7 of us, and our bartender on Fridays and Saturdays was wonderful. These shift drinks were one part unwind, one part education. We had a lot of Cosmos, dirty martinis, Old Fashioneds, Manhattans — we covered most of the classics while listening to Tom Waits, and The Thievery Corporation.
Those shift drinks started in 2002. Fast forward, I meet my husband in 2003 — we marry in 2006 with signature cocktails at the reception — and proceed to go on weekly date night since the birth of our first child in 2008. In those 15 years of date nights, we've had a lot of drinks! I most appreciate the craft and the service of these drinks. I love hospitality. The warm, welcoming, pull up a chair, let me get you a drink kind. The drinks over date night are the secret sauce to my 17-year marriage.
MG What are some fun and interesting cocktail trends you're seeing these days that your clients are asking for?
AS Martinis on tap; think Espresso Martinis, Porn Star Martinis. Spritz on tap, both Limoncello, and Aperol. Spirit-forward cocktails on tap: Sazerac, and Negroni.
MG Obviously with something as cool as a Vespa and an Italian tap truck in your fleet you must be very active on Instagram and other platforms. Do you manage all the social media yourself and is it a key tool for you?
AS Social media has been essential for my business, and I have been managing it myself. It's been a learning curve for sure. I don't pretend to know how the algorithms work, or what time and how much to post. Just like many aspects of my business, I'm learning social media as I go. I do enjoy the connection aspects of it, and I'm grateful for my engaged followers liking and commenting on my posts and viewing my stories. I still get a kick out of meeting people from Instagram in real life!
MG What do you love most about your business and what you are doing?
AS I absolutely love connecting with my clients and others in hospitality. When my bars are out, it's because our clients are celebrating something. Everyone is in good spirits, and that makes this work so much fun.
MG Massachusetts is home to many innovative and unique businesses in the beverage alcohol industry. What advice would you give to someone contemplating making a go of it with their small business idea?
AS Great question. Go for it would be my advice. The beverage industry in Massachusetts is full of warm, supportive people. Find your people, create a motivational play list, and prepare to get out of your comfort zone. It's not easy, but it's so worth it.
MG And finally, when the event is a wrap and you're back home relaxing in your armchair . . . what's your favorite drink to mix up for yourself?
AS I tend to be a seasonal drinker with a couple of exceptions. I drink Negronis and martinis year-round. Historically, I've been a gin drinker, but recently we were out with friends and had vodka martinis with blue cheese stuffed olives — so good. Now, I'm hooked. Summer months I drink Rosé, Aperol Spritz, and gin & tonics. In the winter months, I enjoy bourbon. Usually a Boulevardier, or a Manhattan. Cheers!
For more information email: MA@getcozybars.com or visit getcozybars.com
EDITOR'S NOTE We'd love to hear from you! Do you know of someone notable in the Massachusetts beverage alcohol industry? If you would like to nominate someone for consideration, please email Maia Merrill Gosselin at mmerrill@beveragebusiness.com.