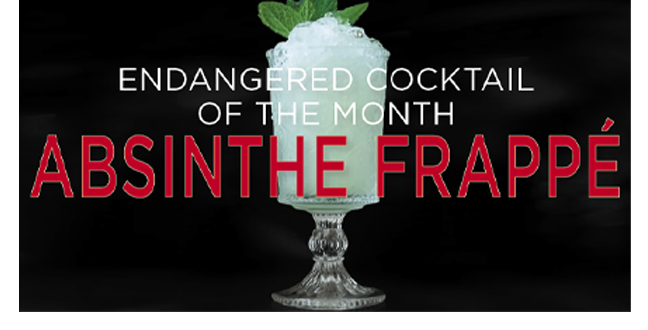 ENDANGERED COCKTAIL OF THE MONTH-ABSINTHE FRAPPÉ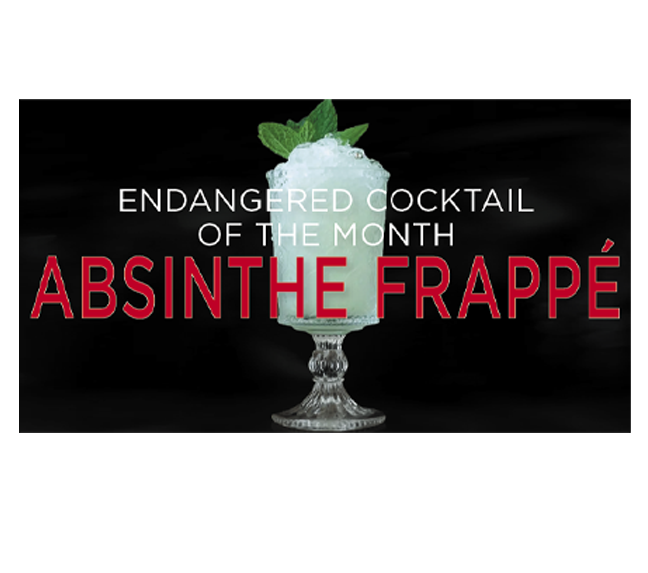 By Pink Lady
Sometimes in summer, while drinking a delicious, frozen cocktail, I can't help but think about how fortunate I am to be living in a day and age where blenders and Island Oasis machines abound. There was a time when ice wasn't abundantly available, and it certainly wasn't affordable. How did ordinary people make it through the summer?
We have Frederic Tudor to thank for the ice trade, which he started circa 1806 by harvesting ice from local ponds to sell as a luxury good in the American south and Caribbean. And we have New Orleanian Cayetano Ferrer to thank for the Absinthe Frappé, a delicious vintage cocktail to check out as we enjoy the last few weeks of summer.
The Absinthe Frappé is often credited to Ferrer, who created it in 1874 at Alex's Coffee House on the famous Rue Bourbon. The venue would later be called the Absinthe Room and is today known as the Old Absinthe House. It's a favorite haunt on my yearly pilgrimage to the Crescent City for Tales of the Cocktail. The Absinthe Frappé is an evolution of the Absinthe Cocktail (absinthe, anisette, and Angostura bitters), and "was simply ingredient A shaken up with lots of ice and strained into a Cocktail glass, which may or may not have been packed with shaved ice," writes David Wondrich in Imbibe! It was popular as a morning beverage, and its virtues as a hangover curative were immortalized in 1904 via the song "Absinthe Frappé" from Victor Herbert and Glen MacDonough's musical, It Happened in Nordland. With verses like the following, who could resist this drink: "At the first cool sip on your fevered lip You determine to live through the day, Life's again worthwhile as with a dawning smile You imbibe your Absinthe frappé!"
Mix one up today and see what all the fuss was about.
ABSINTHE FRAPPÉ
1 ounce of absinthe
1/2 ounce of simple syrup
2 dashes of anisette
1-2 ounces of chilled water
Shake ingredients in a cocktail shaker with ice. Strain over crushed ice in a rocks glass. Top with more crushed ice and garnish with mint sprig.
Cin-cin!