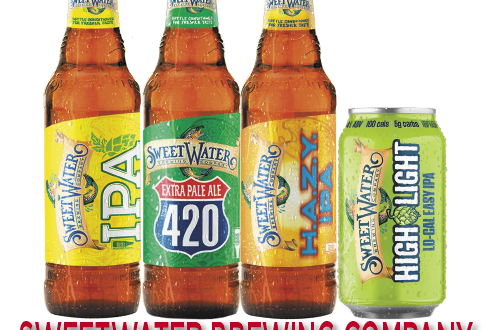 SWEETWATER BREWING COMPANY-BEERS OF SUBSTANCE WITH A LITTLE SASS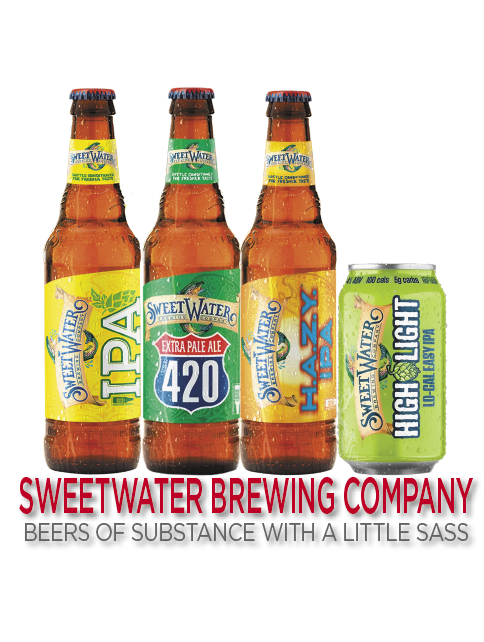 By Andy Crouch
Living by the motto "Don't float the mainstream," SweetWater Brewing Company has long been a creative marketer and engaging force in craft beer. Founded in 1997 by partners and former college roommates Freddy Bensch and Kevin McNerney, SweetWater took its name from a local creek.
Based in Atlanta, Georgia, the brewery has long had a playful reputation, one that manifests most clearly in its beer names and marketing, both of which heavily rely on marijuana-related imagery, puns, and jokes. SweetWater has always engaged directly with its customers, both in its own brewery and with events such as the popular 42O Fest. Held in Centennial Olympic Park in downtown Atlanta, the two-day music festival draws nearly 5O,OOO attendees to hear bands such as Widespread Panic, Shakey Graves, and the Trey Anastasio Band.
One of the powerhouse breweries of the American South, SweetWater just recently celebrated its 26th anniversary. The brewery is one of the largest in the country and has an interesting corporate history in addition to its lineup of excellent and accessible beers. In 2O14, the brewery's co-founders sold a minority interest in the company to TSG Consumer Partners. In 2O2O, Aphria, Inc, a Canadian cannabis company, bought SweetWater for $3OO million. The company then used SweetWater as the corporate parent in its subsequent purchase of Green Flash Brewing and Alpine Brewing Company. They also opened a second brewery in Fort Collins, Colorado. The portfolio is one that values balance over flash, featuring substance with a little cheek. Let's take a look at this Southern giant.
IPA alcohol by volume 6.3%
Sweetwater's India Pale Ale is both a classic and a bit of a throwback to a slightly earlier era of craft beer. We have been well ensconced in the hazy, juicy era of craft beer for more than half a decade at this point and the style remains popular among consumers. In contrast to the hazy side of things, SweetWater's IPA is a blend of early days American IPA and more recent West Coast iterations. Featuring a luminous amber-orange hue with a solid white head, the aroma explodes with sweet malt and sugar-covered grapefruit notes. The IPA packs a powerful aroma but mellows out considerably in the flavor, resulting in a near perfect American IPA. A work of art, the nose is so filled to the brim with floral and fruity notes that you half expect a hop bomb in the body. Thankfully, the brewers exercised artful control, resulting in a swirling mixture of sweet pale malts, floral hop flavors, and a mild-mannered but omni-present earthy and minty bitterness. SweetWater's IPA showcases American hop varieties, including Columbus, Chinook, Cascade, Centennial, and Simcoe. It is a real pleasure to find such a classic example of a style so often lost in the haze bomb shuffle.
42O EXTRA PALE ALE alcohol by volume 5.7%
SweetWater has long enjoyed making weed jokes and its sense of humor has paid off. The brewery's flagship 42O Extra Pale Ale remains a classic that is popular with serious beer folks and those who enjoy pot humor. 42O follows IPA in hedging closer to the West Coast style of American pale ales. It pours with a solid head of off-white foam, with solid carbonation. The aroma fills with big notes of classic American hops Centennial and Cascade, resulting in a mild resin quality and dankness over fruit. There is an underlay of pale and Munich malts for balance. In the glass, the flavor mimics the nose, with lemon, orange, and pine over earthy, herbal hop notes and a solid base of bready malts. The malt base retains prominent billing throughout, with the hops showing up for bites of bitterness and balance as needed.
H.A.Z.Y. IPA alcohol by volume 6.2%
Not content to rest on the success of its classically flavored portfolio, SweetWater also serves up plenty of more modern takes, including its H.A.Z.Y. IPA. The brewery's take on the popular style is pretty traditional, with the appearance, aroma, and flavor each ticking the requisite boxes. The H.A.Z.Y. pours a deep luminous off golden orange with considerable haziness and a soft cap of white foam, almost like a floating cloud topper. The aroma smacks of bright citrus and tropical notes, tangerine, grapefruit, and mango, with a slight bit of dankness for balance. Other notes include some soft bready malts. The beer is double dry hopped with Mosaic, Citra, El Dorado, and Azacca. The flavor continues with a lot of fruit notes, a slightly higher than-to-be-expected level of earthy bitterness, and a base of breadier malts. The finish contains a mild level of herbal bitterness.
HIGH LIGHT alcohol by volume 4%
SweetWater's entry into the lower alcohol spectrum of course contains another weed reference. High Light pours with an ever so slightly hazy off-golden amber color and a light, wispy white head. The aroma boasts layers of bread, light grapefruit, apricot, and floral notes, and some light dank pine notes. A session-worthy ale, High Light's flavor is somewhat restrained, with a moderate bready malt base and nice rounds of juicy and tropical hops, including El Dorado, Crystal, Bravo, a lupulin powder blend, and dry hopping with Simcoe. The body is relatively light, and the fruit notes eventually roll into a light herbal bitterness that rounds it all out. At 1OO calories with 5 grams of carbs, High Light is a worthy entrant to a tough-to-do-well category.
SWEETWATER BREWING COMPANY
ATLANTA, GEORGIA
sweetwaterbrew.com
SweetWater brews are available from
Horizon Beverage Company