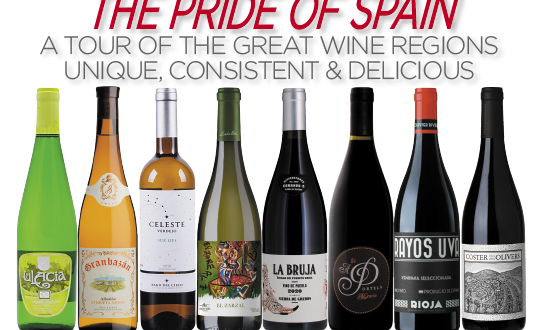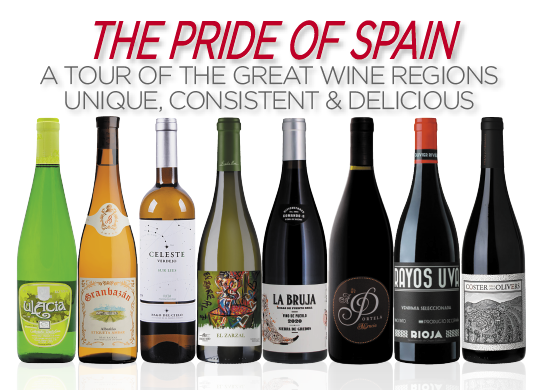 By Seema Tikare
When anyone talks about visiting Spain, it conjures up flamboyant and over-the-top images in my mind: Flamenco dancers, the Running of the Bulls in Pamplona, the sunny, sexy beaches of the Costa del Sol, and the gorgeous Moorish palaces of Sevilla. Even the Camino de Santiago, the most famous pilgrimage route in Europe, is full of flower festivals, parades, indie-rock festivals, fireworks, and bonfires. And of course, the "Batallo del Vino," or battle of wines, in Haro.
Spain is a vast wine-growing country, producing amounts that dwarf countries other than Italy and France. With over 35 million hectoliters, or 3.5 billion liters, of wine produced in 7 major climatic regions, you can find just about any style of wine at any price point. Wine has been produced in Spain since 1,1OO BCE, beginning with the Phoenicians, then the Romans, surviving through the teetotaling Moors, and revived by the Catholic Church. While there have always been amazing wines from this immensely diverse country, they have not always had a great reputation. The primary difference in Spanish wines today is that there is a huge emphasis on quality over quantity. The pride that Spaniards take in their wine in is fully justified – they are unique, consistent, delicious, pair well with many different cuisines and, of course, are mostly affordable. Consumers of Spanish wines are incredibly fortunate because in many cases, their prices have not quite caught up with their beauty and sophistication.
Among wine professionals, the expression "crowd pleaser" is not always a positive descriptor. Spanish wines offer an exception, however, for which the term is both appropriate and highly positive. These wines can be bold and yet delicate, naturally aromatic and satisfying, and best of all, they get away from the repetitiveness of Chardonnay, Cabernet Sauvignon, and Pinot Noir when you are feeling adventurous, and without disappointing. This article will represent a "tour" of the great wine regions within Spain, showcasing many of their signature grape varietals.
2O21 ULACIA TXACOLI, GETARIAKO TXACOLINA, SPAIN
Lightly spritzy with loads of green apple and sea breezes, this wine is ideal for oysters, clams and anything you would get at a clam shack anywhere on the coast. This wine is pure fun. The name of the grape is actually Hondarrubi Zuri, and it is the traditional varietal of this Basque area of Spain. Getaria is a small fishing village outside of Bilbao, on the northern Atlantic coast of Spain. The Ulacia family has been cultivating its vineyards and making wine for three generations, with the vines being between five and sixty-five years old. At 11% alcohol, it is the perfect wine to welcome warmer weather and take to the beach. Available from MS Walker.
2O21 GRANBAZÁN "ETIQUETA AMBAR", ALBARIÑO RIAS BAIXAS, SPAIN
Albariño is unstoppable these days. It is found very often on wine lists because it is easy to drink – refreshing with lush notes of citrus and blossoms, almonds and sea-air salinity — easy to pair — anything light, fresh or creamy — and, not un-important, easy to pronounce. Granbazán, a family-owned winery, treats its grapes and wines as if they were relatives. The grapes for this wine come from their own vines that are 35 years old. Hand-harvested, gently sorted, made with only free-run juice at carefully controlled temperatures, it is a wine not just for festivities, but also a serious wine that deserves attention and appreciation. Available from MS Walker.
2O19 CELESTE VERDEJO "SUR LIE", RUEDA, SPAIN
Celeste is part of the vast Familia Torres portfolio. Having a 3OO-year history in Penedès with 15O years of winemaking tradition, they have made a name for themselves as one of the most respected wineries in Spain. Their vineyard in Rueda, on the banks of the River Duero, was planted 15 years ago on gravel and stony soil. Verdejo is sometimes compared to Sauvignon Blanc and indeed, this wine blends in 5% of it. It is a wine that encompasses all the citrus fruit flavors, from lemon to lime to grapefruit, with a fresh-cut grass undertone. It is left for 4 months on the lees to give it a bit of creamy softness and increase its complexity. Verdejo in general is a wonderful discovery for any wine lover and this wine satisfies. Available from MS Walker.
2O19 EMILIO MORO "EL ZARZAL", GODELLO
BIERZO, SPAIN
I have to admit, Godello is one of my favorite white varieties. It horrifies me to think that it almost went extinct in the 197Os. But through the efforts of a professor and the government's agricultural extension program, Godello was saved. It is an essential part of the Galician identity and was saved by the pride of the locals who sought to preserve their heritage. Thank goodness. Raised in the 5OO meter high vineyards of Bierzo, it is a beautiful, versatile, full-bodied white, with notes ranging from apples and nectarines to a light spiciness and mineral saline elements, and even some toast from its eight months on the lees. I can't recommend it highly enough. Available from Ruby Wines.
2O21 COMANDO G "LA BRUJA ROZAS DE PUERTO PUEBLO",
GARNACHA, SIERRA DE GREDOS, SPAIN
Having grown up amid vineyards and studying oenology in Madrid, the two vignerons who established Comando G were destined to make great wine. Comando G has a devoted following among Spanish wine lovers, with very good reason. The wines are based on a love of Garnacha and a determination to make extraordinary wines in the rugged Sierra de Gredos mountains. La Bruja is grown on a single vineyard with 65-year-old vines at 85O meters above sea level. The wine is not the alcohol bomb often found in 1OO% Garnacha wines, coming in at a respectable 14%. Rather, it is surprisingly light in color, wonderfully powerful on the palate with lots of blackberry and plum and finely balanced acid and textural tannins. While it is ready to drink now, it will only get better over the next few years. Available from MS Walker.
2O15 LADERA SAGRADA "A PORTELA"
MENCIA, VALDEORRAS, SPAIN
Valdeorras means valley of gold. The region is a focus of pride in Spain, with its strong Galician identity, but a bit ironic in the wine world, because the Mencia grape from there poses challenges for producers. It is a low-yielding grape that tends to have high alcohol, but also has a very desirable range of freshness, black fruit, and lovely herbal aromas. Because these flavors can be delicate, there is very little oak used, and some producers are experimenting with carbonic maceration to increase the fruit notes and tame the tannins. When done right, Mencia is a wine of beauty. Ladera Sagrada was planted at 175O feet above sea level on rocky soils a little over 35 years ago. The grapes are grown organically and hand harvested. This wine is full of blackberry, sweet black cherries and licorice aromas with dried violets, spicy peppery notes, prominent tannins and a long finish. Available from Ruby Wines.
2O2O OLIVIER RIVIÈRE "RAYOS UVA", RIOJA, SPAIN
This is not your typical Rioja. It has neither the heft nor the powerful oak notes one often finds in Rioja wines. Rioja is unusual among European wines in using the more aromatic American oak from Spain's former colonies. But this wine has been described as "Rioja's Burgundy." Indeed, given the combination of Tempranillo with Graciano and Garnacha, it is almost delicate. The focus is very much on varietal character and natural winemaking. The vineyards are all organic with biodynamic practices and there is minimal sulfite employed in the winemaking. The balance of the fruit is carefully selected based on the vintage, with the three varietals making the wine a great combination of fruity and spicy, complex and balanced. Available from MS Walker.
2O18 COSTER DELS OLIVERS, PRIORAT, SPAIN
Priorat is one of the most coveted appellations in Spain. It is a tiny area located at the top of a rugged mountain near Barcelona. It was "discovered" and developed as a wine region only about three decades ago by four highly respected and determined winemakers who foresaw that this schist and slate-rich terroir was excellent. Coster dels Olivers is made with 6O% Carinyena, 3O% Garnacha, and 1O% Cabernet Sauvignon. Fortunately, given the extreme heat waves of recent years, many of the slopes face Northwest, not receiving the full brunt of the sunlight. The result is a wonderfully quaffable wine — smooth, full-bodied, fruity but not jammy, velvety fine tannins and a great balance of acidity. It is a wine that will appeal to a wide variety of palates. Available from MS Walker.