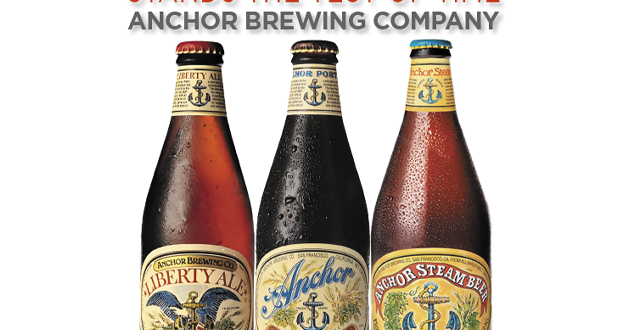 AMERICA'S FIRST CRAFT BREWERY STANDS THE TEST OF TIME-ANCHOR BREWING COMPANY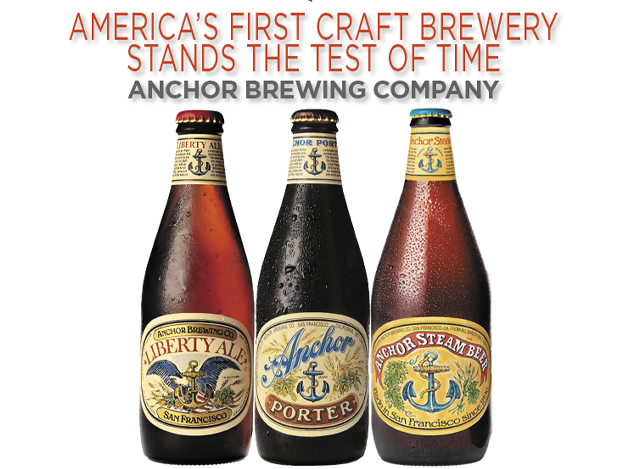 By Andy Crouch
Founded in 1896, Anchor Brewing Company has long stood as an icon in San Francisco culture. The brewery and its famous Steam Beer would go on to become one of America's most important early pioneers for craft brewers. In 1965, a young Fritz Maytag, great-grandson of the founder of the Maytag appliance company and son of the inventor of Maytag Blue Cheese, sat down on a bar stool in the Old Spaghetti Factory in the Italian neighborhood of North Beach. While enjoying a pint of Anchor Steam, Maytag learned from the bartender that the brewery was closing. Maytag loved to tell people that it was love at first sight when he visited Anchor and he bought a controlling share for five thousand dollars. Four years later, he bought the rest of the brewery and spent the next several decades building Anchor into a nationally known brand.
In early 2010, Maytag sold the brewery to the Griffin Group, an investment and consulting company focused on beverage alcohol brands, which set about to modernize the brand. Rebranded as Anchor Brewers & Distillers, LLC, the company released new beers, often far from the brewery's traditional and established identity and tried a series of fresh new labels. Production at the company continued to decrease as the new owners attempted to re-establish the brand's identity in an increasingly crowded and young marketplace. In 2017, Griffin Group sold Anchor to Sapporo Breweries, the Japanese brewing giant. Anchor continues to release new beers, including a West Coast India Pale Ale and a reduced calorie hazy IPA called Easy Weekend. Anchor continues to look for its role in the American beer scene. Let's look at their core lineup, which has largely remained unchanged for decades.
LIBERTY ALE alcohol by volume 5.9%
Anchor is credited with starting the modern trend of releasing specialty beers into the market at different times during the year. Beginning with its highly hopped Liberty Ale in 1975, heralded as the grandpa of all American IPAs, and continuing with the palate-shifting Our Special Ale, Maytag and the Anchor Brewing staff gambled that consumers might want a change from their regularly scheduled beers. Liberty Ale was an early seasonal release and perhaps the first in a style that would ultimately become known as American IPA. A dry-hopped pale ale made with bright, sharp American Cascade hops, Liberty Ale remains a powerful pint. Pours with a bright golden amber hue and a substantial wash of off-white foam that laces throughout the pint. The aroma fills with classic Cascade hop notes of pine, citrus, and light floral bits over a solid base of bready and lightly toasted malt hints. The flavor continues with a quick hit of biscuity malt notes and a light touch of sweeter caramel malts that then gives way to a wash of citrus notes, including lemon and grapefruit, pine, and a bite of hop bitterness. Liberty Ale finishes dry with a solid base of carbonation. Certainly less assertive on the palate now as compared to its release nearly 50 years ago, Liberty Ale is living history in a glass.
ANCHOR PORTER alcohol by volume 5.6%
Promoting itself as America's first post-Prohibition porter and dating from 1972, Anchor Porter remains one of the best examples of the style that you'll find. A take on the classic British style, this Americanized version is slightly more assertive in almost all flavor and aromatic components. It starts with a deep brown hue with reddish hints and a substantial off-tan head. Compared to more expressive and style bending modern versions, the Anchor Porter is not overwhelming in bitterness or roastiness but it still offers plenty of both for balance. Beginning with a slew of dark roasted malts, the aroma continues with bits of caramel, toffee, notes of coffee and chocolate, and smatterings of dark fruit including raisins and figs. The flavor continues to dig deeper with a dryish quality that emphasizes the underlying fruit notes. There is a slight note of smoke in the flavor as well. The brewer's use of classic Northern Brewer hops is meant for balance not to distract from the true stars of the beer, namely chocolate and dark malts and the engaging fruits. Medium-bodied with solid carbonation, Anchor Porter is a familiar and comforting option for dark beer fans.
ANCHOR STEAM alcohol by volume 4.9%
While Anchor lays claim to orchestrating many trends that helped define American craft beer, it also helped create one of the first American beer styles: the California Common style. Anchor first brewed the beer in 1896 and its iconic flagship brand derives its name, according to brewery legend, from a time when local brewers produced beer using some unusual refrigeration methods. Anchor's hybrid modern version utilizes a special lager strain capable of fermenting clean despite warmer fermentation temperatures. To create the fruity yet smooth style, brewers produce a lager and ferment it at higher-than-normal temperatures in wide, shallow fermentation tanks. This method produces a hybrid beer, a cross between mild, cold-fermented lager beers and fruitier, warm-fermented ale beers. Anchor long ago trademarked the Steam name so many similarly styled craft brands use the California Common style moniker. Steam is a deep copper hued beer with a solid off-white creamy head that balances a delightfully smooth malt character with bits of fruitiness finished with a quick touch of hop bitterness.
The aroma fills with light notes of biscuit, toast, and caramel over some earthy and spicy hops. The flavor continues with layers of grain, nuts, and toast over some bready hints finishing with a light and balancing bitterness and floral hop character. Medium-bodied and beautifully balanced, Anchor Steam remains an American classic more than 125 years after its birth.
ANCHOR BREWING COMPANY
SAN FRANCISCO, CALIFORNIA
anchorbrewing.com
•Anchor Brewing Company beers are available from Horizon Beverage Company.