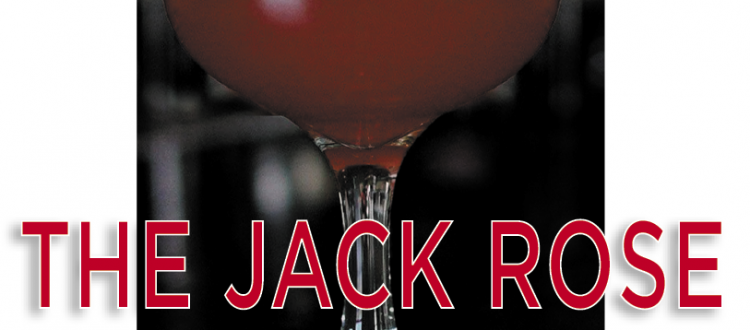 ENDANGERED COCKTAIL OF THE MONTH-THE JACK ROSE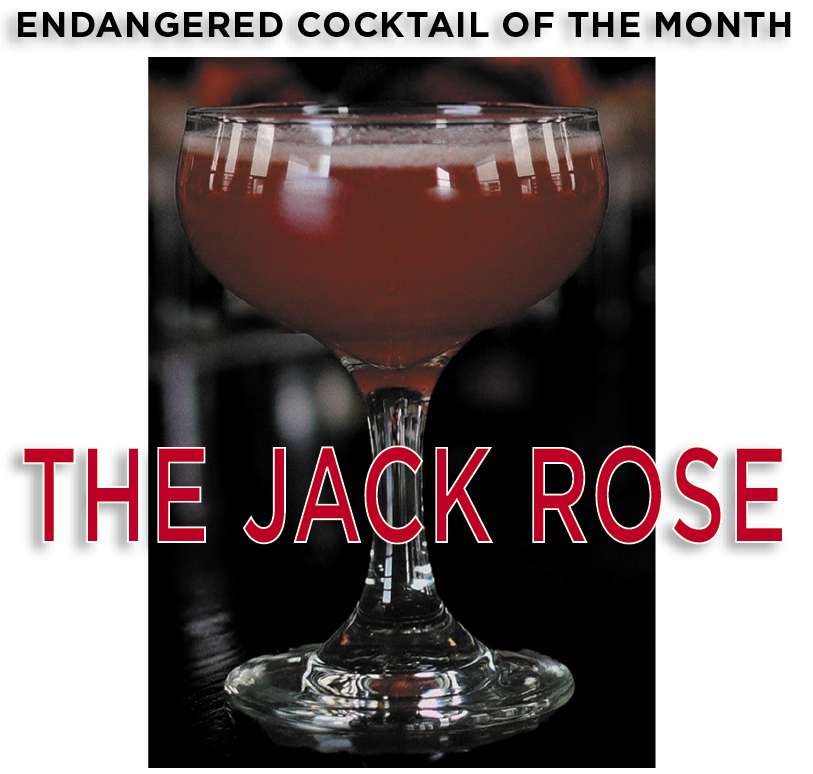 By Pink Lady
When you grow up with something, it can be easy to take it for granted, and that is probably why in 12 years of writing this column I've not shared the history of the Jack Rose Cocktail. To me the drink is iconic among the classic recipes revived and recreated on cocktail lists in the early aughts. It is a simple template that features applejack, freshly squeezed lime juice, and homemade grenadine, made with real pomegranate juice, all of which would have been novel back then and a fantastic way to turn bar guests on to the joys of fresh ingredients and well-balanced drinks.
As far as pre-Prohibition drinks go, the Jack Rose has all the hallmarks of a revived classic. It was first printed at the turn of the 2Oth century and boasts at least two possible origin stories (and one totally impossible one involving a murder for hire plot and a crooked cop.) One story names New Jersey bartender Frank J. May, who also went by Jack Rose, as the creator. Another credits the drink to Frank Haas who worked at Eberlin's, a popular watering hole among Wall Street brokers. It's a tale of two Franks. Ernest Hemingway makes mention of the Jack Rose in The Sun Also Rises, and it is said to have been a favorite of John Steinbeck, Errol Flynn, and Humphrey Bogart. That the drink was favored by titans of Old Hollywood is just icing on the proverbial classic cocktail cake.
In my mind the Jack Rose is on the short list of classics that became de rigueur in the mid-2OOOs. But looking back, I wonder if it might have been more of a Boston thing? After all, before we started our local chapter of Ladies United for the Preservation of Endangered Cocktails, there was the Jack Rose Society. Formed by the late Brother Cleve, Misty Kalkofen, Jackson Cannon, John Gertsen, and Patrick Sulivan, they were a group of local bartenders committed to testing vintage recipes to determine their ideal specs. Among these, the Jack Rose was a drink that Jackson Cannon wished to perfect for the opening of Eastern Standard. He certainly did, making the drink a staple at the Kenmore Square brasserie until the pandemic shuttered its doors in 2O2O.
The good news is, Eastern Standard is in the process of reopening in a new location in the Fenway, meaning a whole new era of Jack Rose drinking is soon be upon us. Until then, try mixing up your own at home.
JACK ROSE
2 ounces of applejack, preferably Laird's Bonded
3/4 ounce of fresh lime juice
3/4 ounce of real grenadine
SHAKE ingredients with ice. STRAIN into a chilled vintage cocktail glass.
REAL GRENADINE
COMBINE 1 cup POM Wonderful pomegranate juice with 1 cup sugar over medium heat until all sugar is dissolved. Remove from heat and add 1 teaspoon orange zest. Let sit for 3O minutes. Strain and cool.
Cin-cin!