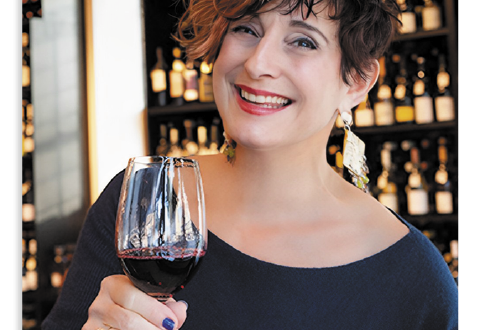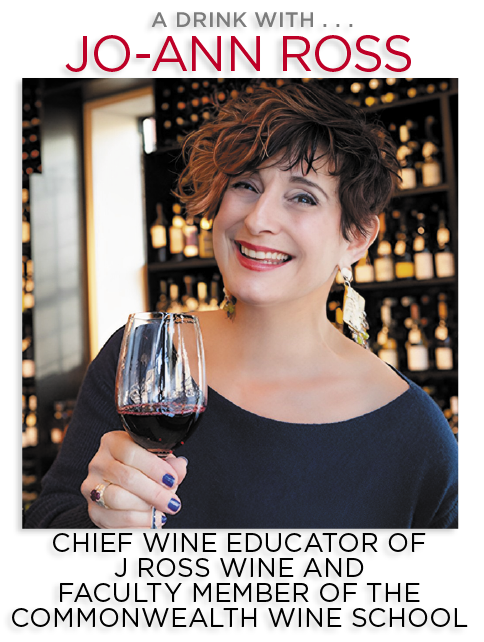 By Maia Merrill Gosselin
Jo-Ann Ross is living the good life. A longtime voice specialist/speech pathologist, Jo-Ann made the decision nearly twenty years ago to follow her true passion: wine. After studying, traveling and generally immersing herself in the industry, she has parlayed her lifelong love of wine into a highly successful second act. Today she is the owner of J Ross Wine and is a well-known wine educator and marketer. Along the way she earned a Diploma from the Wine & Spirits Education Trust, became an accredited Italian Wine Scholar and French Wine Scholar, and completed Level 3 at Boston University's Elizabeth Bishop Wine Program. She's now taking Level 4. Many in this business go their entire career without attaining those credentials!
My path has crossed many times over the years with Jo-Ann at events such as the annual Society of Wine Educators meeting, Wine Riot and numerous trade tastings. In addition to being one of the most genuinely warm people I've met, what always stands out is her true love of wine and her ability to talk about it in an open and easy way. She is fun and unpretentious yet always informative . . . a true wine wiz. I caught up with Jo-Ann recently to find out what's been happening in her wonderful world of wine. Always interesting, always engaging, she is a genuine example of the mantra: "find a job that you love and you'll never work a day in your life." We should all be so lucky to be living "la dolce vita"!
MAIA GOSSELIN Your first profession was not in the wine industry but wine has long been a part of your life. Describe your "aha!" wine moment and the impact it had on you.
JO-ANN ROSS My "aha!" moment was when I was in my early 20s. I was sitting at the outdoor dining table with my aunt and uncle. We were having a beautiful dinner during this magnificent summer evening. Even though it was a bottle of Almaden Mountain White Chablis, it tasted like"the good life". That's what wine did and does still represent to me.
MG What prompted you to ultimately shift from working in speech pathology to the world of wine?
JR I had an excellent career as a Voice Specialist/Speech Pathologist helping actors, singers,lawyers, stockbrokers — people who use their voices professionally. But I loved going to weekly wine tastings at local stores and listening to the stories about the wines. I wanted to do that, too!
MG With all the various avenues open to you in the wine world, how did you become a wine educator assisting wine marketing companies?
JR Boston University offered an evening class discussing all possible career avenues in the wine industry. I didn't want to grow it or make it. I didn't want to work in a restaurant or own a retail shop. I wanted to teach about wine. Serendipitously, I found myself involved in a campaign with a well-known wine marketing company and was able to work with wines from the Languedoc. Going to retail stores and restaurants and educating the customers and staff about Languedoc wines was, for lack of a better word, an intoxicating experience.
MG What are some campaigns that J Ross Wine has managed over the years?
JR Here are my favorites: L'Aventure Languedoc, Rhone Valley, Muscadet and Oysters, Soave, Napa Valley, Bordeaux, Burgundy. Getting these wines into people's mouths and seeing their joy in learning about these wines is enormously satisfying.
MG Of all the wine classes you've taken over the years, which had the biggest influence on you?
JR One of my friends says that I love to learn. My favorite class, over the many that I've taken, is Bill Nesto's Level 3 class at Boston University. I hear he has revised it, but I can't imagine it being much better. I've made some wonderful friends in Level 3, too.
MG Are there particular countries and regions that call to you more than others? What are your specialties?
JR Italy is ALWAYS calling to me. I've been to 15 of the 20 regions in Italy. Southwest France has also been calling to me for a while — I'm going there in June.
MG Who are some of your wine mentors?
JR Lisa Airey is the Wine Scholar Guild's Education Director; Adam Chase runs the WSET Programs in San Francisco and Boston; Robert Cavanaugh is the director of Adventure Wine and specializes in wine marketing; Bill Nesto always makes me think about what is in my glass; and Patrick Dubsky, owner of Winestone in Chestnut Hill has exposed me to his wonderful world of retail.
MG The pandemic forced many in this industry to come up with creative ways to continue doing their jobs. How did you pivot during the lockdown?
JR Like many other wine educators, I quickly became adept with Zoom and conducting anengaging class with it. Also, retail stores were not conducting tastings. The Bordeaux Wine Bureau sponsored a closed bottle tasting, which I called "A Fireside Chat about Bordeaux". Weactually sold several cases!
MG How did you become involved with the Commonwealth Wine School and what is your current role with them?
JR I always felt that Greater Boston needed a full-fledged wine school offering wine classes at all levels. I knew that this school was not going to be my "baby", but the delightful Jessica Sculley rose to the challenge in 2020 to begin the Commonwealth Wine School in Harvard Square, Cambridge. When I learned about Jessica's venture, I immediately contacted her. As aFaculty member, I teach such certification classes as Certified Specialist of Wine (Society ofWine Educators) and Italian Wine Scholar and Wines of Italy (Wine Scholar Guild). I also do occasional one evening classes.
MG You are taking the Level 4 (The Wine Trade – Global, National, and Local Perspectives) wine course with Bill Nesto, MW at the Elizabeth Bishop Wine Resource Center, no small matter! What prompted you to do this and what has the experience been like?
JR I completed Level 3 back in 2007. Since that time, I completed my WSET Diploma andseveral Wine Scholar Guild Programs. But I never finished Level 4. As someone who likes tocomplete what I start, and as someone who admires Bill, I carved out time to take this wonderful but demanding course.
MG Any goals on the horizon you're working towards?
JR Not really — I just love being in the wine industry. I've met so many lifelong friends. I would, however, like to visit all of Italy's 20 regions.
MG And finally, I know it's like asking who your favorite child is but…what's the one bottle of wine you would have on a deserted island?
JR I hope this island has a refrigerator because I want a bottle of Champagne all day every day, specifically Egly Ouriet.
EDITOR'S NOTE We'd love to hear from you! Do you know of someone notable in the Massachusetts beverage alcohol industry? If you would like to nominate someone for consideration, please email Maia Merrill Gosselin at mmerrill@beveragebusiness.com.