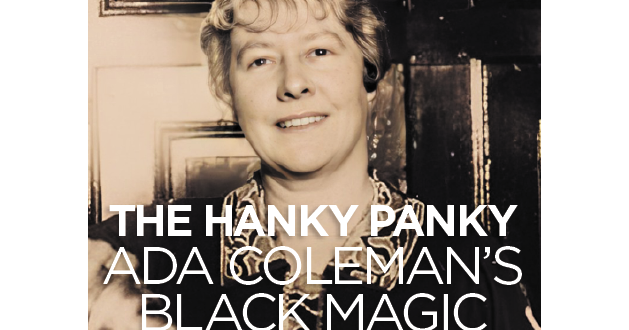 THE HANKY PANKY-ADA COLEMAN'S BLACK MAGIC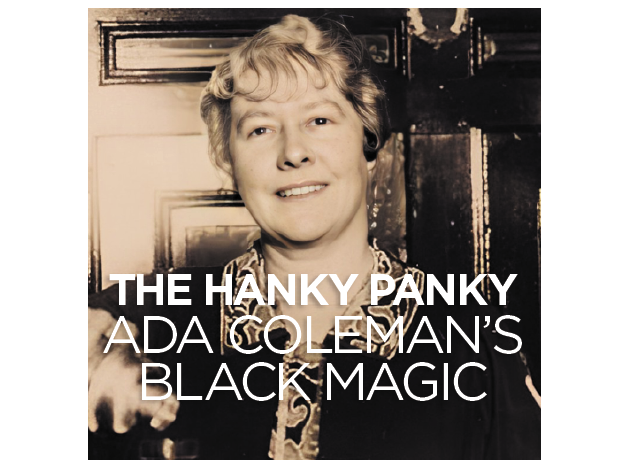 By Kirsten Amann
Every month is Women's History Month in my corner of the cocktail world, but since March bears the official title, it is a perfect time to raise a glass to the first celebrity female bartender, Ada Coleman. Known to friends and regulars as Coley, she looms large in the pantheon of iconic bartenders, both for holding forth behind the American Bar at the iconic Savoy Hotel in London, and for defying gender norms while doing it. Her roster of repeat customers included stars of the era like Charlie Chaplin and Marlene Dietrich, who glittered so brightly we still know their names today. But by all accounts, Coleman was herself a supernova.
Ada Coleman first stepped behind the bar at 24 years old, which is age appropriate in today's gig economy, but considered old for a barmaid in the early 2Oth century. "It was barmaid because most bars and pubs in England and America specified that no woman over twenty-five needed to apply for the job," writes Mallory O'Meara in her fascinating social history Girly Drinks: A World History of Women and Alcohol. Coleman's father worked as steward at a golf course, and when he passed away the owner, successful hotelier Rupert D'Oyly offered Ada a job. "Right away, it was clear that Ada was a natural in the service industry," writes O'Meara. "She was charming, incredibly friendly and, most importantly, this young, light-haired woman was sharp as hell." Hospitality professionals often talk about the intangible parts of the profession that can't be taught, a je ne sais quoi that Coleman had in spades. Before long she was transferred to the fancy Claridge Hotel in London to work in the flower shop.
As the lore goes, a man named Fischer who was a wine merchant at the Claridge recognized Coleman's it-girl factor right away and made her a protegee when he "taught her how to mix a cocktail and handle a shaker," writes O'Meara. "The first drink she ever made was a Manhattan, and Ada took to bartending immediately." She soon asked for a chance to test her skills behind the pine: "It was undeniable: she was a cocktail prodigy," O'Meara writes, and "her phenomenal drinks were matched only by her gregarious personality." In 19O3 renovations were completed on the American Bar in Rupert D'Oyly's famously swank Savoy Hotel, which Ada Coleman took over and helmed until 1925. Branding it as "American" was an important choice, as the United States was the cradle of the cocktail in this period. Coleman was the first female head bartender there and remained the only woman to hold forth in the position until 2O21.
As a bartender, Coleman was a triple threat: she was adept at the technical aspects of drinks making and execution in a bar that was both busy and fancy; she had a legendary personality and was beloved by guests; and she was a great innovator of original libations, with the added skill of being able to create new drinks on the spot to suit a guest's whim. The most famous of her original creations (and the only one I know to be distinctly credited to Coleman) is the Hanky Panky. The drink is essentially a sweet martini braced up with Fernet-Branca and garnished with orange peel. Coleman described creating it for a famous comedic actor of the era to a London newspaper in 1925: "The late Charles Hawtrey . . . was one of the best judges of cocktails that I knew. Some years ago, when he was over working, he used to come into the bar and say, 'Coley, I am tired. Give me something with a bit of punch in it.' It was for him that I spent hours experimenting until I had invented a new cocktail. The next time he came in, I told him I had a new drink for him. He sipped it, and, draining the glass, he said, 'By Jove! That is the real hanky-panky!' And Hanky-Panky it has been called ever since."
As for the name Hanky Panky, as Ted Haigh explains in Vintage Spirits & Forgotten Cocktails, "In the states, 'hanky panky' is slang for dirty deed, especially the libidinous variety, and it is also used to mean cheap and gaudy . . . but in Victorian England the term was once used to describe black magic and legerdemain." It's a fitting moniker for this dark hued, complex drink.
Many sources say Coleman kept recipes for her original cocktail recipes in her head, and even famously refused to share them with fellow female bartender Ruth Burgess. According to the lore, the two women did not get along and never worked a shift together, despite decades of employment at the American Bar. However, as O'Meara points out, "it's just as likely that a newspaper, seizing on the rumor of animosity between the two women in a male-dominated industry, fabricated the report." Frenemies? Perhaps, but sometimes conflicting schedules are just that.
Coleman retired when the American Bar closed for renovations, and was succeeded upon its reopening in 1926 by Harry Craddock. A British-born bartender, Craddock was working at hotel bars in the United States, and had even become a U.S. citizen, before Prohibition brought his career to an untimely halt. "Craddock claimed to have mixed the last legal cocktail before Prohibition and jumped ship for Europe the very next day," writes Theodore Sutcliffe in the Difford's Guide. Back in London, he spent five years working the service bar while Coleman was in charge before taking over upon Ada's retirement. In 193O Craddock's exhaustive compendium of over 75O drink recipes, The Savoy Cocktail Book, was published cementing his legacy as an influential barman. Today, it is considered one of the most important cocktail books of the 2Oth century, and is where we find the printed recipe for Coleman's Hanky Panky. Whether she revealed other drinks recipes that made their way into the Savoy is unknown.
Back in 2OO7, I was one of nine women recruited by Boston bar star and drinks historian Misty Kalkofen to start the Boston Chapter of Ladies United for the Preservation of Endangered Cocktails. We were a classic cocktail society dedicated to breeding, raising, and releasing nearly extinct drinks into the wild (a.k.a. Boston-area bars and restaurants.) We did this by meeting once a month to sample delicious cocktail creations from a bygone era, and educate ourselves about important and nearly forgotten forebroads who sipped them. In addition to preserving our own personal Joie de Vivre by guaranteeing members one good cocktail party every month, we also produced fundraising events for local women's charities and had a grand old time cocktailing for a cause all over town.
At our first meeting, each member picked a classic cocktail to be their chosen moniker for all things LUPEC related. Mistsy chose Hanky Panky as her name, for a few reasons: "First and foremost, it was one of the only, if not the only, historical recipe of a cocktail created by a woman that we had a record of at that time. There were a few other recipes like Mary Rockett's Milk Punch and Martha Washington's Rum Punch, but those recipes require advance preparation," says Misty. "The Hanky Panky could be made on the spot with a minimal amount of ingredients and it was delicious! It was important for me to be celebrating a woman through my new moniker and Ada was an amazing woman to celebrate."
While great strides were being made in the cocktail bars that had popped up in major cities by 2OO7, by and large Boston's cocktail menus were dominated by vodka drinks that lacked structure or fresh ingredients. Finding a spirit forward offering was rare. "I wanted my name to be a unique cocktail," says Kalkofen, "and, believe it or not, at that time few people knew the Hanky Panky. It also featured Fernet Branca, a spirit that was not yet the darling that it is today." Fernet Branca shots would soon become popular among chefs and bartenders, known as "the bartender's secret handshake", but "as Fernet has such a strong flavor profile, placing it as a shot in front of a guest who had never tried it before was far from a gentle introduction," she explains. "The Hanky Panky uses Fernet as one would Angostura, in a small quantity to help bring balance. It gently guides a guest into their first Fernet experience." The Hanky Panky would also have been a unique drink in Boston circa 2OO7 for its simplicity, with just three ingredients: "It is a representation of the philosophy that you don't need a ton of ingredients to create a complex, robust cocktail. It's been part of my personal cocktail philosophy for my career," says Misty.
She is far too humble to say it but as her longtime friend and writing partner, I can attest that Misty Kalkofen and Ada Coleman have quite a lot in common. From their knack for drinks innovation to their skills for the craft to that je ne sais quoi that makes a great bartender much more than a drink slinger, Hanky Panky is both a perfect homage to Ada and fitting moniker for Misty, one of Boston's own great female bartenders. Let's mix one up and raise a glass to them both this Women's History Month.