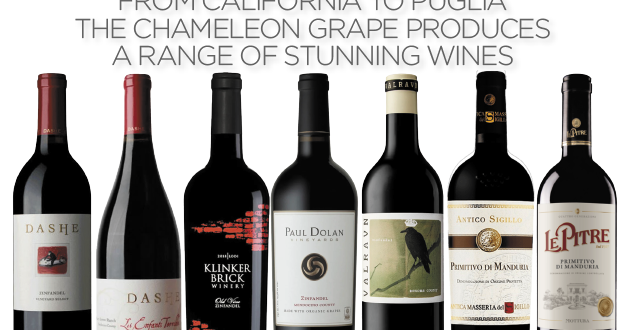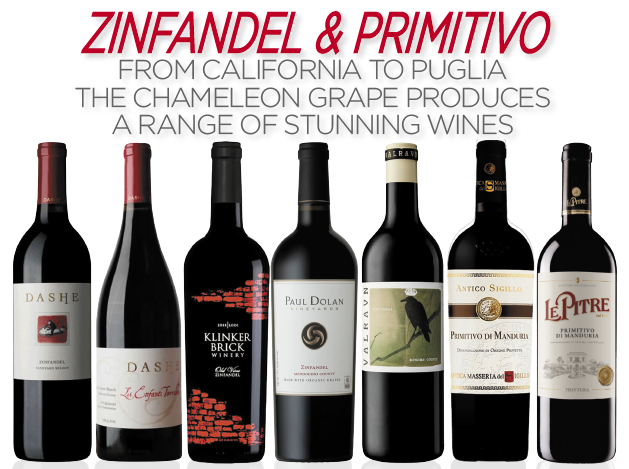 by SEEMA TIKARE
If there is a chameleon among wines, it is Zinfandel. Whether it is the rather sweet, alcoholic, old-school White Zinfandel from our college days or the elegant, refined red Zinfandels from Ridge's East Bench or Paso Robles, it spans every taste and preference. It can be candy-like in its white incarnation or medium-bodied, fruity and brambly, or even brooding and dark, oak-aged and very serious in its more extracted, concentrated form. All of this makes Zinfandel the perfect wine for a special Valentine's Day meal, whether you are hoping for a fun night of dancing or a decadent meal and a snuggle in front of a fireplace.
Add into this mix a deep and slightly mysterious past. It is an ancient grape variety that originated in Croatia, is popular in Puglia, and has become one of the most widely planted vines of California. This melting pot grape had its origins in an ancient variety that was rediscovered in a defunct vineyard on the Dalmatian coast. California winemaker Mike Grgich speculated that Zinfandel might well be Plavac Mali, a grape from his native Croatia. Subsequent DNA testing pointed to an obscure variety called Crljenak Kastelanski. Only 9 vines remained in Croatia just 2 decades ago, but it has now been re-propagated by local vignerons and as its popularity soars, as one might imagine, it is becoming a "signature" grape there.
Whatever its roots, the grape was transplanted across the Adriatic Sea to Puglia, Italy, probably in the 18th century. Since then, it has been renamed "Primitivo" because it is the first (prime) grape to ripen in that warm, Mediterranean climate. In Italy, it expresses itself as a full-bodied, fruit-forward wine, but with textural tannins, a distinct minerality and brambliness of the wild seaside shrubs surrounding the vineyards. And because it makes such good wines, it is again a "signature" grape – this time with its own appellation called "Primitivo di Manduria."
After traveling to Italy, it is believed that this beloved variety was transported to the United State from the Imperial Nursery in Vienna, Austria to the east coast in 1829. After a few years, it made its way to California to provide wine for the miners following the Gold Rush of 1849. By 1859, it had spread to both Napa and Sonoma and became the most planted variety in the state. As one may surmise, it again was called the "signature" grape of California because until recently, it had escaped scrutiny with no one associating it with either Primitivo or Crljenak. Unlike Cabernet Sauvignon, Chardonnay and other well-known international varieties of grapes, Zinfandel still has a unique expression in California, more lush and rounded, sometimes medium-bodied, sometimes full-bodied, still brambly, with smooth, silky tannins, but fewer savory elements than Primitivo. Below, one can find examples of both medium and full-bodied California Zinfandels as well as some of the characteristic Primitivos from Puglia, Italy.
2O21 DASHE CELLARS ZINFANDEL VINEYARD SELECT, CALIFORNIA
Made with 78% Zinfandel, 15% Teroldego and 7% Tannat, this wine is very carefully crafted to both lighten and lengthen the wine-drinking experience. The Teroldego, normally associated with northern Italy, has a fruity, spicy character that adds some acid lightness to the blend, while the Tannat, best known from southwestern France, adds tannins and more jammy flavors. The Zinfandel grapes in this wine are sourced from three venerable AVAs: Dry Creek Valley in Sonoma, Contra Costa Country and Clarksburg. The Dashes, Michael and Anne, blend these wines to make an approachable, easy-drinking Zinfandel. Available from Boston Wine Company.
2O18 DASHE CELLARS LES ENFANTS TERRIBLE MENDOCINO CUVÉE ZINFANDEL,
MENDOCINO RIDGE, CALIFORNIA
This is a wine made with a nod to Anne's French sensibilities and Michael's experiences at Ridge and other respected vineyards. The fruit is sourced from Signal Ridge Vineyards in the Mendocino Ridge AVA at 3OOO feet elevation – the only AVA designated specifically for its elevation. The concept for this wine includes lower alcohol, low sulfur use, native yeasts and pure varietal character. Because these high-altitude grapes are picked with lower levels of sugar and higher acid than warmer weather appellations, the Dashes decided to employ carbonic maceration to add some fresh light red fruit flavors including strawberry and raspberry to the more familiar blackberry and plum. The result is a rich balance of fruit and acid with beautiful spicy notes and the characteristic smoothness one expects from Zinfandel. Available from Boston Wine Company.
2O18 KLINKER BRICK OLD VINE ZINFANDEL,
LODI, CALIFORNIA
The Felten family is in its 5th generation of land stewardship, having settled the land in the early 19OOs. Their remarkably old – up to 12O-year-old – vines have thus been a part of their lives from the very beginning. And it is no wonder this legacy is a point of pride for the family – the yield of grapes from vines so old is small but incredibly flavorful. What they do not get in quantity is more than made up for in quality. They are head trained and must be hand harvested to preserve these old, gnarled vines. And dry farming has meant that the roots go deep and can reach the reserves of moisture that lies below California's dry earth. The resulting wine has the classic "BLIC" – balance, length, intensity and complexity. Succulent and luscious are the words that come to mind when I drink this wine. Available from MS Walker.
2O2O PAUL DOLAN VINEYARDS ZINFANDEL, MENDOCINO COUNTY, CALIFORNIA
Paul Dolan has been a pioneer in California's organic and regenerative farming community for decades. As such, all wines from Paul Dolan Vineyards are sustainably and organically grown with the additional virtue of also being vegan. This rich, peppery Zinfandel, full of ripe black fruit and silky textures, is why California Zinfandels are so famous. Grown in relatively cool Mendocino Country, it has 14.1% alcohol by volume, giving it a round mouthfeel and a warming sensation on the finish. Available from MS Walker.
2O18 VALRAVN ZINFANDEL,
SONOMA COUNTRY, CALIFORNIA
Valravn fruit comes from 4O-year-old bush-trained vines. This is important because bush-trained vines, unlike vines trained on wires, can only be hand harvested. That means that the care taken from picking the grapes until the wine is bottled is of the utmost importance. Using a bit of carbonic maceration and aging the finished wine in 1O% new oak means that the fruit is bright and exuberant while the pepper spiciness is joined by the vanilla, caramel and baking spice notes of the oak barrels in which it mellows for 14 months. It is a juicy wine that will stand up to any barbeque ribs or steak, and because it clocks in at 14.8% ABV, it will be especially good in cooler weather. Available from MS Walker.
2O16 CLAUDIO QUARTA ANTICO SIGILLO
PRIMITIVO DI MANDURIA, PUGLIA, ITALY
Antico Sigillo in the name of the wine refers to the 195Os cellar bought by the owner. Production has since been transferred to a lovely vineyard on the Ionian coast, Tenuta Emerá. The terroir here on the Mediterranean includes soils made of sandstone, clay and gravel, an ideal mixture to bring out the richness and spice of Primitivo. Fermented and macerated for 15 days, it is aged in oak barrique, which only adds to the intensity and concentration of the wine. Primitivo from Manduria in general is a bit more rustic, with a more textural mouthfeel and more savory, mineral notes on the finish. And this wine delivers in those areas – dark, complex, interesting, and quite romantic. Available from Horizon Beverage Company.
2O17 MOTTURA LE PITRE
PRIMITIVO DI MANDURIA, PUGLIA, ITALY
Mottura Le Pitre is a gorgeous wine – hand-picked, fermented and macerated for 2O to 25 days, aged in oak for 12 months. This wine is the fullest-bodied of the wines reviewed here. It is the definition of a dark, brooding wine. While Primitivo is not usually so complex and robust, this wine shows that with the right amount of care and coaxing, extraction and magic, anything is possible. The wine pours with an opaque swirl. The aromas jump out of the glass – blackberry, black currant, some herbs, a certain oceanic minerality. And on the palate, it glides over the tongue and sticks around on the finish to remind you to take another sip. If it is a stormy night and you need to be cozy, this is the wine. Available from Horizon Beverage Company.