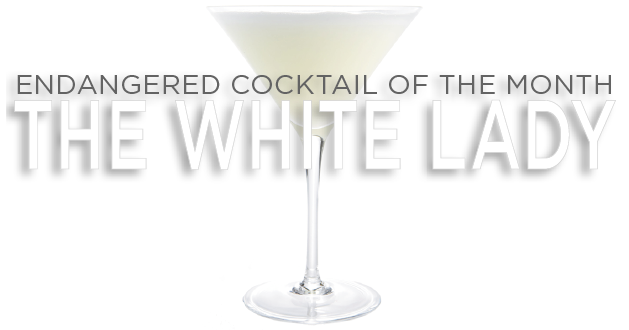 ENDANGERED COCKTAIL OF THE MONTH -THE WHITE LADY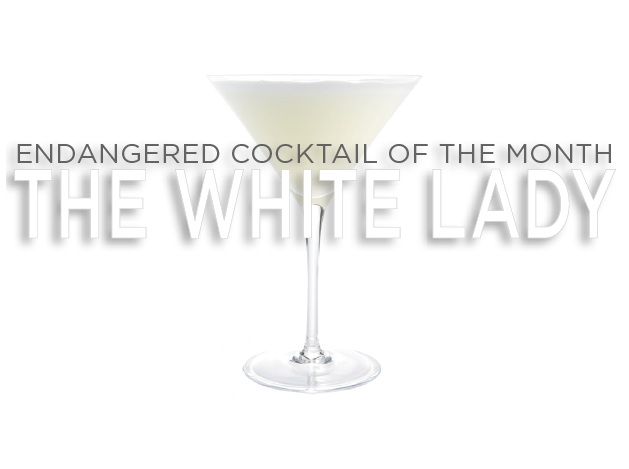 By Pink Lady
Since 2OO7 I've gone by Pink Lady as my cocktail moniker, but there's another great "lady" style cocktail worth trying if you can't get your mitts on fresh grenadine: the White Lady. It's a light, dry, and refreshing number made with gin, Cointreau and lemon juice, and like most of the drinks I write about, it's of dubious provenance.
The history of the White Lady cocktail could also be called "A Tale of Two Harrys." In one story, Harry MacElhorne created it while tending bar at Ciro's Club in London in 1919. That recipe was made with equal parts brandy, creme de menthe, and Cointreau, and appears in his 1922 recipe book Harry's ABC's of Mixing Drinks. For me, this recipe is a hard pass. He is said to have retooled the drink to be made with gin, lemon juice and Cointreau at his Parisian watering hole, Harry's New York Bar, in 1929.
Harry Craddock is also often credited with creating the White Lady, though it's not super clear whether he laid claim to the drink's invention or was simply well known for mixing it up adeptly. The White Lady appears in his 193O Savoy Cocktail Book (along with every other cocktail under the sun) in a build that sounds much more palatable: 1/4 lemon juice, 1/4 Cointreau, 1/2 dry gin.
Far more interesting than which Harry came first with the White Lady is the fact that Harry Craddock decided to bury one in the wall at not just one, but two of the hotel bars he helmed. In 1927 he stashed a cocktail shaker filled with White Lady in the brickworks of a refurbished wall of the American Bar. He did so again when he started his new gig at the Dorchester Hotel in 1939. At the Dorchester, however, Craddock sealed the drink in a flask, along with a Manhattan and a Martini, with recipes included. It was widely reported by the press, most likely to drum up buzz about the new bar. I've yet to hear of a modern barkeep sealing their signature drink in the unfinished walls of their new bar, but who's to say it won't catch on? For now, try mixing one at home with more modern specs.
THE WHITE LADY
2 ounces of dry gin
3/4 ounce of fresh lemon juice
3/4 ounce of Cointreau
SHAKE ingredients with ice.
SHAKE into a chilled cocktail glass.
Cin Cin!