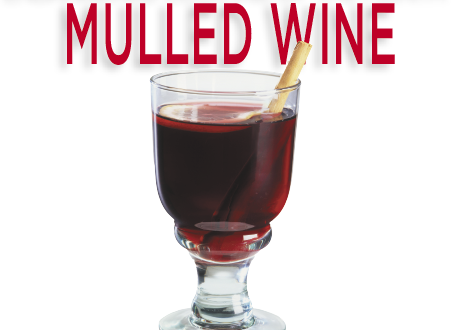 ENDANGERED COCKTAIL OF THE MONTH – MULLED WINE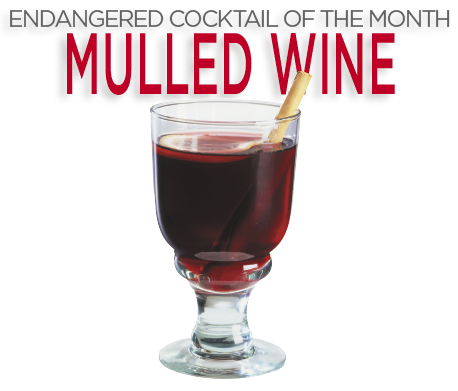 By Pink Lady
Aside from Eggnog, no drink says Yuletide more than mulled wine. It is so deeply ingrained in the zeitgeist of Christmas that I don't think I even knew I could make it in modern times until I joined the Ladies United for the Preservation of Endangered Cocktails (aka LUPEC). The history of mulled wine is long and simple and will give you something to talk about with your guests should you decide to whip up a batch for your holiday gatherings this month.
The concept of adding herbs, spices and sweetener to wine and heating it, either to disguise flaws or just for fun, dates back to ancient Greece. Romans employed similar techniques to make conditum paradoxum, which would spread across the continent as they traveled and conquered, bringing viticulture (and recipes) to the corners of Europe. Today, many European countries have a version of mulled wine that is cultural and traditional, from vin chaud in France to Dickens' iconic Smoking Bishop in England, to the glögg recipe passed down to me by my Swedish grandfather.
Mulled wine had a moment in the medieval period when it was believed to be health promoting to add spices to warm wine. A bowl of hot vino might sound unusual today, absent modern comforts like electricity and central heating, a mug of mulled wine beside a warm fire makes a lot more sense. As for "mulling", this term simply means "to heat, sweeten, and flavor (a beverage, such as wine or cider) with spices" and has been used since the 15th century to describe this process. Today you can find sachets of mulling spices widely available at stores like Williams Sonoma, which makes a great host gift alongside a bottle of wine. But it's highly likely you already have most of what you need to whip up some mulled wine in your kitchen right now. The Internet provides a plethora of recipes for inspiration, and if you're the type of person who really loves to collect different herbs and spices for your pantry (or spirits and liqueurs for your liquor cabinet), there's no real limit to where you can go with a libation like mulled wine. Here's a simple and delicious recipe from legendary San Francisco barman H. Joseph Ehrmann.
LAST-MINUTE MULLED WINE
BY H. JOSEPH EHRMANN
1 BOTTLE fruity red wine (such as Beaujolais or Syrah)
4 OUNCES of bourbon or brandy
2 teaspoons of sugar
4 star anise pods
2 long strips lemon peel or orange peel
6 cinnamon sticks as garnish
ADD the red wine, bourbon or brandy, sugar, star anise pods and lemon or orange peels into a small saucepan, and HEAT over low heat until warm, but do not allow to boil. REMOVE from heat and let stand for 5 to 10 minutes.
Serves 6. DIVIDE between six mugs or punch cups.
GARNISH each drink with a cinnamon stick.
Skal and Happy Holidays!