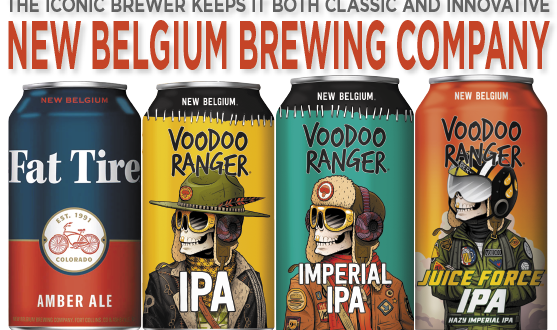 NEW BELGIUM BREWING COMPANY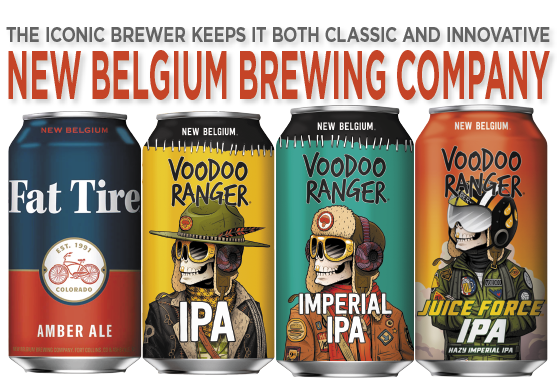 By Andy Crouch
It has been a long and winding road for New Belgium Brewing Company. Often defined by its singular Fat Tire Amber Ale brand, New Belgium in recent years has experienced a dizzying level of change that has altered the complexion and direction of the storied brewery. When production began in June of 1991, it was just Kim Jordan and her co-founder and then husband Jeff Lebesch working out of the basement of their home. It's a classic American brewing industry tale but in this case, the brewery grew from four and a half small barrels at a time into one of the nation's largest.
New Belgium long defined itself through its dedication to conservation, the environment, and to its team. There was a decided merry pranksters vibe to the whole crunchy operation. And at the center of it, Jordan became of the beer industry's most prominent voices. She headed the company through long periods of substantial growth and expansion. The company was also a pioneer in the American beer industry in integrating employees into the ownership structure of the brewery at large. At New Belgium, they called it "participative management"— essentially an employee stock ownership program (ESOP) and it allowed employees to take on ownership interest over time starting in 2OOO. In 2O13, the ESOP bought out Jordan and other shareholders. And then in late 2O19, the employees sold the brewery to Lion Little World Beverages, part of Japan's Kirin Holdings. During that time, New Belgium watched the American craft beer palate shift from balanced, malt-forward beers, such as Fat Tire, to hazy and juicy India Pale Ales. And it smartly responded with the release of its Voodoo Ranger line. Let's look at New Belgium's top sellers.
FAT TIRE alcohol by volume 5.2%
One of the pioneering brands in craft beer and long the flagship that built New Belgium, Fat Tire is now a throwback to a former era of craft brewing. In its earliest days, the category was largely about malty beers as the American beer drinking palate eschewed hop bitterness and flavor. The beer was vaguely Belgian in influence but largely a flavorful and welcoming lightly colored, sweeter ale. Fat Tire remains a big seller, though in substantial decline over its heyday. It pours with a striking and brilliant off-amber hue with a moderate cap of off-white foam. The aroma takes you back, with big, sweet biscuit notes over very light fruit and generalized ale esters. The flavor follows with a wash of sweeter and biscuity malt, never quite cloying, over some light hop bitterness and a touch of earthy hop character. Easy drinking and quite effervescent and light on the palate, Fat Tire is worth revisiting.
VOODOO RANGER IPA alcohol by volume 7%
New Belgium has long been a company dedicated to innovation. It has developed and championed a world-class barrel program, helped the American palate appreciate sour and tart beer, and developed numerous other envelope-expanding beers. But as New Belgium realized that the long reign of Fat Tire was likely to come to an end, it began considering how to expand its portfolio into hoppier fields. The search eventually landed another success story, this type with the unlikely brand Voodoo Ranger. Released as three beers in 2O17, the Voodoo Ranger line has now expanded into more than 2O different beers. The flagship of the line is Voodoo Ranger IPA, which the brewery touts as the top selling IPA brand in craft beer. The West Coast IPA-styled brew pours with an off-golden hue and a solid top of off-white foam with solid lacing. The aroma brims with a familiar assortment of tropical fruits, pineapple, grapefruit, along with touches of pine and rind and balancing notes of toast, biscuity and caramel malts. The flavor starts with a quick blast of sweeter toasted and biscuit malt notes followed by a lengthy lineup of hop flavors, including the now familiar tropical and piney notes. Voodoo Ranger IPA finishes with a light, earthy bitterness and a refreshing level of dryness.
VOODOO RANGER IMPERIAL IPA alcohol by volume 9%
While American craft beer drinkers have long enjoyed higher alcohol beers, and many lived through the alcohol arms race of the early aughts, the modern version is the parade of over-the-top big alcohol IPAs. Voodoo Ranger Imperial IPA is New Belgium's popular entrant into this palate bruising arena. Many beers in the Imperial IPA or American Strong IPA style can quickly devolve into sloppy, boozy messes. Ranger Imperial IPA manages to keep its legs under it, no small feat. It pours with a slightly hazy off-golden amber color and another solid two finger level of just off-white head with solid retention and lacing. The aroma brims with light caramel malt and — in the West Coast style — citrus, pine, grapefruit, and light tropical notes. The flavor is classic for the style, focusing on a biscuity old-school caramel malt base that gives a wide berth to the mixture of grapefruit, orange, pine, and lemon fruit notes that follow. Despite its elevated alcohol level, it plays medium-bodied on the palate and does well to hide its boozy nature.
VOODOO RANGER
JUICE FORCE HAZY IMPERIAL IPA alcohol by volume 9.5%
New Belgium's line of India Pale Ales would not be complete without a few hazies balancing out the portfolio. And that's where the Juice Force lineup enters the picture. The Juice Force line also employs a wider variety of new wave hops, putting aside now common varieties like Amarillo and Simcoe in favor of Mosaic, Phato, Strata, and Sabro. The Juice Force Hazy Imperial IPA pours with a slightly on the lighter side of hazy off-orange hue and another substantial crown of white foam. The aroma rocks with big bursts of tropical fruits, including mango, papaya, cantaloupe, and melon, over a solid base of sweeter pale malts. The flavor is big and bold, full of sweeter malt notes over waves of fresh tropical fruit, including pineapple, mango, passion fruit, and papaya. There is a light earthiness throughout that continues into a well-balanced and slightly bitter finish. With the substantial alcohol level at play, you would rightly expect more alcohol on the palate, but it is shockingly and even dangerously smooth.
New Belgium Brewing Company,
Fort Collins, Colorado
newbelgium.com
New Belgium Brewing Company beers are available from Atlas Distributing and Girardi Distributors.