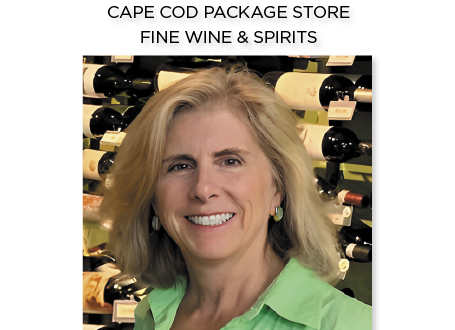 A DRINK WITH . . . DANETTE ATSALIS CO-OWNER CAPE COD PACKAGE STORE FINE WINE & SPIRITS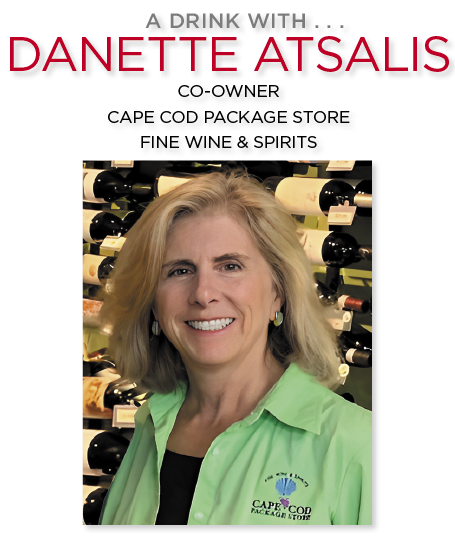 By Maia Merrill Gosselin
When your family has owned the same package store since 1939, chances are they're doing something right. All the more so considering what the last few years have been like! The Cape Cod Package Store Fine Wine & Spirits (CCPS) in Centerville is that rare breed of a business, not only boasting 8O+ years in the industry but owned and operated today by its third generation of owners, all female.
Jack Pendergast and his wife Shirley opened the store in 1939, running it for many years. Their son Jack, Jr. took over in 1967 and his daughters Danette Atsalis, Andrea Pendergast and Terri Anne Haidinger officially came on board as owners in 2O1O. Over the years the store has grown and thrived and today enjoys a large and loyal clientele. To experience this kind of longevity and success, a business must work hard to set itself apart. Not only is CCPS known for its extensive beer, wine and spirits selections, the store is deeply rooted in its community, active with nonprofits and fundraisers and prides itself on highly personalized service along with a focus on education. It also boasts an impressive wine tasting room. I recently caught up with Danette to get some insights on operating a retail business in today's world. Among other duties, she handles the store's marketing and advertising and over the years has developed a deep passion for wine knowledge. Running a retail business may not be easy, but these ladies have certainly got the right formula for success!
MAIA GOSSELIN Owning a retail store wasn't your original career path. How did you come to be an active owner and what is your day-to-day role?
DANETTE ATSALIS Prior to jumping in to help Dad at the store, my professional career involved working with architects as a commercial interior designer, including jobs in Boston and locally with a real estate development company. Dad asked for assistance with the print ad for the CAPE COD TIMES, which lead to increased demand for print ads in magazines, etc. As you can imagine, with the expansion of advertising to include digital marketing, my job responsibilities have far surpassed any expectation I initially may have had of what they would encompass. In addition to print and digital advertising, the need to promote in-person tasting events and our store's involvement in the community has grown as well.
MG Your grandfather opened the store over 😯 years ago in 1939 and then your father subsequently joined the business. What was it like growing up in the alcohol retail world?
DA Growing up in a household where Dad was a liquor store owner, alcohol was never seen as the forbidden fruit. We were often offered a taste of wine with our dinner, which we typically immediately spit out. In our adolescent years, we were aware of the risk posed to a business that sold alcohol if they were to sell to anyone underage. Wine, beer and spirits were always handled in a responsible manner. Dad was usually at the store, especially during the busy summer season, yet he managed to find time to be with family whenever possible, typically on the water boating and bringing the family to a local beach for a picnic.
MG The store has a dedicated customer base. What is it that sets you apart from others?
DA I would like to think it is our dedication to excellent customer service. We try to create an uplifting, welcoming atmosphere that serves to make the customer experience an enjoyable and sociable one, which is so needed in today's commerce environment. In addition, we refer to our core values in hiring and training our employees. They are expected to always communicate in a respectful manner and get support from the management team when they need to address any challenges that may arise. In addition to customer service, I believe it is the expansive product selection, which is (hand-selected) curated from our buyers, along with an educational component that makes our store stand out as a premier destination for shoppers of alcohol and non-alcohol beverages here on Cape Cod.
MG Does the store have a particular niche, specialty or programs it is known for?
DA Yes, Cape Cod Package Store has many niches or special services that we are known for. It's hard to single out just one. A few of note:
Collaborating with local restaurants on dinners or events provides an opportunity for their patrons and our customers to enjoy an evening dining with friends while learning about the products through unique pairings and supporting their local establishments.
Sponsoring fundraising events for local nonprofits, along with local community events, such as artist receptions and workshops at local galleries.
Event consultations which help customers plan what they will serve their guests at special celebrations, weddings, milestones such as a birthday or anniversary, or just informal backyard BBQs and clambakes!
MG What are some current trends you're seeing in consumer purchasing that are of note?
DA Customers are showing an interest in:
Non-alcoholic options and mixers.
Expanded selection of seltzers and canned cocktails.
Organic and biodynamic wines.
Learning of the producers' sustainable efforts.
MG How is the store involved with local non-profits or other charitable organizations?
DA Historically, Cape Cod Package Store participated in at least one major sponsorship per month. This is a list of some of the groups we have worked with:
Arts Foundation of Cape Cod
Barnstable Clean Water Coalition
Barnstable Land Trust
Cahoon Museum
Calmer Choice; Cape & Islands United Way
Cape Cod Cham ber of Commerce
Cape Cod Young Professionals
Cape Wellness
Centerville Historical Association
Centerville Public Library
Cotuit Center for the Arts
Greater Hyannis Chamber of Commerce
Greek Church
Heritage Museum and Gardens
Housing Assistance Corporation
International Federation of Animal Welfare
Trash Bash
We Can
MG You have been involved with the Women of the Vine & Spirits for a few years. What led to this?
DA I have been a member since 2O17, after meeting founder Deborah Brenner at a Women's Symposium, hosted by Martignetti Companies. Initially, the store was a corporate member, with me as a brand ambassador. I was fortunate to attend their Global Symposium in 2O18 in Napa. In 2O19, when the membership fee for a corporate membership increased beyond what was feasible for a small business such as ours, I had to continue my involvement as an individual member. I have benefited from so many of their hosted virtual events, especially throughout the Covid pandemic. I have always felt very strongly about participating in the community and the importance of networking, as well as learning through professional development and continuing education.
MG How has your experience with the organization affected you in your career?
DA Being involved in a small family-owned business it has been challenging over the years to take time from working in the business to working on the business and myself. Since attending the Global Symposium, I have made a personal commitment to expanding my knowledge by participating in both online and in-person educational opportunities. With a focus on Italy, which is part of my family's heritage and a place I hope to visit in the future, I have participated in seminars offered by the Italian Trade Agency. I have become a member of the Wine Scholar Guild and enjoyed courses such as "Wines of Italy" and "Soil Signatures" along with many online sessions available through THE SOMM JOURNAL. I have also completed the WSET Level 2 Award in Wine.
MG Liquor stores were deemed to be essential businesses during Covid. What was it like to pivot from "normal" business to pandemic mode? How did the store fare overall during this time?
DA The store closed just after Governor Baker's announcement, even though it could have remained open. The decision was made to keep our employees, their families, and our customers safer, during this uncertain period. We pivoted by serving the public through our active eCommerce website, as well as taking orders over the phone. As many other businesses did, we immediately offered curbside pick-up, along with local delivery direct to their home. Upon reopening in mid-May of 2O2O, we instituted in-store pick-up. All three options remain available today. We have fared well, though the ups and downs and uncertainty of how to keep everyone safe have made communications challenging at times as there are such differences in personal opinions, even today. Our customers have been very understanding.
MG From supply chain problems to staffing issues, retail businesses are facing more than their share of challenges. How has it impacted the store and how have you been able to handle it to date?
DA We have been severely affected, placing an undue burden on our existing team of hard-working, loyal employees. Not only the time spent managing the gaps in staffing, but the focus needed to recruit qualified candidates has been challenging. We have had to pause strategic plans that would better serve the business, our customers, and our employees overall. During this challenging time, we have managed to retain employees that were with us since the beginning of the pandemic, added a new Director of Wine to the management team, updated and improved our website and expanded local delivery services from 2 to 6 days a week.
MG The holidays are here! Anything fun planned in the store for the season?
DA Our annual Champagne & Sparkling Wine Dinner is back! This has always been a sold-out event. It takes place on December 7th at the Belfry Inn & Bistro. It will be nice to gather together again!
MG And lastly . . . what is your favorite cocktail or libation of choice to enjoy at the end of the day?
DA That is a great question and a difficult one for me to answer, as I have many! If I had to settle on just one, it would be the Bee's Knees. For me, it's a lot more enjoyable to have a cocktail while out with friends when someone else shakes it up for you! The Bee's Knees, a Prohibition-era cocktail, is made with gin, lemon juice and honey . . . all ingredients that are favorites of mine! With the expansive selection of excellent gin available today, the cocktail can taste different depending on the gin. Some will emphasize the juniper while others are imbued with citrus and florals that bring out the lemon and honey notes of the cocktail. Ideally, the honey is a homemade honey syrup and the lemon juice is freshly squeezed. I think it is a refreshing cocktail any time of year.