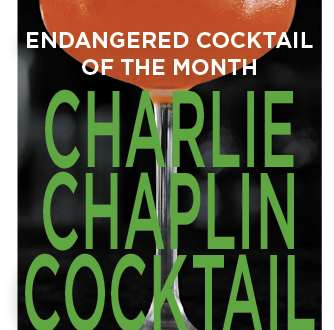 ENDANGERED COCKTAIL OF THE MONTH-THE CHARLIE CHAPLIN COCKTAIL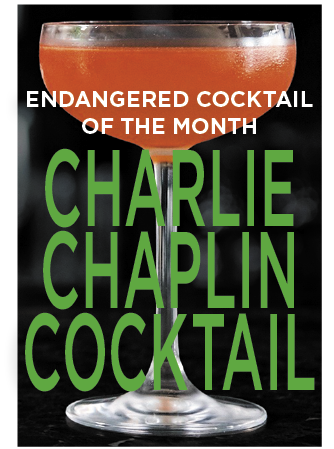 BY PINK LADY
As you gather 'round the table with family and friends this Thanksgiving, we would be remiss if we did not recommend a conversation-starting cocktail to serve to your thirsty guests. To this end, we offer the Charlie Chaplin cocktail, a pre-Prohibition gem named after the famous silent film star that was popularized at the iconic Waldorf-Astoria Hotel.
The Charlie Chaplin was first printed in Albert Stevens Crockett's Old Waldorf-Astoria Bar Book in 1934. Crockett was not himself a bartender at the famous hotel, but rather a publicist, and wrote his original volume Old Waldorf Bar Days in 1931 as an homage to the then defunct bar while the hotel was dry during Prohibition. His first book was written for posterity and contained cocktail recipes adapted from former barman Joseph Taylor's notes nearly as an afterthought. After repeal and with Americans once again thirsty for bygone era drinks, Crockett retooled the book to feature more cocktails than vibes.
We invite you to bring some of those vibes to the Thanksgiving table. The build is vintage, a lush yet low ABV combination of two liqueurs and lime juice in equal measure: pay close attention to dilution and temperature when serving this drink. You'll also want to be choosy about ingredients, as sloe gin and apricot brandy can be cloying and syrupy, making the liqueur section a somewhat treacherous place to shop. For sloe gin, look for brands like Plymouth, Sipsmith, and Hayman's; for the apricot liqueur (sometimes labeled apricot brandy) offerings from Rothman & Winter, Merlet+Fils, Combier, and Gifford are tried and true.
The concentrated flavors, acidity, and low alcohol make this drink a great candidate for a pre-dinner welcome cocktail and aperitif, so long as you have time to shake and serve these very cold. If you're busy with the turkey, serve this as a digestivo paired with pie and outsource the job of bartending to someone who wants to "work off their dinner" (there's one in every family.)
THE CHARLIE CHAPLIN
COCKTAIL
1 OUNCE of apricot liquueur
1 OUNCE of sloe gin
1 ounce of fresh lime juice
SHAKE ingredients very well with ice. STRAIN into a chilled vintage cocktail glass.
Cin-cin!