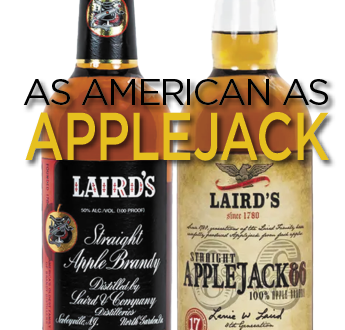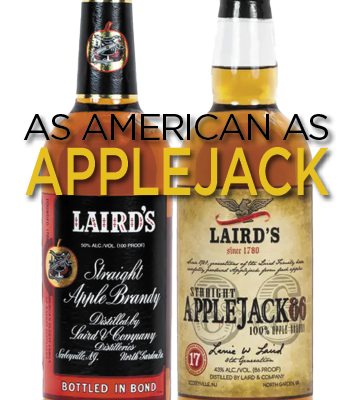 by KIRSTEN AMANN
When I was ten years old my father's job was transferred from Central New Jersey to Southern New Hampshire. That summer we moved, leaving the congested highways and suburban developments of New Jersey, the only home I'd ever known, for a tiny New Hampshire village that had one general store and just one traffic light. As we adjusted to life in the sticks, my family explored the surrounding New England towns dotted with covered bridges, apple orchards, and once fall hit, vast vistas of brilliantly hued leaves. At ten, I thought: "there must be more to life than driving around to look at dying leaves." All that nature would eventually win me over, and as an adult autumn in New England is one of my favorite times of year. It's trendy to reach for pumpkin spice drinks as sweater weather rolls in, but to me, fall is applejack season. I'm not talking about the cereal (Applejacks) or the My Little Pony (orange with a yellow mane and five little apples on her hindquarters), but applejack the spirit, an American style of apple brandy that was one of the most popular tipples in Colonial America.
Today the terms "applejack" and "apple brandy" can be used interchangeably in the United States, but the spirit takes its name from a method of freeze distillation called "jacking" that was used to make applejack out of hard cider in the 17th century. The low alcohol cider was left outside in cold temperatures, allowing water in the base cider to freeze, then be chipped away, leaving behind a potent, often rough, apple spirit (though most commercial distillers made their "cider spirits" in stills.) Applejack was made in several states in the Northeast during the Colonial period, but it is most deeply identified with New Jersey, hence its nickname "Jersey lightning." Distilleries abounded in the Garden State in the 19th century, with more than seventy in operation there by the 189Os.
THE LEGACY OF LAIRD & COMPANY
We can't talk about applejack in the United States without sharing the history of Laird & Company, and many of us in the bar world today would not be talking about applejack at all if it weren't for Lisa Laird Dunn, the brand's ninth-generation owner, Chief Operating Officer, and Global Ambassador. (More about that in a moment.)
The Laird family story begins when William Laird, a Scottish immigrant who is believed to have had a distilling background, relocated with his family to Monmouth County, New Jersey in 1698. Like many of his contemporaries, Laird deployed his distilling knowledge to make spirits with the most abundant resource at hand, the apples that flourished in his adopted home of New Jersey. There he made applejack for himself, friends, and neighbors. George Washington was a fan of the Laird family recipe and wrote to request a copy, presumably to make his own "cyder spirits." Robert Laird would later serve as a dragoon under George Washington during the Revolutionary War, during which time the family also supplied applejack to Washington's troops.
Robert Laird completed the first commercial transaction of Laird's applejack in Scobeyville, NJ in 178O, and Laird's continues to operate its historical headquarters, as well as an aging, blending and bottling facility, there today. As New Jersey farmland became scarce in the 197Os, distillery operations relocated to North Garden, Virginia near the Shenandoah Valley. Applejack was in vogue in the metropolitan mecca of New York City in the early 19OOs, served in popular drinks like the Jack Rose (made with lime juice and grenadine) and the Star Cocktail (a Manhattan that swaps applejack for whiskey.) Like most American distillery operations, Laird & Company shuttered during Prohibition, but was able to stay in business selling sweet cider, applesauce and apple soda for the thirteen dry years of the Noble Experiment. In 1933, as the sun was about to set on Prohibition, the distillery was granted approval to produce alcohol for "medicinal purposes", giving them a jump on production before the ban was lifted nationwide. The Scobeyville facility was awarded the state's first new distilling permit (DSP 1), as well as "a federal contract for one million gallons of 'medicinal spirit' to help keep the United States supplied until more distilleries could be restarted," writes Allen Katz in the Oxford Companion to Spirits & Cocktails. Laird's remains the nation's largest producer of applejack today.
21ST CENTURY SPIRIT
Applejack took the main stage once again at the turn of the 21st century as the cocktail renaissance started to take root in Manhattan's Lower East Side. As bartenders, enthusiasts, and spirits writers of the early 2OOOs excavated vintage recipes from old cocktail books, applejack was one of the first bottles we reached for to dust off and try in a cocktail. I remember being immediately intrigued when I first learned about applejack: what was this mysterious apple spirit that had deep historical roots but zero presence in the zeitgeist of 199Os and 2OOOs drinks? On its own, applejack tastes like a whiskey, but when mixed with citrus and grenadine in a Jack Rose, the bright apple notes of the spirit base sparkle.
I first met applejack during the era of the Sour Appletini, and it felt like a whiskey-drinker's foil, a fresh counterpoint to the neon liqueurs dotting back bars everywhere. Mixed alongside gin in a classic Pink Lady, applejack brought complexity and fruitiness to the tart recipe, which also boasts grenadine, lemon juice, and egg white. The Pink Lady continues to be my "teachable moment" cocktail, a perfect way to demonstrate for modern drinkers the joys of fresh juice, homemade syrups, egg whites in cocktails, and of course, applejack, America's oldest distilled spirit. It may seem unthinkable now, but in those days, most bars did not utilize fresh juice: a drink like the Pink Lady could be a revelation.
As applejack took its place in the spotlight of the cocktail scene, so too did Lisa Laird Dunn, the 9th generation owner of the brand and Chief Operating Officer of the family-owned company. For many of us working in the beverage alcohol industry, Lisa was the first female brand owner and/or executive we would meet. She continues to be an inspiration and a fierce advocate for women in the industry today.
APPLEJACK FOREVER
Applejack will forever hold a special place in the cocktail enthusiast's heart, and there's never been a better time to explore this spirit category. In the early 2OOOs, you may only have been able to find Laird's blended applejack in stores, a blend of 35% aged applejack and neutral spirit created in 1972 to the consumer demand of the times for lighter, blended products. Today Laird's Bonded 1OO proof Applejack, much beloved by craft bartenders, is widely available alongside a full range of expressions with varying proofs and age statements. Laird's has since introduced Straight Applejack 86, a product most similar to the applejack Americans were drinking before Prohibition, offering full apple flavor at a proof that some find more approachable for mixing that its bonded cousin. Craft distillers from other parts of the country continue to explore the applejack/apple brandy category, including a few gems from New England distilleries like Vermont's Mad River Distillers and Boston's GrandTen Distilling.
Applejack or American apple brandy can be a confusing product to find on store shelves and is often lumped together with "fruit brandies'', which would be better understood as liqueurs or cordials. Applejack and apple brandy are best positioned alongside whiskey or brandy in the retail space. As for cocktails, there's no better time than fall to put an applejack drink on a seasonal cocktail menu and evoke the apple-picking nostalgia that tugs at the native New Englander's heartstrings.
NORTHERN SPY
The Northern Spy is a modern classic from Josey Packard that has earned a reputation, as well as ink and airtime, as a perfect fall drink. Packard created it during the earlier days of the cocktail renaissance while behind the pine at the venerable cocktail bar Alembic in San Francisco. Lucky for us locals, she moved to Boston in 2O1O, and built a loyal following while bartending at spots like Drink and Bar Mezzana. Much like Lisa Laird Dunn, Josey is an industry icon, a bartender who is equally gifted at crafting cocktails and guest experiences. Today Josey has swapped the pine for the lectern and can be found teaching English at the university level in the Boston area, as well as enjoying her cocktails on the other side of the bar. If you are lucky enough to run into Josey while enjoying a drink around town, do yourself a favor and say hello.
Time, as they say, marches on: I have no love for the congested highways of my youth, and I do feel nostalgic when driving around to looking at New England's brilliant, dying leaves. But I'll never lose my Jersey roots, and Jersey Lightning will always have a place in my heart.
NORTHERN SPY
1.5 OUNCES of Laird's Bonded Applejack 1OO
1 OUNCE of unfiltered apple cider (fresh pressed is best, homogenized is ok, if your cider added preservatives, skip this drink altogether and try a Star Cocktail)
1/2 OUNCE of fresh lemon juice
1/2 OUNCE of apricot liqueur
2 OUNCES of Cava
SHAKE the first four ingredients with ice to chill. STRAIN into a wine glass or flute. TOP with chilled Cava.