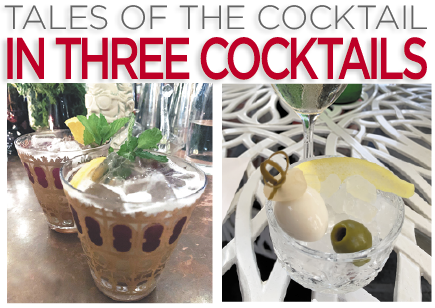 TALES OF THE COCKTAIL-IN THREE COCKTAILS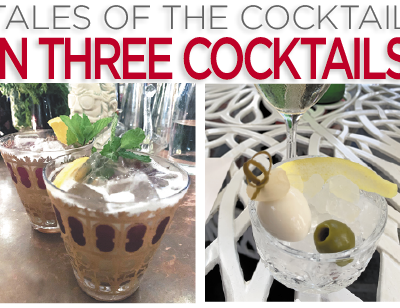 By Kirsten Amann
"When the Tales of the Cocktail first began," my seatmate Mark tells me, "we locals wondered, 'is drinking cocktails really enough to base a festival around?'" We are twenty minutes out from touching down in Boston, home for me and a layover for Mark, discussing why I'd spend a week in steamy New Orleans in July. It's a fair question. I confess, I too was both bemused and intrigued when I first learned about Tales: what the heck happens at a "cocktail conference" anyway? I decided to check it out in 2OO8 (or 'O9?) and haven't missed a festival since.
This summer marks the 2Oth anniversary of Tales of the Cocktail, an event that draws revelers from around the globe. Thousands of us convene each year (hurricane/pandemic notwithstanding), and yes, we drink cocktails! But the days are also stacked with educational seminars, networking events, bar pop-ups, and opportunities to meet the makers behind your favorite spirits brands, all against New Orleans' rich cultural backdrop. This summer is also the first time we've convened in person since the pandemic began, a moment I've been looking forward to like a kid on Christmas Eve.
During the darkest pandemic months I'd plot my path through the Big Easy once I could go back. I planned to sip iconic New Orleans cocktails all over the city: a Pimm's Cup at the Napoleon House, a Sazerac at the Sazerac Bar, a Vieux Carre at the Carousel Bar; I'd listen to live music every night and eat beignets every day. But, you know what they say about the best laid plans…
Nevertheless, the drinks I had at Tales of the Cocktail 2O22 were some of the most memorable in my Tales career: here's a snapshot of some of my favorite moments, told through the cocktails.
A SOPHISTICATED COCKTAIL AT LOA BAR
Before Instagram, influencers, and sophisticated content algorithms, enthusiasts of the world had to poke around nerdy cocktail blogs to find the people who shared our interests. When we founded the Boston Chapter of Ladies United for the Preservation of Endangered Cocktails (LUPEC), I appointed myself editor of such a blog, and took my role very seriously. I posted passionately there about cocktails from a bygone era and unsung women from history to toast as you sip them, and it wasn't long before likeminded women from other cities found us. By 2OO8 a group of gals in New York had chartered their very own LUPEC chapter, and that is where I first met Abigail Gullo. Fourteen years and a few cities later, Abigail is an internationally recognized bar star who calls New Orleans home. She holds forth at Loa Bar in the chic International House Hotel, which is also home to a Banksy. I love my extroverted bar friends, but after two pandemic years spent mostly inside, I knew I would need a respite between Tales sessions. I booked my stay here to guarantee myself a warm welcome from Abigail and at least one sophisticated cocktail at Tales 2O22.
After a whirlwind of hugs, hellos, and chaos at Tales registration in the Ritz-Carlton lobby, I sat down for my first real cocktail of Tales 2O22: a Dear Theodosia poured by Abigail herself. The drink is Abigail's shout out to the Hamilton tour, a twist on a classic made with black-owned brands: "We use diverse casting as well in this New York Sour Twist," the recipe note reads: "Uncle Nearest and Sorel are our stars." Abigail came up in the theatre and treated me to a few bars from my drink's namesake song as she slid it across the bar top. Made with Tennessee Whiskey, lemon juice, simple syrup and topped with Sorel, which tastes like Christmas, the drink was a complex, balanced, and refreshing respite from the heat and chaos of my first day back at Tales.
TULLAMORE DEPARTURE
AT THE WILLIAM GRANT PORTFOLIO PARTY
Did I mention the parties at Tales of the Cocktail? You could come just for these to see brands pull out all the stops, often with lavish touches. I had a caviar garnished martini at the 1Oth anniversary party for Ford's Gin, for example, which also boasted a Negroni fountain in the courtyard and pop-ups by bars from Spain and Paris, including The Little Red Door, which won "World's Best Cocktail Menu" at the Spirit Awards.
Amid the grandeur, my most memorable drink was a glass (well, several) of Tullamore Dew on the rocks at the William Grant Portfolio Party. The theme was "Quantum Terminal: Destination Anywhere" and it was so much fun, I stayed past closing time. As I was finally making my way to the door, a man dressed like a porter handed me an oversized green boarding pass to the "Tullamore Departure" — was he ushering me along to another bar? Soon I was elbow to elbow with other confused but delighted revelers in a space that had been transformed into an Irish pub, singing loudly along to a chanteur from Dublin. The artist, Dan Elliot, was flown in for the occasion and basically a human jukebox. As we sang our hearts out, an Irish woman dressed as a stewardess kept me well supplied with shots. I later learned she is National Brand Ambassador Gillian Murphy, a fabulous hostess for the magical coda I didn't know I needed.
A DAME HALL OF FAME QUORUM
AT JEWEL OF THE SOUTH
But I wasn't just there for the parties: I was in New Orleans on official business as the 2O22 co-chair of the Dame Hall of Fame. This is the tenth anniversary of the event, which was founded by LUPEC ladies in conjunction with Tales of the Cocktail as a way to get industry women in a room together to share stories, network, and uplift one another. Back in 2O12 it was the only event of its kind.
In true Tales fashion, one of the best moments of my week came after my official work was done, while enjoying a drink called the Tuxedo Tails (and several subsequent drinks) with fellow Dames at Jewel of the South. "Patio seating" might not sound appealing in steamy New Orleans in July, but Jewel of the South's outdoor space features the perfect combination of cooling fans and umbrellas: It helps one understand how people managed to be elegant in the heat before air conditioning. The Tuxedo Tails helps with that too: it is a riff on a classic Tuxedo No. 2 (a cousin of the Martini) and combines J. Rieger & Co Midwestern Dry Gin, Manzanilla Sherry, Luxardo Maraschino, Orange Bitters, and "Assorted Garnish". The drink is beautifully balanced and elegant, and let's talk about that garnish: 3 classic martini accouterments (an olive, cocktail onion, and twist) are served over crushed ice in a delightful little side dish, which is perfect if you're feeling indecisive, and encourages experimentation.
Jewel of the South won "Best U.S. Restaurant Bar" at this year's Spirit Awards and co-owner Chris Hannah was named "Best U.S. Bartender." We must have all cycled through to offer congratulations, because our small group of industry women gathered here by happenstance. Each of us got our start in the business as waitresses or bartenders, and have gone on to careers as suppliers, writers, brand ambassadors and consultants. We clinked glasses and swapped stories about what it's been like to work in an industry we love, but that doesn't always love us back. I came for the cocktails, stayed for the conversation, I left with a full heart, feeling bolstered by these incredible women. I am so proud of us all, of Dames, and hope to be toasting together for many decades to come.
As my flight descended into Boston after a whirlwind four days in NOLA at Tales, I was happy to chat with Mark about how much I love coming for Tales of the Cocktail each summer. Before I could weigh in on whether "drinking cocktails" is enough to base a festival around, Mark answered for me: "why, of course it is!"