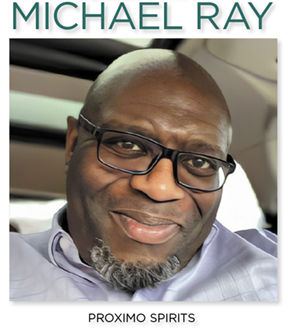 A DRINK WITH . . . MICHAEL RAY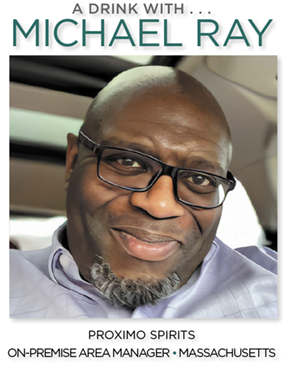 by MAIA MERRILL GOSSELIN
Bouncer, bartender, bar manager, beverage director . . . if there's a title to be held in the Massachusetts beverage scene, Michael Ray has likely had it. Long considered one of the city's most beloved (some would say legendary) bartenders, Michael has graced more than a few iconic bars with his cocktail skills. During his tenure he's appeared at some of the city's best-known haunts from Joe's American to Smith & Wollensky to Forum (not to mention a few throwbacks such as M8O and the Paradise Rock Club). Popular not just for his libations but his loveable and welcoming personality, his legion regulars followed him from bar to bar. He gave new meaning to the term "loyal following". Ambiance and good food were secondary, if Michael was behind the bar, that's where you went.
Like so many who built their career behind the stick, working those long, physically demanding hours with inconsistent pay eventually took its toll, both physically and mentally. Realizing it was time to make a change, Michael shifted to the other side of the business and now manages a substantial portfolio of brands for Proximo Spirits. I caught up with my old friend recently to find out what he's been up to and get his insights on a range of industry topics. While his many fans undoubtedly miss Michael mixing up a drink or two for them, he's still immersed in the industry doing staff training, providing brand support, presenting tasting dinners and posting some killer Instagram pics of his cocktail creations. We can't follow him from bar to bar anymore but we can follow on social media!
MAIA GOSSELIN You've been a longtime notable in the greater Boston beverage alcohol scene. How did this become your career path?
MICHAEL RAY Way back in 199O during college, I became a doorman at a college bar here in Boston. I moved from that position to bartender then to the manager. Worked briefly for an architect, got laid off and walked straight back into a restaurant/bar for a job and never looked back.
MG You're out from behind the stick! Talk about the transition from working the bar to your current role with Proximo Spirits.
MR My mind and body were slowly becoming tired of the daily giving of myself grind. I was in constant joint pain. No amount of money large or small made me love being behind the bar – it was time. It was scary but it was a necessity. I loved the industry but at 45 years old I also needed steady income so seeking out a supplier or brand ambassador job was logical. The Proximo Spirits role was first just on Maestro Dobel Tequila, doing trainings and education, but eight months in I was offered an Area Manager job (just Boston). Now I have the state and help out in Rhode Island and Connecticut when needed.
MG You manage a substantial portfolio of brands. What's your average day entail?
MR I manage brands such as Cuervo, Bushmills, Three Olives, 18OO Tequila, Tin Cup and all the SKUs of those brands and the others. We obviously have monthly priorities which work towards end goals and wins. My day usually starts with checking emails and my life saver Google calendar (if it's not on there, it's not happening), appointments with accounts, touching base with sales managers and salespeople, staff trainings and lately tasting dinners.
MG What are some current trends of note you're seeing in the cocktail world?
MR Back to basics. Three ingredient (possibly more) cocktails; classic old fashioned staple cocktail variations; and fresh and natural, "something I can make at home" style cocktails.
MG Hottest spirits right now and what's driving them?
MR Tequila and Irish Whiskeys as well as luxury higher end items. People have decided that they will always have the staples like Cuervo to fall back on, but they are now trending to super premium and luxury items. Because they seem to just want to treat themselves right.
MG The pandemic turned everyone's worlds upside down. How did it affect you on a work level and how did you fare during that time?
MR Well, it was a huge difference in how we had to all morph to operate. Off-premise was still busy due to household name brands, but places were closed or had limited hours. Staying home for someone who is social was crazy. I managed because locally we had a great support system and local team. The power of text and calls until I could show up in person to support was invaluable.
MG There's clearly a huge void of employees in the hospitality industry at the moment as well as a lack of training. Tell me your thoughts on this and any ways you suggest to rectify the ongoing issues.
MR Don't know if it will come back to how we knew it or if it really should. It showed how vulnerable certain aspects of the business were and still are. Places aren't open for lunch, nor are they open early. Staffs are short, so bodies are needed no matter. What this means is no time to train staffs fully. There's also no time for the educational pieces. They're coming back slowly but with fewer hours of operations. The guest experience could suffer. My opinion: stay the course and just keeping putting out a consistently good product and getting up and just doing it every day that you can.
MG How do you see that the industry has changed (for better or for worse)?
MR Unfortunately, the last three years halted a great movement of craft cocktails while it simultaneously gave rise to a vibe of impersonal service. Right now, with staff shortages and supply chain issues, a pleasant smile or a good laugh and a visibly hard worker making the most of a tough situation can win me over.
MG You've undoubtedly been a role model and mentor to many over the years. Who have been your inspirations in this business?
MR That crew of industry professionals (not just restauranteur or bar managers) that led a movement that included good drinks and great food and exceptional service and overall hospitality. Josh Childs, Tom Mastricola, Bruno Marini, Peter Cipriani, Maggie Campbell, Nicole Olivier . . . to name just a few. There's such a melting pot of people that have all affected me somehow and a few still do.
MG Fitness has long been a priority for you. Talk a little about the importance of balancing work/life and the role of it for your mental health.
MR I woke up one day at over 5OO pounds. My heart has quit on me a couple of times. Between carpal tunnel surgeries and replacing tendons in an arm and a foot, the art of practicing self-care becomes important physically and mentally. The demons of this industry are everywhere (drugs, alcohol and long hours) so we need to do something away from that vibe. Mine became working out. It's a constant battle, but the only excuse is the one that keeps me from not getting up and seeing the sunrise and climbing stairs.
MG Favorite bar you worked at?
MR Abe & Louie's — what a beast that was! We transitioned from J.C. Hillary's and arrived as Abe & Louie's. The scene and business were magnificent, annoying and stressful, but fun. Forum (now closed) obviously holds a special place in my heart.
MG And of course, what's your go to cocktail?
MR Tequila Rocks slice of orange. Preferably one of my own Cristalino tequilas such as the Maestro Dobel 5O.
EDITOR'S NOTE We'd love to hear from you! Do you know of someone notable in the Massachusetts beverage alcohol industry? If you would like to nominate someone for consideration, please email Maia Merrill Gosselin at mmerrill@beveragebusiness.com.