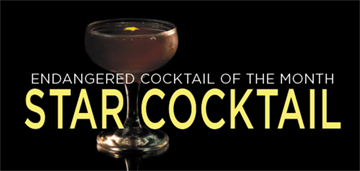 ENDANGERED COCKTAIL OF THE MONTH-STAR COCKTAIL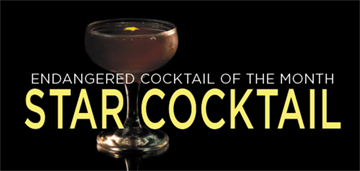 by PINK LADY
As the days get shorter and crisper in New England we love to reach for brown spirits to use in our cocktails. Since bourbon, scotch and rye are always in the spotlight, we're keeping the focus on applejack, America's oldest distilled spirit, this month (see page 2 for an intro on the category.) Before we know it autumn will segue into the hectic holiday season, so we recommend taking some time out for yourself to get cozy around a fire pit and sip something strong and stirred, like the Star Cocktail, while you still can.
The Star Cocktail is one of two classic drinks made with applejack (the other being the Jack Rose.) At first blush, this cocktail is simply a riff on the Manhattan that swaps American apple brandy for rye whiskey. The apple brandy base makes this drink more fruity while still bold and spirit-forward. The Star Cocktail was born at, or at least popularized by, the Manhattan Club during the ten year period from 1887 – 1897 when the bar was helmed by a "deft mingle" named John F. Irish. An 1893 piece in the NEW YORK SUN lists the Star Cocktail as one of a dozen drinks made famous by the club, and two years later it appears in George Kappeler's Modern American Drinks. If you know your way around a Manhattan, you'll easily be able to make Star Cocktail. And why not mix one up, throw on a sweater, and enjoy it while stargazing? We think you deserve it.
STAR COCKTAIL
2 OUNCES of applejack or apple brandy
3/4 OUNCE of sweet vermouth
2 DASHES Angostura bitters
STIR ingredients with ice in
a mixing glass. STRAIN into a chilled vintage cocktail glass.
GARNISH with lemon peel.
Cin-cin!