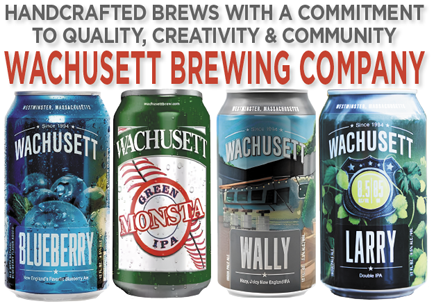 WACHUSETT BREWING COMPANY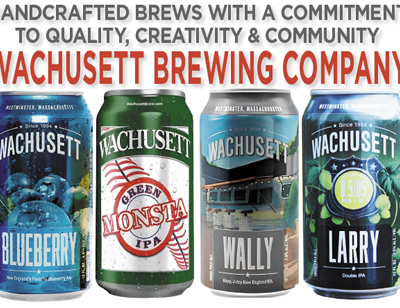 By Andy Crouch
Wachusett Brewing Company has long enjoyed its status as a local powerhouse, distributing its beer throughout its central Massachusetts home. Founded by three local guys, all friends who attended Worcester Polytechnic Institute together, Wachusett remains a community-oriented brewery. Founders Ned LaFortune, Kevin Buckler, and Peter Quinn developed a passion for craft beer and brewing together, visiting breweries throughout the region before opening. They initially ran batches on LaFortune's family farm before moving to a nearby industrial park, where the company remains today. The trio opened their brewery with a hodge-podge franken system that they self-fabricated. I once described it as the ugliest brewhouse in New England, resembling discarded heating and cooling system ripped from some decades old, industrial boiler room. They eventually upgraded the system and growth continued.
Wachusett is one of those sneaky big breweries, perhaps small in reputation in the Boston area but well-known in central and western Mass. As with the Berkshire Brewing Company, Wachusett has long focused on going deep in its local market, selling most of its beer within 4O miles of the brewery. In recent years it has expanded its role as a co-packer or brewer of beers for other brands and companies, including Montauk out of Long Island.  The brewery's portfolio is largely populated with straight forward and accessible styles. The beers are easy-drinking and solid without any ostentation or unnecessary flourish.
BLUEBERRY ALE alcohol by volume 4.5%
Fruit beers once defined a substantial subset of the craft beer scene and in New England no fruit has done better than blueberry. Blueberry beers have long divided beer drinkers, with adoring devotees and trash talking haters. And many of that second group secretly love them. The beers often range from sickly sweet fruit bombs that taste like sugary cereal to drier, more balanced offerings that gently highlight the powerful fragrance and taste of the tiny blueberry. One of the brewery's signature beers, the Wachusett Blueberry Ale has remained central to their portfolio for a long time. Once considered the company's flagship, it remains popular. A pale, blonde-colored ale with a simple, wispy head, the beer's aroma is of pale wheat and mild, muted blueberries. The flavor is light, with a consistent blueberry flavor throughout that avoids any overly sweet notes. Towards the finish, the blueberries reassert themselves before it finishes reasonably bitter.
GREEN MONSTA alcohol by volume 6.1%
A near instant hit for the brewery with its paean to one of the holiest sites in baseball, Green Monsta is an older school American India Pale Ale that highlights some classic hops over a solid malt base. First released in 2O11 as a replacement for the brewery's Green Monsta Ale, the IPA pours with a slightly hazy light amber and a sizable dollop of off-white foam that maintains its strength. The aroma fills with Amarillo, Cascade, and Centennial hops, creating a mixture of sweet fruits and touches of earthiness. The sizable caramel malt base makes itself known along a slight toasted note. With a medium body, the flavor starts with some earthy and bitter hop hits that transform into citrus, pine, and a solid dose of slightly bready malts. An antidote to dry, hazy New England Style IPAs, Green Monsta is a sharp and balanced classic IPA.
WALLY NEW ENGLAND IPA alcohol by volume 7%
Not satisfied to solely maintain a lineup of traditional and older school IPAs, Wachusett jumps forward to the present day with its popular Wally New England IPA. Pouring with the expected hazy golden color with light orange highlights at the edges, Wally (again named after the popular Red Sox mascot, to maintain the Boston sports themes) offers a blast of tropical and juicy hop notes, including pineapple and mango along with notes of honey and a touch of earthiness. With a medium mouthfeel, Wally well-balances the juicy quality of the style without leaving it bereft of malt balance. There is a light crispness to the first sips, balanced by a mildly sweet malt character that quickly gives way to the expected wash of juicy and fruity hop characters. The brewery uses Citra, CTZ, Bravo, Simcoe, an experimental Hop 431. A high-quality New England IPA that can compete with others in the category, Wally also has a juicier cousin, Wally Juice, that is infused with blood orange, and a session version, known as Wally Jr.
LARRY DOUBLE IPA alcohol by volume 8.5%
As with its slightly smaller Green Monsta brother, the Larry Double IPA is a return to a classic American beer style. Likely a head nod in the name to one of the greatest Celtic players of all time, Larry pours with a slightly hazy amber hue and a solid white cloud of fluffy foam. The aroma fills with big, sweet malt notes, slightly candy like, with sizable alcohol heat over a wash of fruit notes ranging from pineapple to slightly earthier notes. The flavor follows with a smack of alcohol upfront, hot on the palate, that fades into a slow roll of sweet caramel and bready malts before transitioning into a rush of bitter and tropical hop notes. Hopped with a mélange of varieties, including Centennial, Simcoe, Magnum, Columbus, Ella, Chinook, Citra, and Calypso, the resulting flavor is a complex mixture of old and new school characters. A bit rough and tumble at times on the palate, Larry is an old school Double IPA.
Wachusett Brews are available from Atlas Distributing.