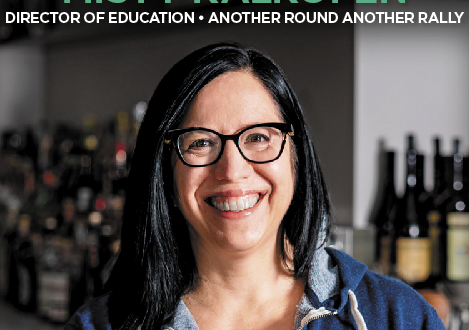 A DRINK WITH MISTY KALKOFEN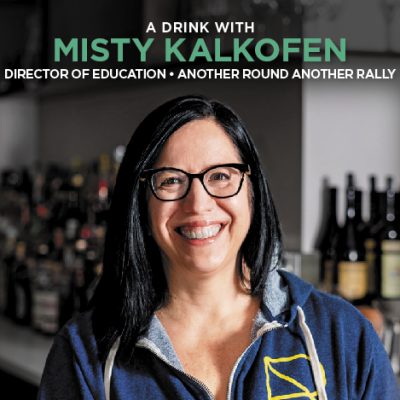 By Maia Merrill Gosselin
If you are involved with the beverage industry or have spent any time at all in the Boston bar scene, then Misty Kalkofen's name is likely known to you. The theologian-turned-bartender is widely considered to be one of the industry's truly great mixologists. During her tenure behind the stick, Misty worked at such venerable establishments as The B-Side, Drink and Brick & Mortar (to name but a few) developing cocktail programs and enjoying a large and loyal following. A founding member of LUPEC (Ladies United for the Preservation of Endangered Cocktails), she is known for her passion for history, the classics and education.
Although the longtime bartender hung up her shaker and muddler a few years back, she has stayed active in the industry. For the last few years she served as the cultural liaison for artisanal Mezcal brand Del Maguey and in 2O18 she co-authored "Drinking Like Ladies", a historical cocktail recipe book. Now she is moving on to her newest role as Director of Education for Another Round Another Rally, a non-profit financial and professional development resource for the hospitality industry whose services are needed now more than ever. I caught up with Misty recently to discuss her current adventures, the new gig and her insights on the state of the trade. Exciting things are happening for the multi-talented Misty!
MAIA GOSSELIN You've had many different roles in the beverage industry over the years. Talk a little bit about the journey you took to get where you are today. What is it about this business that was so appealing to you to make your career in it?
MISTY KALKOFEN The day after my 16th birthday my father turned to me and said, "It's time to find a job." At that point in time both of my older sisters were working in hospitality so it seemed like the right thing to do and I started bussing tables at the restaurant where my oldest sister was working. Throughout college and grad school restaurant and bar work remained a good fit because I could work a full schedule and never have it interfere with my classes. Upon completion of my master's degree I was bartending in Cambridge at the Lizard Lounge. I realized that I loved bartending and also realized that I was so fortunate to have found a line of work that really fulfilled me. Many people never find that. And because there are so many paths within the industry, over the years as I grew and changed there was always a next step within hospitality that was the perfect fit.
MAIA For the last several years you were the cultural liaison for Mezcal brand Del Maguey. How did you end up in this role and how far has the spirit come in the Massachusetts beverage scene? What was your primary responsibility?
MISTY I joined the Del Maguey team back when it was very, very small. Ron Cooper, the founder of Del Maguey, invited me on what was one of the first bartender trips he took to meet those producers who work with Del Maguey in 2OO9 and it was a life changing experience for me. After that trip, I asked for a meeting with Ron when he was in New York City. In the meeting I said, "I know you aren't there yet, but this is going to grow and when you are ready to hire someone to help you, I want you to think about me first."  For three years he stayed in contact with me, checking in every six months or so. At about 2.5 years after that meeting, I received a box with four small bottles of mezcals I had never tried before. In the box was a note from Ron that said, "write tasting notes for these." And I knew then we were close, that this was probably some sort of test. A couple months later Michael Gardner, the global brand leader for Del Maguey, came to Boston to interview me. I started full time with Del Maguey almost 3 years to the day after I sat down with Ron in NYC to tell him of my interest.
Mezcal has exploded nationally and internationally, not just in MA. When I was first introduced to the spirit there were only 2 artisanal brands available in the US. Now every new bar program must include mezcal to be considered relevant.
As I started with Del Maguey when the organization was very small, my job grew and changed over the years. My forte has always been educating, so that was my primary role both within the organization and with trade and consumers. From working consumer focused large-scale events such as Mexico in a Bottle, to leading immersive educational experiences in Oaxaca for trade and distributor partners to training up the ambassador teams, if education was a part of it, I was a part of it.
MAIA You've moved on to a new role as Director of Education for the hospitality nonprofit Another Round Another Rally. What is their mission and what will your job entail?
MISTY Another Round Another Rally is a nonprofit financial and educational resource for the hospitality industry. On the financial side, ARAR issues emergency aid to hospitality workers who are facing unanticipated hardships. Obviously with the pandemic, this became a primary focus for a couple of years. The organization focused our efforts on reaching the members of the community who did not have access to other forms of aid or safety nets, predominantly the undocumented community that is the backbone of our industry. Now that we are starting to feel like we are coming out on the other side of the pandemic, we can focus on what was always intended to be the primary aspect of the organization, which is education. So, on the education side, ARAR issues reimbursement grants and immersive educational scholarships that further the education of historically excluded voices in the hospitality community. As Director of Education, I will be developing topical education programs focusing on all aspects of the hospitality industry, from food and beverage to management skills, through online educational modules, in person seminars, day-long workshops and immersive hands-on scholarship opportunities. Programming will be rooted in historical and cultural context so that the voices of all those who have contributed and our contributing to are industry will be heard and memorialized.
MAIA New adventures! In addition to your new job you also will be residing in Guadalajara part-time. How did you pick this city and does it tie in to your new job?
MISTY Yes! After years of splitting my time between Boston and Oaxaca, I've packed up in Mexico and moved further north to Jalisco. I've always loved Guadalajara but haven't been able to spend much time there over the last ten years, so I'm excited to reconnect with the city. It has a vibrant hospitality community and I'm really inspired when I'm there. I think any opportunity that I have to experience hospitality through a different lens will enrich the programming that is developed through ARAR. Additionally we will be building our educational programming at ARAR in Spanish and English, so any chance to improve my Spanish language skills is one I will take.
MAIA Clearly, cocktail history and cocktail culture are significant to you. What is it about this that intrigues you and how do you incorporate it into your work and life?
MISTY I think that no matter what topic you are discussing, it's always extremely important to know the history of that topic in order to understand its relevance and place in current contexts. The NPR podcast Throughline is one of my favorite podcasts for this reason. It takes something that is happening in today's news cycle and provides the historical background so that we can understand how we got to this moment in time. I feel the same about cocktail history. History is the foundation upon which the house was built and there would be no house without it.
MAIA You are the co-author of "Drinking Like Ladies" with Kirten Amann. What led to this book being written? What was the experience like and can we expect a sequel?
MISTY Way back in the before times, the ladies of LUPEC (Ladies United for the Preservation of Endangered Cocktails) wrote a column in the Weekly Dig. We would profile a woman from history and then share a classic cocktail recipe with which to raise a toast to the profiled forebroad. A friend of ours in the publishing industry reached out and told us that she thought it would be a great concept for a book. So we got to work on a book proposal, found ourselves a book agent and started shopping the proposal to publishers. We were quickly rejected from all and dropped by the agent. Well as they say, timing is everything. Fast forward ten years to #metoo and the election of Donald Trump and all of sudden there was a heightened interest in women's history, women's rights and women's empowerment. Luckily nothing disappears on the internet as an editor from Quarto Press came across our old LUPEC blog and, as they say, the rest is history.
The experience was super intense. We had about three months from signing to delivery of the manuscript. It was a summer spent at our kitchen tables in 12 hour writing frenzies powered by rosé. But it was also amazing as we learned so much about remarkable women whose accomplishments had been erased from the history books at the same time as connecting with the remarkable female bartenders around the globe who developed cocktails as toast to the historical women profiled. As far as a sequel, I think Kirsten and I would both love to see it happen, but that is yet to be determined.
MAIA There are a lot of changes in the industry now that things have opened up again. What's happening in the Massachusetts bar scene these days that's catching your attention (for better or worse)?
MK It has been amazing to witness the resiliency of the MA hospitality community! Coming out of the most challenging period for bars and restaurants, I'm reading announcements every day about new, exciting openings across the state. It really shows the strength of our community. In general across the states, we are witnessing a severe labor shortage in hospitality. Over a million workers have left the hospitality sector since the end of 2O19. But that also means there is room for a new generation that will come with fresh perspectives and ideas. It's challenging in the short term, but I think it will be very exciting for our industry in the long term.
MAIA I always like to hear people's stories for how they managed in this industry during the pandemic. How did you fare and how did you come out of it changed?
MISTY The pandemic forced us all to slow down whether we wanted to or not. And this was very instrumental in my decision to make my next career move. Like many, pre-pandemic I was burning the candle at both ends and buying into the extremely unhealthy grind culture. But once I slowed down, I realized that I was ready to find a way to give back to the industry in a way that allowed me more freedom to spend time with my family and friends, the space and time to create a healthier lifestyle for myself and the ability to explore other communities.
MAIA Tale of the Cocktail returns this July in NOLA! Are you attending and will you be involved on a professional level?
MISTY YES! I will be there the full week and I cannot wait to reconnect with everyone in person! Amanda Gunderson, one of the cofounders of ARAR, is the recipient of the Pioneer Award this year so our team is very excited to be there when she is honored at the Spirited Awards. Kirsten and I will be signing books at the Ritz on Thursday, July 28th at 1:3O as well so I hope everyone from MA who is attending will swing by to say hello!
MAIA Now that you're out from behind the bar…what's your favorite place you worked at? (If you can pick just one of course!)
MISTY Definitely the B-Side Lounge! I still remember the feeling I had the first night I walked through the front doors. I literally got goosebumps because I could tell it was something truly special. It changed the way Boston drinks, and we will forever be a better hospitality industry because of it.
MAIA And of course, favorite cocktail to drink and to make!
MISTY 2:1 Gin Martini with orange bitters and a lemon twist. It's my go to. Always.
---
EDITOR'S NOTE We'd love to hear from you! Do you know of someone notable in the Massachusetts beverage alcohol industry? If you would like to nominate someone for consideration, please email Maia Merrill Gosselin at mmerrill@beveragebusiness.com.