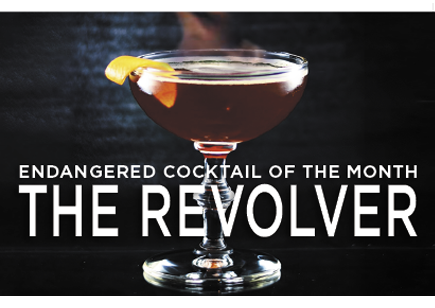 ENDANGERED COCKTAIL OF THE MONTH-THE REVOLVER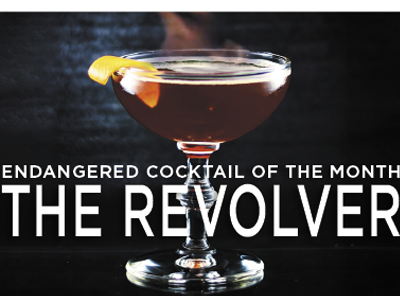 By Pink Lady
A little over a year ago, drinks writers were abuzz about the "resurgence" of the Espresso Martini. A NEW YORK TIMES column titled "The Espresso Martini Is Everywhere (Again)" wondered about the drink's comeuppance: was it pandemic related, 9Os nostalgia, or simply a case of "everything old is new again"?
As a Boston-bred bartender, I was confused: when did the Espresso Martini go away? For the whole of my career, I've enjoyed this drink at cocktail bars, dive bars and everything in between. It is either a fixture of cocktailing in New England, or a drink that no one bothered to tell me was unfashionable. Either way, if the Espresso Martini became low brow in your city, I feel bad for you. Recently I was introduced to a different breed of coffee cocktail, one which I somehow missed in my many years covering the libations beat: The Revolver. Created in the early 2OOOs in San Francisco by Jon Santer, this drink took the cocktail world by storm, has been internationally recognized, and is beloved both nationally and internationally as a modern classic. Once again, no one bothered to tell me.
With a bourbon base and flamed orange peel garnish, The Revolver is more muscular and aromatic than that other coffee tipple I love. Structurally, it has more in common with a Manhattan, and it's easier to make if you don't have espresso on hand. But please note: much like its cousin, the Espresso Martini, make one in a dark bar and every guest is going to want one. No one can resist the flamed orange peel's glow. If the Espresso Martini is the nostalgia cocktail of summer 2O21, let's make the Revolver the nostalgia cocktail of fall 2O22.
THE REVOLVER
2 OUNCES of bourbon
1/2 OUNCE of coffee liqueur
2 DASHES orange bitters
STIR ingredients with ice in
a mixing glass. STRAIN into a chilled coupe or cocktail glass.
GARNISH with a flamed orange twist.
Cin-cin!