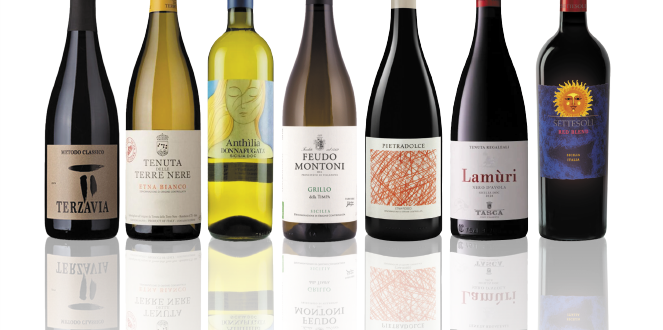 ANCIENT CULTURE AND INNOVATIVE WINE SICILY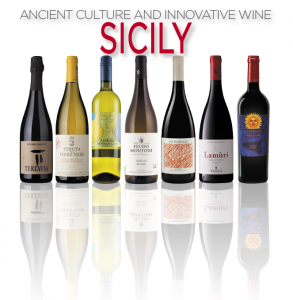 By Seema Tikare
Sicily is a land of rich history, ruined splendor, and infinite possibilities. Despite traveling extensively in many parts of the world, it is hard to think of any place that contains more contradictions – of poverty and bounty, mountains and sea, simple ingredients and high concept cuisine, pirates and nobles and of course, rustic grapes and refined wines.
The people of that island insist that it is a continent because there are so many different regions with their own cultures and histories. One has to remember, Sicily, being placed right in the middle of the Mediterranean, has been invaded and settled by the Phoenicians, Greeks, Romans, Carthaginians, Moors, Normans, Spanish and of course, the Italians. For example, the ancient Greek temples in Agrigento and Selinunte are some of the best-preserved temples in the world, including in Greece itself. And the influences of these cultures are seen in place names (Menfi – from Memphis), food preparation (chickpea flour batter like Indian pakoras) and wine (in amphorae and as "vino perpetuo" in sherry-like soleras).
Given the enormous variety of places and wine character, it does not do Sicily justice to only talk about a few wines, but we can cover some of the most important ones. The wines come from the cold slopes of the active volcano, Etna, and from the hot, sandy, coastal areas where the wind blows constantly. They come from the cool mountain vineyards in central Sicily that get adequate rain, and from dry, dusty lowland vineyards that require very careful drip irrigation and water conservation. They often have difficult-to-remember names like Catarratto and Carricante. Below you will find some of the most respected and carefully made wines from some of the nicest producers on this "continent".
2O18 MARCO DE BARTOLI "TERZAVIA"
METHODO CLASSICO BRUT, SICILY, ITALY
Sparkling wine should be a normal part of wine drinking and not just reserved for festive occasions. There are so many tasty, affordable choices available today that go beyond fruity, easy drinking Prosecco and serious Champagne. Marco de Bartoli is a charming and very genuine family run business that pays attention to every small detail in its grape growing and wine making. This methodo classico wine is made exactly like Champagne, but with Sicily's indigenous Grillo grape variety. And it is stunning. Light and refreshing, it's fine bubbles glide over your palate and leave a gorgeous lemony, minerally finish. It is delicious with Mediterranean flavors from octopus to peppered tuna. Available from Carolina Wine & Spirits.
2O21 TENUTA TERRE NERE, ETNA BIANCO, SICILY, ITALY
This wine is a perfect introduction to the fresh, vibrant white wines of Sicily. Grown on the slopes of the majestic Mount Etna, it is dominated by Carricante, another of Sicily's signature grapes, and blended with Catarratto, Inzolia, Grecanico, and Minella. The grapes come from vines that can be 1OO years old and therefore exude concentrated flavors and aromas. Light floral and herbal notes mix with the characteristic minerality from the volcanic soils to create a wine that is crisp and lemony with a hint of salt on the palate from the sea air. This wine pairs beautifully with melon and prosciutto as well as with the delicious sheep's milk cheeses of Sicily. Available from Classic Wine Imports.
2O2O DONNAFUGATA "ANTHILIA" WHITE, SICILY, ITALY
What is one to do when a grape name is hard to remember? Catarrato, which I happen to think sounds lovely, is being rebranded as "Lucido" in Sicily to make it more accessible to consumers. Whatever its name, it makes soft yet tart wine with flavors of apple, grapefruit, and peaches. In some years, it can even have tropical fruit notes. Donnafugata is not only masterful with its winemaking, it is also a master artist on its labels. Most of the art is inspired by owner, Gabriella Rallo, and designed by artist Stefano Vitale. In this one case, it is ok to judge a wine by its label! Available from Horizon Beverage Company.
2O21 FEUDO MONTONI
GRILLO DELLA TIMPA, SICILY, ITALY
Sometimes, you walk into a winery and you feel like you are entering someone's home. Feudo Montoni's owners, Fabio Sireci and Melissa Muller, are two of the warmest, most generously welcoming people we encountered in an already very kindhearted place. Melissa cooked a sumptuous lunch (see her cookbook, Sicily: The Cookbook: Recipes Rooted in Tradition) and we tried a range of their wines, including their Grillo. Organically farmed and artisanally made, the Grillo della Timpa is a "cru" wine from a specially designated vineyard. Bursting with aromas of orange and peach, ginger and almond, it dances over your palate with tangy, silky textures and flavors. It is a wine that can be served alone or with food and for every mood. Available from MS Walker.
2O2O PIETRADOLCE ETNA ROSSO, SICILY, ITALY
Pronounced "nair-ello mas-ka-lay-say," Nerello Mascalese, which dominates red wines on Mount Etna, is a celebration of tart red fruit and exotic spices. It makes a sometimes-rustic wine with fine but grippy tannins and excellent minerality. Pietradolce's Etna Rosso is grown on the cool northern slopes of this massive, 1O,OOO-foot volcano. The soils are stony and sandy, leading to sometimes austere characteristics. The winemaker however softens the tannins and enhances its spicy notes by aging this wine for 3 months in lightly toasted French oak. It makes for a final wine with delicate cherry and plum, cinnamon and dried herb flavors that pairs very nicely with chicken, rabbit, caponata, and even sardines. Available from Carolina Wine & Spirits.
2O18 TENUTA REGALEALI, "LAMÙRI"
NERO D'AVOLA, SICILY, ITALY
In addition to the enjoyment of saying the name, "Re-gal-e-ali," this winery is just outstanding. It was very difficult to choose just one wine to review because it is not only an old (est. 183O) and extensive (12OO hectares/2965 acres) estate, it is meticulously cultivated and lovingly nurtured. However, among a range of great wines, their Lamùri Nero d'Avola certainly holds its own. With aromas of cherries, blackberries, cloves, cinnamon, and wild herbs, it has a complexity and concentration that one would expect from a much more expensive wine. It is grown on the high hills of central Sicily, warmed by sunny days and cooled by evening breezes to increase its phenolic development. The wine is aged for 12 months in French oak, 2O% of it new and 8O% in 2nd and 3rd pass barriques. It can be aged for a few years but I am not sure I could wait that long to drink it! Available from Boston Wine Company and Carolina Wine & Spirits.
2O19 SETTESOLI, RED BLEND
(NERO D'AVOLA AND SYRAH), MENFI, SICILY
No review of Italian wines would be complete without mentioning the late Diego Planeta. He was the president of the cooperative Cantine Settesoli, with 2OOO members, from 1973 until 2O11. He was a driving force not only in the modernization and elevation of the wines at Settesoli, but throughout Sicily. He brought in renowned enologists, Giacomo Tachis and then Carlo Ferrini, who encouraged them to plant international varieties, like Syrah. This blend of Nero d'Avola and Syrah is intense and velvety. The lip-smacking qualities of Nero d'Avola combined with the lush, fruity, and spicy character of Syrah make this wine perfect for rich and flavorful pasta. Available from Ruby Wines.