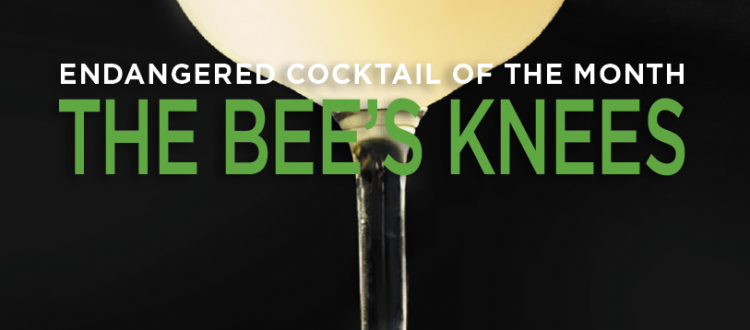 ENDANGERED COCKTAIL OF THE MONTH – THE BEE'S KNEES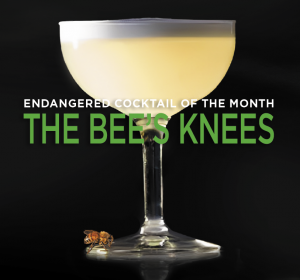 by PINK LADY
If you haven't tried a Bee's Knees before, we are so pleased to introduce you to your new favorite cocktail! This drink is a simple take on the gin sour made with honey in lieu of sugar, and a perfect sip for the hot days that descend upon us every August in New England. The drink is roughly 1OO years old and looks great for its age!
The Bee's Knees dates back to the Jazz Age and is one of few Prohibition Era cocktails that is quite delicious. Hollywood loves to glamorize those speakeasy days, when women could finally drink openly alongside men in the barroom and did so dolled up in short-hemmed flapper dresses that glittered with sequins. Corsets were out and sassy phrases like "the Cat's Pajamas" and "the Bee's Knees" were in. The fashion and slang were on point then, but the drinks themselves were not: contraband alcohol is typically rough stuff.
By most accounts this cocktail is credited to Frank Meier, an Austrian-born bartender who created it while holding forth at the Cafe Parisian in the Ritz Hotel in Paris. Another story links the drink to Margaret Tobin Brown, a wealthy gold miner's widow who split her time between Denver and Paris. She is better remembered as the "Unsinkable Molly Brown", one of the 712 passengers who survived the Titanic, who came up with the drink while making her rounds at Paris's trendy women-only bars.
It's a drink that's served the test of time and is bound to refresh during these last lazy days of August.
THE BEE'S KNEES
2 OUNCES of gin
.75 OUNCES of fresh lemon juice
.75 OUNCES of honey simple syrup
SHAKE ingredients with ice.
STRAIN into a chilled cocktail glass.
Cin-cin!