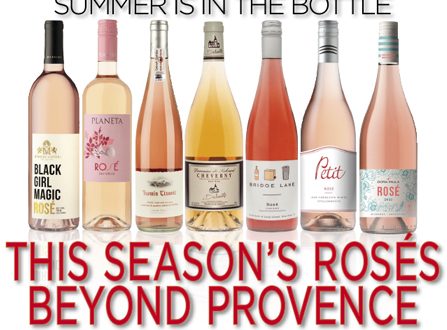 SUMMER IS IN THE BOTTLE-THIS SEASON'S ROSÉS BEYOND PROVENCE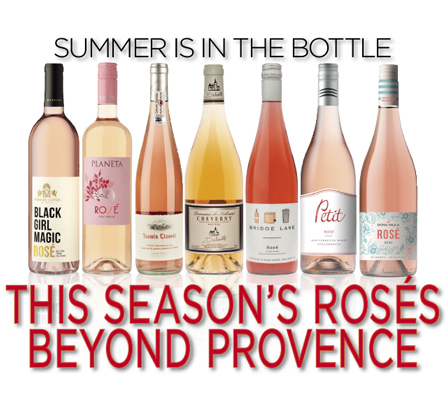 By SEEMA TIKARE
I can't stand to be inside when the weather is warm. And I want to be around people. People who are in a good mood, who are happy to be wearing colorful clothes and drinking wine with a thick layer of condensation dripping from their glasses. People who are surrounded by bright flowers, not weighed down by deadlines and school schedules, who have a long evening to just talk and tell stories. I am clearly not alone in this.
As people spend more time outside, they want their wine to reflect this outdoor beauty and what is more beautiful than a glass of rosé? The rosé craze in the US can be traced to a specific time in the Hamptons, Nantucket, and perhaps Miami, around the summers of 2O12 and 2O13. Its rise was a surprise to many after the depredations of White Zinfandel and the association of pink wines with sweet, characterless swill. But the bon vivants who wanted to bring a slice of their transcendent experiences in Provence and the French Riviera back to the mansions of Long Island were undeterred. The early successes were Wölffer's "Summer in a Bottle" — which Vanity Fair refers to as "Hampton's Gatorade," — and Chateau Esclans' "Whispering Angel". Further fueling the craze was the acquisition of Chateau Miraval by Angelina Jolie and Brad Pitt, backed by the venerable wine-making Perrin family, and the formidable marketing power of "Sofia" by Sofia Coppola. These brands not only have star power but are also really good wines.
Next came the Instagram influencers. "Yes Way Rosé" rose to prominence in 2O13, when they began to promote rosé as "not just a wine, but a lifestyle." And they were incredibly successful. Not only had they captured the zeitgeist of this wine, but they were extremely talented at taking the most appealing photos with gorgeous backgrounds, during sunset or on a picnic, flowers artfully strewn about and infectious laughter caught in their posts. And again, celebrity endorsements played a large role. Drew Barrymore, for example, was a devoted follower and provided a boost for their visibility. They even started a rosé wine club. The more influencers began promoting them, the more the general public began to buy and drink.
Sales of rosé are the fastest growing segment in the wine market. They rose from 149,OOO cases in 2O1O to 2.3 million cases in 2O2O and the numbers are still rising. As sales increase, producers are improving the quality of their rosés, which are no longer an afterthought or a way to use unripe grapes, but rather as an intentional product that is a certain money maker. These wines are fresh, young and require minimal to no aging, so they can be bottled for spring sales and bring in income with a short turn around. Interestingly, sales are also increasing among men. The Roses might at some point have been considered "feminine" wines, but more and more there is a "Brosé" culture. The producers Charles and Charles in Oregon, who sport a Van Halen aesthetic, took on this challenge first. Their tagline is "Yes, you can drink rosé and still be a badass." Others in the industry noticed that because rosés can be light and not overly alcoholic, men tend to drink them more like lemonade, in larger quantities. So, marketing broadened to include a wider range of consumers.
I believe a crucial reason rosé wines sell so well is not only their beautiful color, but because they are also always displayed attractively and together in shops. If someone is looking for a white wine, they often have to wander around the shop, look at the differently regions and varieties of grapes, decide on specific characteristics, check prices and so forth. However, if they want to buy a rosé, they can just walk up to one area and select something based on their preferences — whether that be price, color, label, variety of grapes, producer or whatever suits their fancy, and pay. It is so much simpler. Afterall, convenience is one the primary drivers of sales for most goods these days. With the enormous growth in the market, there is also a growing selection of wines. Because the Provençal style has become so popular, I decided to concentrate on wines made in other regions from other grapes.
2O2O "BLACK GIRL MAGIC" MCBRIDE SISTERS, CALIFORNIA, US
Whatever magic they use, it shows through in this rosé. Half-sisters Robin and Andréa McBride hail from Monterrey, California and Marlborough, New Zealand, respectively. They both grew up surrounded by wines and vineyards and have a deep love of their craft. Together they realized their dream and have now made their winery into the largest Black-owned winery in the US. Black Girl Magic suits both a sophisticated and a starter palate, being smooth, fresh and easy to drink. Made with Syrah and Merlot, it exudes red berries and hints of sweet citrus. It does not undergo malolactic fermentation, lending it a refreshing acidity balanced by a finish of stone fruit and minerality. Yum! Available from Carolina Wine & Spirits.
2O21 PLANETA ROSÉ, MENFI, SICILY, ITALY
The story of the Planeta family goes back 5 centuries and 17 generations. But let's start with the current generation. Since the 198Os, the Planeta winery has been producing exquisite wine from all the regions of Sicily, from the ashy, volcanic soils of Etna to the limestone and chalky soils of Menfi. The grapes in the rosé are Nero d'Avola and Syrah. The Planetas are among the pioneering vintners who showed that Nero d'Avola can make world-class wines. This rosé showcases the best of both grapes: from roses and wild cherries of the Nero d'Avola to blackberries and spiciness of the Syrah, the nose is lovely. On the palate, it displays soft minerals and a hint of peaches and watermelon, while remaining crisp and refreshing. Available from Ruby Wines.
2O21 TXOMIN ETXANIZ ROSÉ
TXAKOLI DE GETARIA, BASQUE, SPAIN
Coming from the rebellious Basque region of Northwest Spain, the family Txueka has been making wine since 1649. They hand-harvest their grapes and make the wine with extraordinary attention to detail. Having aged on the lees for 6 months, this wine is light and almost ethereal, with a wafting hint of orange and grapefruit, bread dough and oyster shells. The grapes used are the tremendously named Hondarrabi Beltza, a red grape, and Hondarrabi Zuri, a white grape. The red provides acidity and freshness, while the white provides the more citrus, herbal, mineral notes. Dare I say, this might also be an ideal "brosé" — it is a wine that goes down easily, is light and fresh, and can stand up to salty, savory snacks all afternoon. Available from Classic Wine Imports.
2O2O DOMAINE DU SALVARD CHEVERNY ROSÉ,
TOURS, LOIRE, FRANCE
The Loire is famous for its Cabernet Franc and many of the rosé wines are made with this grape. Those produced near Anjou often are in a sweet style. But this wine, from the Touraine area, is made bone-dry from 6O% Pinot Noir and 4O% Gamay. It tries to hue closely to the Provençal ideal of a pale, "onion-skin" color with mouthwatering acidity, restrained fruit and a mineral finish. However, it also has its own personality. On the nose, you get a lovely lemon-lime aroma with background notes of melon and raspberry. On the palate, it emphasizes the flavors of honeydew and watermelon and is tangy rather than crisp. Experts have noted that Cheverny is a part of the Loire that could rival Sancerre but has been kept secret to promote the other region. I note that it is a bargain! Available from Carolina Wine & Spirits.
2O21 BRIDGE LANE ROSÉ,
NEW YORK STATE, USA
Going back to wellspring of the rosé market's rise in the Hamptons, Bridge Lane is a fabulous winery. It is a small operation on the North Fork of Long Island that makes 6 wines. The rosé is made with a blend of 32% Cabernet Franc, 28% Merlot, 19% Pinot Noir, 8% Pinot Blanc, 7% Seyval and 6% La Crescent. The wine is very tasty, with aromas of melon, peach and lemon zest but finishing on a pleasant chalky minerality. To make this summery tipple, they use estate grown fruit, they craft their wines with care, and they offer them in four different formats. I am drinking it out of the bottle, but it also comes in a can, in a 3-liter box and a keg! For a summer party where you are serving many people, I can't imagine a better solution than a high-quality wine made with care and yet, available in box or keg! This is so smart. Available from Ruby Wines.
2O21 KEN FORRESTER PETIT ROSÉ, WESTERN CAPE, SOUTH AFRICA
One of the masters of South African wines, Ken Forrester makes this offering with a blend of Grenache Noir and Viognier, an aromatic variety that is not normally associated with rosé. This combination of a cherry and strawberry scented red grape with a stone fruit and floral scented white grape makes for a beautiful nose. The palate is quite delicate and finishes with inflections of summer fruit. The producer says this "wine will last half an hour with the cap off," so it seems that he recommends drinking it quickly — he might even call it a "porch pounder." Available from Ruby Wines.
2O21 DOÑA PAULA ROSÉ, MENDOZA, ARGENTINA
With its deep pink and coppery color, this could almost be a light red wine. It is made with the powerful Malbec grape, which can make inky dark wine. However, these grapes are harvested early and whole cluster pressed to preserve their acidity and balance. The fermenting wine must be in contact with the skins for a relatively long time to get that deep rich color and it is evident in the taste of the wine. It has light tannins and a bit more body with cherry and blackberry aromas. If one is looking for a more grilled meat friendly wine, this might do the trick. Available from Carolina Wine & Spirits.