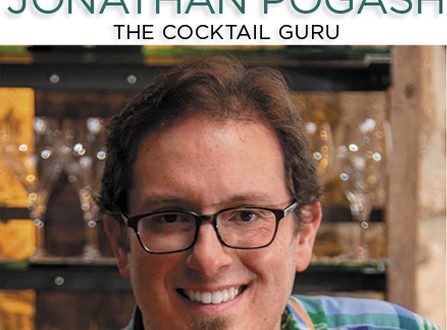 A DRINK WITH JONATHAN POGASH-THE COCKTAIL GURU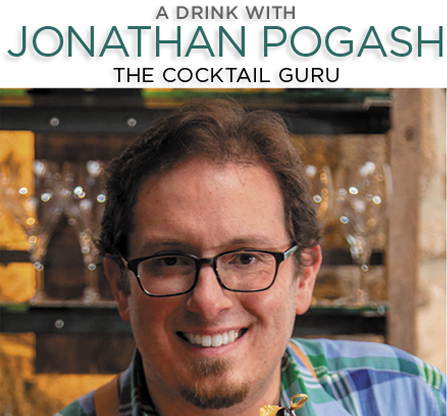 By MAIA MERRILL GOSSELIN
Jonathan Pogash didn't start off with the plan of making his career in the spirits industry. In fact, when he first moved to New York City it was to pursue his dream of becoming an actor. But sometimes, life has other plans. As aspiring actors often do, Jonathan moonlighted working in bars and restaurants. Turns out, he not only had a knack for bartending he had an affinity for the whole business of mixology. More than that, he was a natural at teaching these skills to others in the trade. What started out as a side job became a passion along with the realization that he could indeed make his profession in the world of spirits. A vision formed and with a combination of hard work, creativity and a little guidance from his mentors, The Cocktail Guru was born.
Today, the Cocktail Guru is a well-established, thriving national business based in Massachusetts. Jonathan and his team of experts (Gurus) offer a wide range of services from bar/restaurant consulting to staff training to brand building and more. As the on-premise fully opens up, his services are more in need now than ever. I recently caught up with Jonathan to discuss the evolution of The Cocktail Guru along with the current state of the industry, among other things. We may never see Jonathan starring in a Broadway production, but he definitely knows how to entertain!
MAIA GOSSELIN You're known professionally as The Cocktail Guru but you started out with different goals. How did you come to create your company and what let to this moniker?
JONATHAN POGASH I had the acting bug ever since I was a small child yet growing up in the wine and spirits business (my father Jeffrey worked on the corporate side) I was introduced to the industry early on. It was a natural progression for me as a teenager to work in restaurants so that's what I did. When I moved to NYC in 2OO1, my acting career was definitely fledgling (to say the least), and my jobs in various bars and fine dining restaurants helped me pay rent (my first gig was as a barback at the Russian Tea Room). Right around this time, I was introduced by my father to one of my mentors, Gary (Gaz) Regan. Gary used to hold these "Cocktails in the Country" bar/cocktail courses for industry in upstate New York every so often. It was a class about the basics of bartending, classic drinks, and running a bar as a professional bartender. I loved this course so much that not only did I take it three more times, I also ended up working for Gary on the administration side of things. When I decided that I could take my little side hustle of doing liquor brand events and designing cocktails to be more than just a part-time gig, I went to Gary for advice. I wanted to create a catchy website, full of life and inspiration, that would also perfectly translate what it was I was doing. On Gary's suggestion, I went to Google to search synonyms for the words that described what I was doing. The word "Guru" came up, and I thought, "Wow, that's kind of neat. Maybe I could be 'The Cocktail Guru'". So I immediately bought the domain and the rest is, well, history.
MG You definitely wear multiple hats. Can you elaborate on the different roles you have?
JP My main hat is that of husband and father. I'm constantly balancing work and life, and I still have lots to learn!  But on the business side, I'm not only an entrepreneur, I also have a team of amazing Gurus that work for me on a project-by-project basis. In addition to this, I work mainly on the business development side — curating relationships, creating new partnerships. The Cocktail Guru as a company also has various aspects to its day to day: We assist beverage brands with event activations, cocktail development, and digital media support. We provide specialty cocktail and bar service for consumer events like fundraisers, weddings, and social events. We provide equal parts education and entertainment to hundreds of corporate clients with our Team Building Mixology Classes — in-person and virtually. We work with new and existing bars and restaurants on a consulting basis to help them design and develop their beverage programs — everything from the cocktails, beer and wine to the staff training, spirits selection and non-alcoholic drinks menu.
My dad Jeffrey (who's also my first mentor) works with us doing all of our wine programming and education. He and I also co-host The Cocktail Guru Podcast that's focused on hospitality and entertainment, with some amazing guests!
MG How has The Cocktail Guru grown and how have the last two years changed your business and what you do?
JP The Cocktail Guru has grown ever since the day I decided to take the business full time. In 2O1O, upon the suggestion and endless encouragement of my lovely wife, Megan, we took the plunge and carried the company forward! I was always known as NYC-based, but when we decided to move to New England, I realized how I could expand the business (after freaking out a bit about the move and fear of losing all my NYC-based clients). And a couple of years later, I realized that I could, indeed, expand nationally.
The last two years have been a struggle for everyone. After my last event in March 2O2O was cancelled due to the start of the pandemic, I immediately turned on a notice on my website that we can do all that we do virtually. We've been fortunate in that our team building business grew tremendously — nothing I could have ever imagined! We became a fully online company, working with some of the largest and best corporations around the globe, helping them to connect their employees and clients. We started creating highly curated cocktail box kits to go along with our virtual classes. I was able to employ out of work bartenders across the U.S. — amazing mixologists whom I had worked with before — to lead these classes. Now that we can see the light at the end of the pandemic tunnel, in-person is coming back and the cocktail festivals and events we had pre-2O2O are back on the horizon.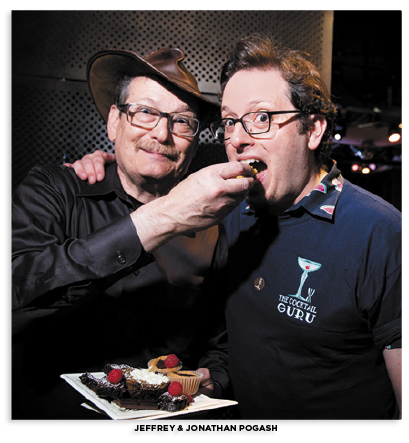 MG Who is your typical client and what are they usually looking for?
JP We have generally three "typical" clients: beverage brands, corporate clients, and bar owners/operators. The beverage brands are looking for a talented, educated, well-versed team to help them spread the messages of their brands. My team is second to none, and I am fortunate enough to have each and every one of them assist me in making sure our beverage brand clients receive their maximum return on their investment. Our corporate clients are not looking for your ordinary team building activity: they want something fun, out-of-the-box, and engaging so as to connect to their teams and woo their clients. I would say right now it's 5O/5O virtual and in-person, with some hybrid classes thrown into the mix. What a lot of folks don't realize is that we can facilitate these mixology classes anywhere around the country. My network of Guru-trained and approved mixologists allows this to take place. On the bar and restaurant side, we have bar owners and operators who reach out wanting to step up their cocktail game. Perhaps they've had the same menu for decades, or their staff doesn't seem that inspired. We pride ourselves on our training programs, as well as the creative, dynamic, and cost-effective cocktail menus we create for our clients. New-build restaurants and bars will hire us right from the get-go: to assist in the design, layout, and equipment selection of the physical bar (in addition to the drink menus and training down the line, of course).
MG Now that on-premise has opened up again (hopefully for good!) it's understandable that employees might be a bit rusty…how does The Cocktail Guru work with service concerns?
JP One of our core values is what we call "Mindful Hospitality". It's the notion that if we take care of ourselves (mind and body), then we can adequately take care of those we serve. And then we need to dust off the old brains and get back to the root of hospitality. The pandemic has most definitely left us a tad rusty on the service side, so we've developed a specific program to bring our true core values back to the forefront of our minds. We work with staff and teams on relearning and reworking the proper steps of service, tips for success, as well as mock service training programs.
MG Staffing remains a significant problem for on-premise. Do you have any suggestions to address this?
JP Providing adequate support and training is key to staff retention. Operators can focus on keeping the good staff that they have on hand now so as to minimize turnover. A new employee will be attracted to a well-designed, well-thought-out bar and restaurant program. Ensuring that staff training is regular and thorough, as well as providing the best possible compensation that can be offered, are two aspects of addressing the staffing issue. Focusing on topics such as paid leave, vacation and health insurance for staff would be a great start.
MG Talk a little bit about the supply issues the industry is experiencing. Do you foresee things getting better?
JP There are issues across the board within all industries regarding supply. Everything from packaging, to ingredients, to shipping. It is definitely getting better, but it will take time for things to get back to pre-pandemic normal levels. We just need to be patient with each other and try to exude that patience with our clients and guests in the kindest possible way.
MG What do you currently see as the most popular spirits for your clients? Also, is there anything happening in the industry in terms of spirits and cocktails that isn't getting enough of a look in your opinion?
JP Vodka and Whiskey seem to be reigning strong with our corporate business clients these days, specifically within our team building mixology classes. We do our best to educate and inspire our guests, and with that allow for the exploration of other spirit categories, like gin and tequila. Lower-abv products like sherry, port, vermouths, and wines are very popular with our beverage brand clients, as well as our bar and restaurant consulting clients.
MG What are some trends you are seeing in the world of spirits that you like?
JP I definitely keep seeing the low-abv spirits/liqueurs and non-alcoholic cocktails trend still pushing through. It's really quite incredible and refreshing the amount of non-alcoholic products that are out there these days. It makes our jobs much easier! These brands are really well-made and allow for our creative juices to flow and expand to a degree we never even would have imagined just a few years ago. Bottled and canned cocktail products are also still a hit and this is a bit of a catch-22 I think to those of us with mainly on-premise experience within the industry. I've recently had the pleasure of taking on a couple of pre-made cocktail products as clients, and in all honesty, it allows me to reach a wider audience. I'm still able to allow my creativity to flow within the preparation and service of these products — i.e.: Glassware, garnish, proper mixing technique, etc. It's been tickling my fancy as of late.
MG What's your favorite part of what you do?
JP It's providing memorable experiences through storytelling and beverage. I'm also constantly learning; whenever I lead seminars, speak to the trade, train bartenders, or speak to corporate guests, I allow my experience with these partners to improve the way I handle myself and my business. I love learning from other bartenders. Believe you me, there is so much that I don't know!  It's the younger generation — the new blood — that will move this industry forward. And to be able to spread the knowledge, and soak in reciprocal knowledge right back, is what makes it all worthwhile.
For more information visit TheCocktailGuru.com.
EDITOR'S NOTE We'd love to hear from you! Do you know of someone notable in the Massachusetts beverage alcohol industry? If you would like to nominate someone for consideration, please email Maia Merrill Gosselin at mmerrill@beveragebusiness.com.