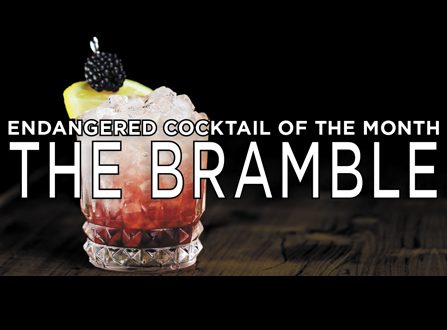 ENDANGERED COCKTAIL OF THE MONTH – THE BRAMBLE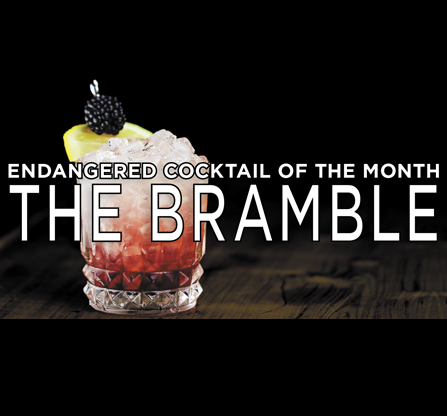 by PINK LADY
It would be easy to assume a cocktail like the Bramble, made with fresh lemon juice, high quality crème de mûre (blackberry liqueur), and crushed ice was born in a fancy cocktail bar during the first Golden Age of Cocktails in the 188Os. In fact, the drink was created a hundred years later in London in the mid-198Os by legendary bartender, the late Dick Bradsell.
In the U.S, 198Os drinking typically entailed sour mix from a gun. Most bars didn't bother with fresh juice, and if there was a drink menu to order from, it boasted beverages made almost exclusively with vodka. Not so at Fred's Club in Soho, where Bradsell was behind the stick. He described the venue in the Difford's Guide as "the original members club designed for young people," playing host to famous musicians, starlets, and beautiful people like Boy George, Neneh Cherry, Souixsie and the Banshees and Naomi Campbell. Bradsell's cocktail program, like the high-class clientele, was elevated and fresh.
With the Bramble, Bradsell originally sought to create a drink made with truly British ingredients, and he almost got halfway there by deploying gin and crème de mûre, a blackberry liqueur which captured the essence of his childhood summers: "During carnival time on the Isle of Wight, we were all covered in tiny scratches from the brambles and bright purple from the blackberry bushes," wrote Bradsell. Lemon and sugar, though not British, provide the classic sour structure to this simple but refined cocktail, and crushed ice makes the drink complete, providing the perfect level of dilution to a recipe that might otherwise be cloyingly sweet.
As the days get longer and warmer and gin is suddenly back "in", we suggest reaching for a Bramble when it's time for sundown sipping. It also boasts a perfectly pink hue reminiscent of a sunset, well-suited to Instagram or that "ooh, I want one!" moment as your bartender passes the drink across the bar.
THE BRAMBLE
CREATED BY DICK BRADSELL
2 OUNCES of gin
3/4 OUNCE of lemon juice
1/4 OUNCE of simple syrup
1/2 OUNCE Crème de Mûre
SHAKE gin, lemon juice and simple syrup with ice.
STRAIN over crushed ice into a rocks glass. DRIZZLE top with Crème de Mûre.
GARNISH with blackberries and lemon wheel.
Cin-cin!