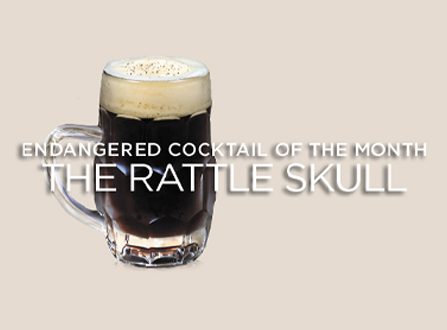 ENDANGERED COCKTAIL OF THE MONTH – THE RATTLE SKULL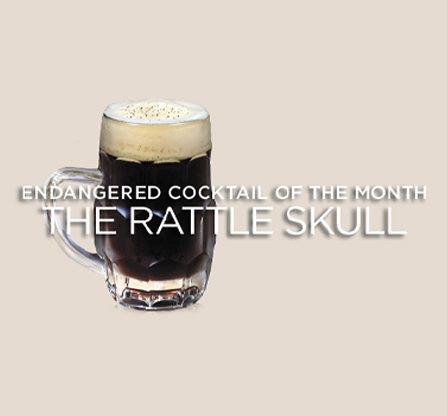 By Pink Lady
We love Marathon Monday here in Boston, and the race itself is as good a reason as any to raise a glass in our fair city. The real holiday we celebrate, Patriots' Day, commemorates "the shot heard 'round the world" and the ensuing battles that kicked off the American Revolution, and is the reason Massachusetts residents get a bona fide day off from work.
Whoever fired the gunshot that kicked things off on April 19, 1775 is still unknown. British soldiers were on the move, making their way to Concord to seize weapons stockpiled there by American colonists, when they encountered 7O minutemen on the town square in Lexington. Battles and bloodshed ensued in Lexington, Concord, and other places on the way back to Boston, ushering in the Revolutionary War. Ralph Waldo Emerson would immortalize the moment in his 1837 poem "Concord Hymn."
Patriots' Day wouldn't become a holiday until 1894 and was itself a compromise made by then Governor Frederic T. Greenhalge. Both Lexington and Concord had petitioned to make April 19th their eponymous day for patriotic commemoration, but everyone knew that the biggest battle that happened took place down the road, the Battle of Menotomy (known today as Arlington.) Furthermore, the date in question was already marked as a "Fast Day", a state holiday named not for racing but for abstinence and repentance. Fast Days had roots in early Colonial religious traditions of declaring a day for fasting, prayer and penance as a way to appeal to God's good graces to avoid such earthly troubles as crop failure, plagues, and natural disasters. To us, this sounds like the worst type of holiday: cheers to Governor Greenhalge for his savvy rebrand. The first Boston Marathon was added to the roster of April 19th fetes in 1897, which is a type of fast we can get behind.
You can raise a glass to patriotism and to speedy runners this spring with a drink that was a favorite of the Revolutionary-Era pub: the Rattle Skull. This can do double duty all month, starting with National Beer Day on April 7th.
RATTLE SKULL
12 OUNCES of porter
1.5 OUNCES of rum, and/or brandy
.75 OUNCE of lime juice
.5 OUNCE of brown sugar syrup (1:1, sugar:water)
To a large beer mug, ADD all ingredients
and STIR gently.
GARNISH with freshly grated nutmeg.
Cin-Cin!