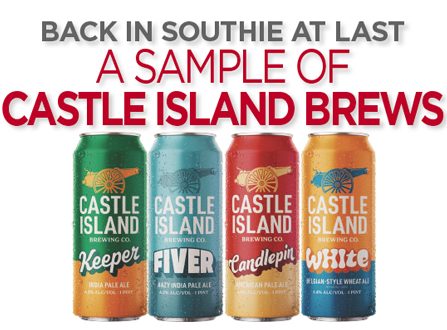 BACK IN SOUTHIE AT LAST – A SAMPLE OF CASTLE ISLAND BREWS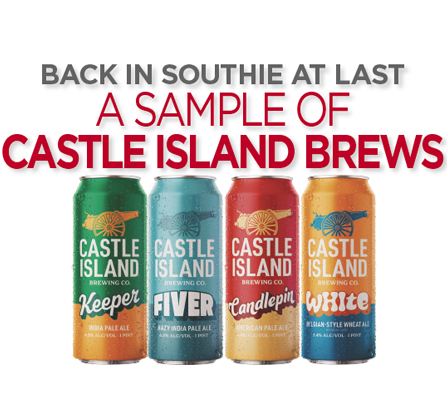 by ANDY CROUCH
Some breweries just feel like they have been around forever. Castle Island Brewing first opened in 2O15 but it seems like it could have been 2OO5. Co-founder Adam Romanow initially wanted the brewery, named after the South Boston landmark, to open in Southie. But that dream was deferred, as many Boston-based brewery visions are, due to a lack of suitable manufacturing space and facilities. Undeterred, Romanow instead opened his production facility and tap room south of the city in Norwood. But his eye never left South Boston. He is a long-time resident of the neighborhood, and he has continued to look into possible locations to open a tap room or new brewery. In a bit of kismet, Romanow finally found a South Boston location right under his own nose.
In 2O19, a development company bought the Cole Hersee building on Old Colony Avenue in South Boston with the intention of repurposing the former industrial building and office space in a multi-purpose venture. Rechristened The Iron Works, the building had previously been owned by members of Romanow's extended family. He has memories of visiting the building as a kid and the developers reached out to Castle Island directly about opening a brewery in the space. Romanow was a quick yes, and the project began to take shape until the pandemic delayed the opening. Finally, Castle Island came back home to Southie in 2O21, welcoming drinkers and lovers of South Shore bar pizza into the engaging indoor – outdoor space. The space boasts a 1O-barrel system and all of Castle Island's core lineup plus plenty of specialty offerings are available, including Bungalow Glow, a fascinatingly quirky and spicy margarita inspired sour ale. The new space has enlivened the brewery, offering it pilot brewing opportunities and the chance to finally engage with the city and neighborhood containing its namesake.
KEEPER IPA
alcohol by volume 6.5%
One of Castle Island's original core brands, Keeper IPA is a straightforward and accessible IPA, balancing between older school West and East Coast models. The brewery's flagship offering, Keeper pours with a slightly hazy golden hue, a small dollop of off-white head with solid retention and impressive lacing. The aroma boasts a mixture of fruit and pine, ranging from peach, lemon, and grapefruit, over pine and woodier and lightly and even toasted malty notes. The aroma is clean and bright. The taste continues with a wash of sweeter and biscuity malt, which is immediately overrun by fruit notes, including lemon, mixed in with a sharp pine kick, from a mixture of the Simcoe and Cascade hop additions. Taking cues from its West Coast tendencies, the medium-bodied IPA finishes with a long and lingering deep resinous bitterness. Keeper does not feel its weight at 6.5 percent alcohol by volume, even with that substantial malt base.
FIVER
alcohol by volume 6.3%
In 2O2O, Castle Island Brewing started the Fiver Initiative, which is a targeted philanthropic effort funded by sales of the brewery's Fiver, its year-round hazy IPA. The initiative supports local non-profits in the areas of environmental sustainability, social justice and equality, arts and education, animal welfare, and public health. The company donates five percent of all sales of Fiver directly to five different charities. Fiver starts with the typically orangish straw hue with a substantial sheet of haze and pours with a substantial creamy white head. Hopped with Citra, Simcoe, and El Dorado, the aroma fills with hints of tropical fruits, grapefruit, orange, and passion fruit. Additions of light pine and the base pale malt also make themselves known. Juicy and well-balanced throughout, this cloudy haze bomb is a great combination of all the admirable elements of the style.
CANDLEPIN
alcohol by volume 4.4%
At the other end of the alcohol spectrum from many of Castle Island's fuller flavored double and single IPAs, you can find Candlepin. The brewery's session ale was designed to be accessible, and it is. Castle Island promotes Candlepin as an "anytime beer" and "every time beer." It pours with a deep golden hue, with the lightest of haze and just shy of being clear but while maintaining the eye of haze lovers. Hopped with Citra and Columbus, the aromas burst with notes or tropical fruits, including mango, pineapple, grapefruit, and orange. There is plenty of citrus and juicy hints but still a bit reserved as it is a session beer. Underneath there are some light toasted malt notes, with a bit of breadiness. Candlepin is clean and orderly from start to finish, beginning with a wave of light malt sweetness followed by tings of citrus and juicy hops. A well-integrated and balanced beer, Candlepin bounces between the mild and toasty malts to the bright tropical and citrus notes. True to the session designation, each sip encourages another with no one element barking out for attention to the detraction of the whole. A very solid and drinkable all around session player.
WHITE
alcohol by volume 5.4%
Balancing out the portfolio of hoppier offerings, Castle Island's Belgian Style Wheat Ale, simply called White, is another straightforward and accessible beer that offers something for every drinker. A silver medalist at the 2O19 United States Open Beer Championship, White pours medium gold to yellow in color, with the requisite level of attractive and inviting haze, and a nice cap of light white foam. The aroma is to style, with a mixture of bread, wheat, orange citrus and zest notes, spices such as coriander, and light peppery notes. Brewed with Valencia oranges, the flavor veers more into that citrus note than others in the style but it is not far from the guidelines. A quick wave of sweet and bready malts gives way to layers of lemon and orange, touches of vanilla, and finishing with a swatch of spices, including coriander. The finish is light, bright, and dry with a bit of bitterness lingering.
Castle Island Brewing Company has locations in South Boston and Norwood. Castleislandbeer.com
Castle Island beers are available from ATLAS DISTRIBUTING, BURKE DISTRIBUTING and COLONIAL WHOLESALE BEVERAGE.