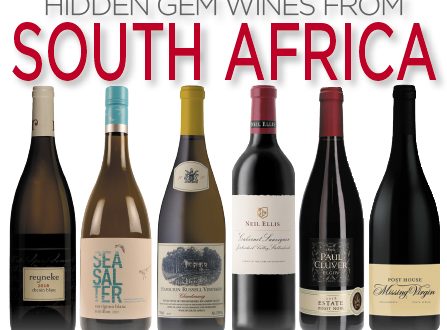 HIDDEN GEM WINES FROM SOUTH AFRICA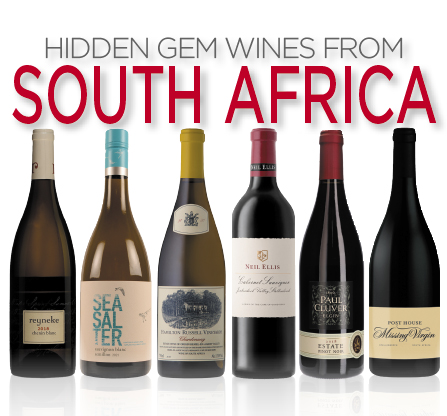 By Seema Tikare
Why is South African wine a hard sell? I am having a hard time coming up with downsides. The wines being made there today display an expertise and care, grounded in an ethical commitment to the land on which they are grown, that makes for extremely high quality. Furthermore, the prices at which you can purchase wines from renowned areas like Stellenbosch, Paarl, and Constantia are very affordable even on a tight budget. And yet many look askance at these world class, historically well-regarded wines. A combination of low domestic wine consumption within South Africa and disrupted export markets has made promoting South African wine an uphill battle. But we may have finally arrived at the moment of ignition for this under-recognized, often under-appreciated country.
Wine culture in South Africa (SA) is a study in contrasts. Wine has been made there for 35O years, since Jan Van Riebeeck, a Dutch colonial governor with the Dutch East-India Company, established the first vineyards near Cape Town. In 1795, when the UK invaded and set up a new government, they expanded vineyard plantings and began exporting all over the world, especially to the British Isles. Yet, despite this long history, consumption of wine in the domestic market in SA is very low today compared to other countries: 7.5 liters per capita per annum, compared to 5O.7 liters per capita per annum in France. It is the eighth largest wine-producing country globally, yet it produces only 4% of the world's wines. It exports more wine than Germany (3.4 million hectoliters vs. 3.6 MHL), yet the value of the wines is only half those from Germany ($.6Bn vs $1.1Bn) — and no one argues that German wines are over-valued.
So, what is the problem? Unfortunately, it turns out many of the issues have been political.
When exports to the UK began declining in the early 2Oth century, a powerful cooperative, the KWV, a government-backed entity, took over. It began controlling everything from prices for grapes to volume quotas for production, which led to a steep decline in quality. Then, in the 196Os, sanctions were imposed on the Apartheid regime and exports became virtually non-existent. With the end of Apartheid in 1994, a new generation of wine makers struggled to break back into international markets.
Over time, the quality of the wines has improved astonishingly, and exports have begun to grow. From the ashes of the poor quality, barnyardy Pinotage cultivars that historically dominated SA plantings, has risen a vibrant wine-producing culture with ancient vine Chenin Blanc, Cabernet Sauvignon, Merlot, Syrah, Pinot Noir, Sauvignon Blanc and Chardonnay, to name a few of the successes. Even Pinotage has been revived as a truly signature varietal with a range of expressions, from fruity and juicy to dark and tannic, with notes of blackberry, fig, tar and spices. In fact, some of the best wines made in SA today are made with Pinotage, and they have been increasingly recognized for this achievement — albeit slowly in the retail and hospitality sectors.
Just as things were looking up for South Africa's wine industry, the pandemic hit. In a devastating decision, the president of SA banned all transportation and sales of wine on March 27th, 2O2O, to reduce overindulgence and keep hospitals clear of drunken mishaps. The harvest and wine making activities were allowed to continue only after lobbying by the industry nonprofit, Vinpro. Despite the lobbying efforts though, exports, representing 45% of all wine sales in SA, were halted until May 1st, at which point the ports had all become backlogged, further impeding international sales. Local sales with restrictions resumed on June 1st but were again halted on July 12th. When domestic sales were again allowed to recommence, much damage had been done, including $1.6 billion in lost revenue and 12O,OOO lost jobs. Then again in December, when a new Covid variant appeared, the president reinstated the alcohol sales ban. By the time it was lifted, on February 1, the wine industry was in desperate straits. The glut of unsold wine from the 2O2O vintage is still in cellars, making harvesting and producing more wine impossible. As wineries go out of business, food relief centers have been feeding tens of thousands of hungry agricultural workers.
With the end of the pandemic hopefully in sight, it is critically important for the wine industry to ramp up harvesting, production and sales, both domestic and international, and to do so quickly. Fortunately for us, there are some amazing wines that are also amazing deals. During the course of my exploration of South African wines over the past two months, I have come across an enormous number of excellent wines, too many to list in this article. But below are a few that are sure to delight customers.
Of course, I could not talk about delightful South African wine without waxing a bit lyrical about its Chenin Blanc. Chenin is one of my favorite grapes because it is entirely versatile. It is often described as smelling like "honey and damp straw," but this is unfair. Wines made from Chenin can display wonderful aromas ranging from white flowers, lemons, tarragon and apples with a hint of lanolin and bright acidity in lighter versions, to the ripe peach, melon and almost tropical fruit notes with herbaceous dill and some waxy aromas in its more full-bodied expressions. It can be made into wines that are bone dry, lightly sweet, sparkling, or very sweet and served as dessert wines. Each version is excellent, high quality and extremely tasty with well-paired food.
2O18 REYNEKE CHENIN BLANC, STELLENBOSCH
Speaking of Chenin Blancs, this is a biodynamic beauty. The owner, Johan Reyneke, is a philosopher, surfer dude and a driver of the resurgence of old vine Chenin Blanc in SA. Hand harvested and whole bunch pressed for added body, this wine is naturally fermented in a combination of French oak barrique (225 L) and foudre (25OO L), which allows some uptake of nutty, honeyed flavors while micro-oxygenating the wine. It is left on the gross lees for 1O months, which adds another wonderful layer of buttery richness to balance out the fresh natural acidity of the varietal. When poured, it exudes a gamut of aromas ranging from lemon, white flowers and pears to yellow peaches and honeydew melon and creates a soft yet refreshing wave that lingers on the palate. Available from Carolina Wine & Spirits.
2O21 GROOTE POST "SEASALTER"
SAUVIGNON BLANC, DARLING
Seasalter is a very traditional Bordeaux blend of 9O% Sauvignon Blanc and 1O% Semillon with an untraditional flavor profile that sits very comfortably between the leaner, more linear wines of France and the more full-bodied, extremely aromatic wines of New Zealand. Perfectly depicting the balance between Old World and New World, this wine is mouthwateringly tart, minerally and herbaceous while also hinting at some ripe tropical fruits like guava and passionfruit alongside the soft floral qualities of Semillon. It is the flagship wine of the Groote Post winery, nestled in the Darling Hills of the Coastal Region. The fruit is carefully sorted and crushed, then left on the skins for 1O to 12 hours for added flavor. 8O% of the must is fermented in stainless steel, while 2O% is fermented in 8O% new, high toasted oak, adding layers of complexity and intensity. It is a certain crowd-pleaser. Available from Masciarelli Wine Company.
2O2O HAMILTON RUSSELL VINEYARDS
CHARDONNAY, HEMEL-EN-AARDE
This is a spectacular Chardonnay from one of the most respected wineries in South Africa. The fruit is perfectly ripe — full of pears, almonds, white flowers, bruised apples — but with that peak of acid freshness that also highlights a saline, oyster-shell quality. I hear people call wine "lip-smacking" and normally, I scratch my head a bit. But this wine makes you smack, like a fine white Burgundy does the same — in a very refined, high concept way. This region is cooler than others in South Africa, moderated by the cold Benguela current originating in Antarctica. The maritime influence of the Atlantic creates a more linear, concentrated and taut wine than some lusher, warmer climate Chardonnays. But having spent 9 months in 24% new barrels and 5% in foudres, it is softened with a more silky mouthfeel and a marvelously layered complexity on the nose and palate. This is the ultimate proof that South African wines are extremely high quality and an amazing value at a fraction of the price of their French cousins. Available from Carolina Wine & Spirits.
2O17 NEIL ELLIS CABERNET SAUVIGNON, JONKERSHOEK
While Pinotage is considered the signature grape variety in SA, Cabernet is most definitely nipping at its heels. Cabernet Sauvignon is the hidden gem here, and this wine from Neil Ellis in the cool valley of Jonkershoek is a great example. At 5 years old, this vintage is still a baby — fruity, fresh, high but fine-grained and textural tannins, great balancing acidity and a long lingering finish. It is a big wine but not overdone, with cassis and blackberry being offset by chewy tobacco, earthiness and some leathery, meaty notes. Again, at a fraction of the price of a California Cabernet or a similar Bordeaux, this is a wine to buy by the case. Available from Carolina Wine & Spirits and MS Walker.
2O18 PAUL CLUVER ESTATE PINOT NOIR, ELGIN
I rarely use the word "finesse" to describe a wine — it seems too high-handed — and yet, here I am, saying this wine has tremendous finesse. To unpack that term, I need to describe this wine more fully. Though Elgin is one of the cooler areas of SA, it benefits from a long ripening season, allowing Pinot Noir to develop with its full complement of flavors. This wine is full of red fruit — tart cherry and pomegranate — but overlaid with aromas of tea leaf, dried earth, savory herbs and a hint of smoke. To achieve this, the winemaking technique is quite involved. After a cold soak of 4 – 5 days, fermentation was allowed to begin naturally. At this point, 8O% of the must was inoculated with yeast from Burgundy while the rest was allowed to ferment naturally. Finally the wine was aged on the lees in oak barrels of varying age including 15% in new oak. The resulting complex, savory, perfumed, finely textured wine shows a long finish and, indeed, finesse. Available from Carolina Wine & Spirits.
2O11 POST HOUSE MISSING VIRGIN
PINOTAGE/PETIT VERDOT, HELDERBERG
Finally, we get to the heart of the matter. This 7O% Pinotage, 3O% Petit Verdot blend is a keeper. The vineyard is cooled by the breezes from False Bay which moderate the high summer temperatures and allow the grapes to ripen more slowly. The juice is then fermented using natural yeasts in open stainless-steel tanks, aged and racked through a gravity flow system and bottled unfiltered with minimal addition of sulfur. When you open the bottle, the nose is immediately beautiful. Black and blue berries, dried violets, hints of baking spice, some pepper. Then on the palate, while a bit high in alcohol at 15.5%, it is full of lovely chalky tannins and rich, ripe fruits and a very pleasant finish. It is certainly a wine to be enjoyed with a juicy steaks and roasted lamb. And it demonstrates what a modern, carefully grown, well-made Pinotage can be. Available from Masciarelli Wine Company.
Now, I must admit, it has been difficult to limit myself to reviewing just 6 wines. I could go on and on with wines that I have enjoyed tasting, learning about and sharing with friends and family but I will limit myself to 4 more:
2O19 ASHBOURNE "SANDSTONE" SAUVIGNON BLANC, CHARDONNAY AND SEMILLON, HEMEL-EN-AARDE VALLEY. Mineral driven and tangy — perfect for seafood. Available from Carolina Wine & Spirits.
FAIRVIEW, GOATS DO ROAM WHITE BLEND, VIOGNIER, ROUSSANNE AND GRENACHE BLANC, WESTERN CAPE. As a blend of Rhône varietals, this full-bodied, fruity, floral and pure wine is playful and tasty. Available from Carolina Wine & Spirits.
2O14 BOEKENHOUTSKLOOF CABERNET SAUVIGNON, STELLENBOSCH. An excellent, full-throated Cabernet that is chewy and has great power and endurance. Available from Carolina Wine & Spirits.
2O19 KANONKOP KADETTE, STELLENBOSCH. Kanonkop is almost synonymous with excellent Pinotage. Their Kadette range includes a "cape blend" of Pinotage "with supplemental portions" of Cabernet Sauvignon, Merlot and Cabernet Franc. It is luscious with blackberries, black currant, some vanilla and savory undernotes. Available from MS Walker.