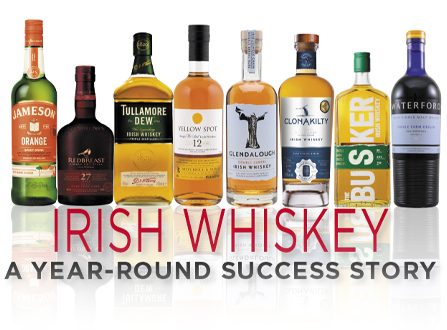 IRISH WHISKEY – A YEAR-ROUND SUCCESS STORY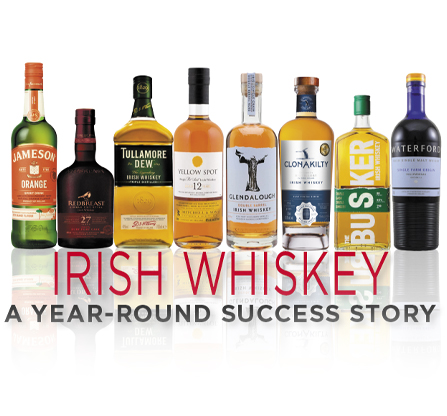 by LEW BRYSON
Irish whiskey, once a tiny shadow of its pre-Prohibition global glory, has recovered and is playing in the big leagues again. Jameson is an 8 million case brand worldwide, half of that in the U.S., and Tullamore DEW is at 1.5 million globally, with Bushmills just under a million. Brands and distilleries are increasing quickly, and the category is showing the segmentation typical of strong growth as both bargain brands and ultra-premium luxury bottlings are appearing. Straight, rocks, cocktails, and the still popular boilermakers: people really are drinking Irish whiskey all year long these days.
But despite year-round appeal, here we are again in March, watching bottles fly off the shelves. Because unlike bourbon, or Canadian, or rye whiskeys, Irish whiskey has a big drinking holiday all to itself. St. Patrick's Day still drives sales in Massachusetts, much more than Burns Day drives Scotch, even more than Cinco de Mayo drives tequila. "We always have to talk about St. Patrick's Day," said Ryan Maloney, at Julio's in Westborough. "Here in the States…it's a bigger thing than in Ireland."
Demand for Irish whiskey is so high that it's being affected by the villain of the decade: supply chain issues. Maloney said it was hard to tell if the amount of whiskey available was being driven by how much was being bottled or how much was making to his shelves. "Any Redbreast came in, I was trying to get five or ten cases," he admitted. "I don't want to compound the problem, but I don't want my customers to come up short either." A few people specifically mentioned news stories about a Jameson shortage putting a crimp in Mardi Gras celebrations in New Orleans, wondering if that was going to affect sales here in Massachusetts. So I got in touch with a friend who owns a whiskey bar in NOLA. Her take: Don't worry over much. "Lots of products have had supply chain issues," she said. "It's not limited to Jameson. But Jameson is well-known, so that's what they did the story on. No one is interested in a story about well vodka." Sounds about right.
Jameson does dominate the market for Irish whiskey, of course, but what's new with the jolly green giant? "We're seeing a lot of innovation in the category," Maloney said. "The Black Barrel, the Stout Caskmate, they do okay. Now we're getting into the Jameson Orange, moving into the flavored whiskey area." Jameson Orange launched in mid-January, a 3O% ABV spirit with Jameson whiskey and orange flavor. 'Jameson, Made Zesty' is the tagline. "Everyone I've sampled it on says 'WOW'," said Gary Park at Gary's Liquors in Chestnut Hill. "Other flavored whiskeys are sweet, syrupy. This is more like a hint of clementine. I think this is going to be a monster, really big for them. It's perfect for an Old Fashioned. It might be a whole new section of the category."
As already mentioned, the ultra-premium segment of the category is developing quickly. For years, there were only a few offerings at the high end, like Midleton Very Rare, Bushmills 21 Year Old, and Jameson Rarest Vintage Reserve. Now there are new bottlings in the segment, like Barry Crockett Legacy, the Bushmills Rare Casks (see sidebar), and Redbreast 27 Year Old Ruby Port Finish, and customers aren't even flinching at the price. "The 27 Year Old Redbreast, it's a $4OO bottle," said Park. "I sold 4O of them. I've never seen a response to a high-end whiskey like that. At double the price of Johnnie Walker Blue, you wouldn't think it would sell like that. With the port finish, it appeals to Scotch drinkers; they can't find anything [comparable] in that range. They're absolutely going for it."
Maloney agrees; it's not just Irish whiskey drinkers trading up. "When you get into the high end," he said, "you aren't looking at category drinkers, you're looking at whiskey drinkers. They don't have to be Irish drinkers to be interested. They're looking for cool stuff. It transcends the category."
"He is correct," confirmed Sona Bajaria, VP, Marketing — Irish Whiskey Portfolio at Pernod Ricard USA. "It's perfect for trading up from any type of whiskey drinker. The high-end Irish whiskey category is still growing right now. That will only continue as consumers consider high-end Irish Whiskey within their trade up repertoire."
Meanwhile, Tullamore D.E.W. is settling solidly into the middle of the category, with a portfolio that firmly characterizes the three faces of Irish whiskey in their Original and 12 Year Old. The 14 and 18 Year Old Single Malt allows the brand and the drinker to focus on the influence of different wood finishes (as does the blended XO Caribbean Rum Cask Finish).
"Tullamore D.E.W. is the original triple blended Irish whiskey," said Conor Neville, senior brand manager at Tullamore D.E.W. "We combine all three styles of Irish whiskey: grain, malt, and pot still which results in a smoother Irish whiskey with added complexity. Grain gives sweetness, malt adds fruitiness, and pot still rounds out the blend with a creamy spice finish." As whiskey made at their new distillery outside Tullamore approaches the age for bottling, the brand will take control of their supply — and their fate — for the first time after over 6O years of purchasing whiskey for blending, an old tradition in Ireland. "We've been patiently laying down stock since our malt and pot still distillery became operational in 2O14," said Neville. "After a further $7O million investment, our grain distillery opened in 2O17, giving us full control from grain to glass. This level of investment coupled with aged stock gives us real flexibility to experiment and bring some exciting releases to life in the future. As our liquid continues to mature, we'll be gradually including the whiskey from the new distillery into the blend."
Two brands from Pernod Ricard have been seeing great success by leaning heavily into single pot still, a type of whiskey that uses malted and unmalted barley, and is uniquely Irish. One of them is Redbreast, which has grown from an almost unknown single expression to an embraced family of bottlings. They range from the beautiful basic 12 year old through cask strength, Lustau sherry finish, 15 and 21 year old, all the way up to the aforementioned 27 year old. It is a great range that shows what this distillate style can do.
The other is The Spots, the resurrected four-color range of single pot still bottlings once picked by Dublin merchant bonders Mitchell & Son. Slowly brought back from near-extinction by a patient joint venture between Mitchell & Son (which still run their wine shop in central Dublin, and still are involved in the Spots) and Midleton/Irish Distillers, the Spots are four different expressions of a base whiskey. Green is aged in bourbon and oloroso sherry wood; Yellow is a 12 year old and adds Malaga wine wood; Red is a 15 year old, in bourbon, sherry, and Sicilian Marsala casks; and the Blue is a cask strength 7 year old, aged in bourbon, sherry, and Madeira casks. They are a master course in what wood can do for whiskey. Kevin O'Gorman, the master distiller at Midleton, put his finger on what makes these whiskeys special. It is, he said, "the variation we get with the Spots. They have some common DNA, but they're so different. There's a Spot for everybody."
What is Irish single pot still? It's a unique mixed-mash style of whiskey that includes both malted and unmalted barley, and can also contain up to 5% other grains. I'll let Donal O'Gallachoir of Glendalough explain, as he described the brand's Pot Still Irish bottling, which is made in this uniquely Irish style, and also finished in rare Irish oak. "It's a style that's a defining point of Irish whiskey, that can only be distilled on the island of Ireland," he stated. "Our pot still whiskey is 2/3 unmalted barley, 1/3 malted barley, and triple-distilled. It's renowned for viscosity, and then a tangy underlayer of spice. That's ultimately because there's more oils from your distillate. It's said that there is eating and drinking in a glass of pot still whiskey." The Irish oak finish is something you don't see a lot of, simply because there isn't a lot of Irish oak. "It's extremely rare," said O'Gallachoir, and then explained that the island used to be covered in oak trees, which were largely cut down for shipbuilding. "We're lucky that where we are, in the Wicklow Mountains, is some of the remaining forests. We worked with a forester, Paddy Purser, and felled fourteen trees that yielded 5O casks. Every cask is traceable back to the tree, and for every tree we cut down, we plant seven more." That's great, but what does it mean for the whiskey? "Irish oak is very fast-growing, with thinner cell walls, high levels of vanillins," he said. "We have found it adds two core characteristics to the whiskey; deep sweet notes, like molasses, an almost sticky toffee pudding sweetness. Also there's an earthy, tree bark character. It's a flavor profile that's gone by the wayside. Pushed aside by sherry and wine casks, and now bourbon. Our own Irish oak hasn't influenced distillate for hundreds of years. The flavor profile is beautiful."
Another new brand, Clonakilty, has already made a name for itself with small runs of innovative barrel finishes; the first taste I had was of a cognac finish about two years ago, and it was a killer. But the brand has also partnered with a number of American craft brewers (like Jack's Abby in Framingham) to finish whiskeys in beer casks. Padraic Coll, the co-founder, explained how granular finding partners can be. "We first talk to the local bar owners and consumers and get an idea of who are the best craft brewers in the area. We look for people who share our values, who choose quality over quantity and who don't necessarily take themselves seriously but take their brewing seriously." Sounds like enjoyable work! Clonakilty started offering cask strength single barrel releases last year. "This was hugely successful, so we are expanding this in a significant way for 2O22," said Coll. "Rivesaltes, Armagnac, Sauternes, and Tawny Port finishes will be available, to name just a few. We are close to bringing out a high proof whiskey specifically for pairing with cigars — this project hopefully will see the light of day in September 2O22." For now, it's all sourced whiskey. "Clonakilty started distilling triple distilled single pot still in May of 2O19," said Coll, "so everything in the market is still being sourced. This whiskey won't be bottled until it is 4.5 to 5 years old given that single pot still needs longer maturation than grain or even single malt. We grow as much of the un-malted barley on the farm as we can and have experimented in 2O21 with distilling heritage barley which will be an interesting release in the future."
Some of the new brands are already bottling their own make whiskey. The Busker is a new brand, a triple blend like Tullamore — grain, malt, and single pot still whiskeys ­— also aged in three different types of cask — bourbon, Oloroso sherry, and Marsala — for four years, that comes in around (or under) $3O. "All of The Busker's whiskies are made at Royal Oak Distillery," said distillery manager, Woody Kane. "Every single expression of The Busker Irish Whiskey's distillation process and aging is different to create unique flavor profiles." The three types — Single Grain, Single Malt, and Single Pot Still — are also available as separate bottlings, an interesting proposition for the drinker who's curious about what each whiskey brings to the blend. The Busker is already generating some buzz among whiskey reviewers and drinkers for its value proposition. "The quality of the liquid over-delivers at any price point and the packaging stands out in all commercial channels," said Kane. "In addition, our level of investment and support allows us to maintain trials and encourage repeated purchases."
Before we wrap up, I'd just remind you of the piece I did on whiskey terroir a few months ago, with the interesting project Waterford Irish Whiskey is in the midst of, proving the beauty and difference of Irish barley with a series of farm-specific single malt bottlings that are identical in every aspect except where the barley is grown. Waterford also has some unique packaging. Gary Park and I have been known to geek out on things before; this time it was the Waterford closures. "The Waterford series," he said, "you know, the ones with the glass stoppers that actually work!" I agreed; I've seen glass stoppers with silicon seals on other bottles, but Waterford is the first bottling where they stay in securely but come out easily. Pretty cool. The numerous different bottlings (over 4O already) have made Waterford a favorite of collectors. Park has already had inquiries from drinkers in Ireland who want to buy some of his offerings.
Irish whiskey has achieved all the marks of a full-sized whiskey category. It has a global presence with a multi-million case seller and continues to grow rapidly. It has true points of difference, and real variety. Irish producers aren't just innovating like every other whiskey, they're doing their own things: Irish oak, unique cask finishes (one I saw recently finished whiskey in casks charred with Irish kelp), and Waterford's massive terroir project. They have products in every price category, from everyday affordable to high-end luxury. And they still have something no other whiskey has: their own annual drinking occasion. Happy St. Patrick's Day!
---
BUSHMILLS IS BACK Back in the day, there were two Irish whiskeys: Jameson, and Bushmills. They were small, steady sellers that peaked in early March. Then things changed, and Irish whiskey took off. Jameson hit a million cases a year, then two, and now it's eight. Tullamore D.E.W. returned from the cold, and we welcomed it with open arms. A rush of Irish whiskey brands appeared: Knappogue Castle, Kilbeggan, Connemara, The Tyrconnell, Slane Castle, West Cork, Dingle, Egan's. But Bushmills was the kid who never left town; hanging around the same places, still doing the same things, while the other kids got jobs in the big city. The whiskey was as good as ever — Black Bush is always in my home bar, and the 16 year old is a favorite — but it seemed to have missed the bus.
That's all about to change. Meet Alex Thomas, the new Bushmills Master Blender. She's the person behind The Sexton Single Malt, her first project at Bushmills. The Sexton is an exceptionally affordable 4 year old single malt, sherry cask-aged, in a distinctive hexagonal bottle. At first, I thought the bottle was an Irish concertina, but it's a reference to the famous basalt columns at The Giant's Causeway, not far from the distillery. Your customers should know about it, even if they don't know it's from Bushmills.  Now she's moved up to take over the Bushmills brands. You're going to meet her latest project soon: a new Bushmills 12 Year Old. Not just the 1O Year Old two years older, this new blend is matured at least 11 years in Oloroso sherry and bourbon barrels, then finished in Sicilian Marsala barriques. I've got a sample here right now, and the aroma is giving me all of that. The 12 Year Old is also part of the launch of new packaging for the Bushmills single malt portfolio. The 1O and 12 Year Old, and the allocated 16 and 21 Year Old, are now in a distinctive decanter-style bottle. The blends — Original, Black, and Red — and the Rare Casks series will continue to be in the taller, more familiar bottle.
Speaking of which, there's a new Rare Casks release coming to follow up on the delicious 28 year old cognac-finished debut release. This will be a 29 year old single malt, finished in a Pedro Ximenez sherry cask, launching at the beginning of March (the first release sold quickly at $5OO, and now goes for around $7,OOO, if you can find it). The Rare Casks, like a lot of Irish whiskey, are still quite affordable for the luxury category, and appeal to whiskey drinkers of all types. At this level, people are no longer buying Irish, or Scotch, or bourbon, they're interested in exceptional whiskeys of any type.
This isn't any kind of spasm, either; Bushmills is definitely coming. They're wrapping up a major distillery expansion that will bring a lot more whiskey online in years to come, proof of commitment. More importantly, Thomas reminded me, the Bushmills warehouses are full of potential rare casks and fun stuff, with varied age statements. I can vouch for that, having visited and tasted in the warehouses just before the pandemic. We tasted some startling whiskeys (including the casks that became that first Rare Cask release), some as young as 12 years. That's why I decided to include this spotlight on Bushmills; I'm that excited. As the Irish say: watch this space. Bushmills has more to deliver, this year, and following on.