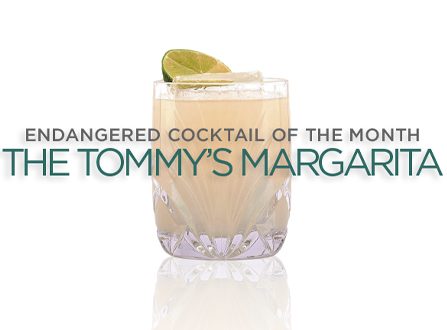 ENDANGERED COCKTAIL OF THE MONTH – THE TOMMY'S MARGARITA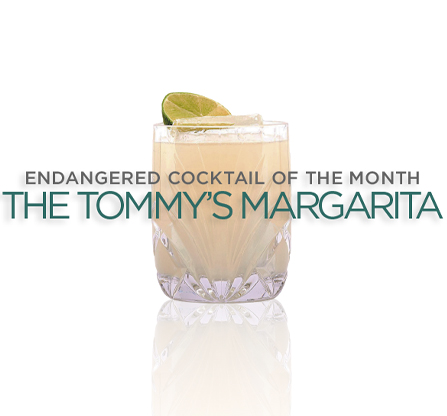 by Pink Lady
Writing about Margaritas in February in New England might seem counterintuitive: It's cold, possibly snowing or icing as you read this, and we are deep into whiskey and winter warmer season. But February 22nd marks National Margarita Day, so we say why not mix one up? A well-made Margarita is a perfect balance of sweet, sour, and earthy and might prove you a bit of escapism from an otherwise cold, dreary, long month.
Like so many classic cocktails, there is much lore as to the Margarita's origins, yet no definitive original architect has been named. The 1937 Cafe Royale Cocktail Book features a drink called the Picador, which bears striking resemblance to the drink we know as the Margarita today. A more exciting story traces the drink's origins to Margarita Sames, a famous Dallas socialite, who claims to have invented the drink for guests at her vacation home in Acapulco. Tommy Hilton was a high-profile guest that night and took the drink back to his chain of Hilton hotels to make it famous. Bartender Santos Cruz claims to have invented the drink in 1948 at the legendary Balinese Ballroom in Galveston, Texas for actress Peggy Lee. He chose Margarita for the moniker, the Spanish pronunciation of Ms. Lee's name, Margaret.
The most likely story of the drink's origin is that it was just a variation of the classic cocktail, the Daisy. Tequila didn't cross the border into the U.S. until after Prohibition, but Americans were crossing the borders the other way to golf, gamble and drink, and most likely brought their taste for the drink home to the U.S. A classic Daisy features sugar syrup, orange cordial, lemon, and spirits, topped with seltzer. Make a few tweaks and voila! — not to mention the fact that Margarita is Spanish for Daisy.
At Tommy's in San Francisco, Julio Bermejo created a variation on the drink in the 1990s that is much beloved by bartenders worldwide. His recipe swaps out orange liqueur for agave nectar, and makes for a drier, more refreshing drink in the opinion of many. Tommy's is an institution, so mixing up one of these iconic Margaritas is worth a try as we toast one of the most popular cocktails in the world for its National Holiday!
TOMMY'S MARGARITA
2 OUNCES of Blanco Tequila
1 OUNCE of lime juice, freshly squeezed
1/2 OUNCE of agave nectar
Garnish salt rim
RIM a rocks glass with salt.
SHAKE tequila, lime juice and agave nectar with ice. STRAIN over fresh ice into the prepared glass.
Cin-Cin!