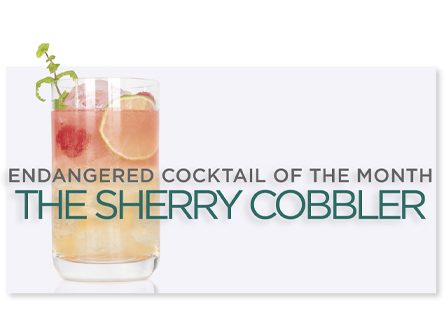 ENDANGERED COCKTAIL OF THE MONTH-THE SHERRY COBBLER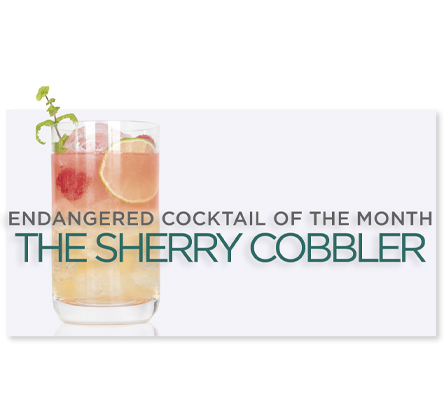 by PINK LADY
Every month is Women's History Month as far as we are concerned, but we would be remiss to let March pass us by without raising a glass to an enterprising forebroad who paved our way. This month, won't you join us in toasting Martha King Niblo? Martha King was born in 18O2 in New York City and was raised in the business when that was one of the only real paths for women to get a job behind the bar. Her father David King kept a porter house on Wall Street, where William Niblo came to work after emigrating to the US from Ireland. In 1813 William opened the Bank Coffee-House, which prospered and was "the scene of many banquets of gargantuan proportions," writes Benjamin P. Feldman for the Gotham Center for New York City History, including "Turtle and Game Dinners" which made the NEW YORK EVENING POST in 1825: "William Niblo has just received 7O prime Green Turtles; they are kept healthy and fresh in the crawl at the foot of Warren Street."
In 1819, Martha married William who was prospering as hotelier and tavern keeper. When he opened Niblo Gardens in 1828 in what is today SoHo, it was with the full support of Martha, who had business acumen, and mixology savvy. The venue was a pleasure garden built in what was once an equestrian facility, a girls' riding facility, and a sometimes venue for the circus. It's hard to imagine such a place in the heart of New York City today, but back then this area was a suburb. Tucked away from the hustle and bustle of downtown, the gardens were a genteel respite with all kinds of entertainment, and a refined saloon popular among upper-middle class New Yorkers. It was far more comfortable and spacious than the small city parks open to the public, and of course there were Martha's drinks, including her talent for the Sherry Cobbler.
The Sherry Cobbler was the drink du moment in the 183Os; who knows if Martha's famous version had something to do with this? David Wondrich included Martha on a list of "Five Unheralded Pioneers of the American Bar Who Pre-Date 'Professor' Jerry Thomas" for Eater: "'As the British traveler John Brougham wrote in 1842, she 'mixed all the drinks — and knew how,' going on to add that 'a sherry cobbler from her dainty hand was something specially inviting and created an involuntary relish for that seductive and not altogether innocent beverage.'" The Sherry Cobbler also introduced Americans to a whole new drinking contraption that many among us would be lost without today: the drinking straw. Cheers to Martha King Niblo, and to Women's History Month!
THE SHERRY COBBLER
1 lemon wheel
1 orange wheel
3/4 OUNCE of simple syrup (1:1 sugar to water)
3 OUNCES of Amontillado sherry
GARNISH berries in season, citrus, mint, get creative!
In a mixing glass or cocktail shaker, ADD the lemon, orange, and simple syrup, and muddle.
ADD the sherry, fill with ice, and SHAKE.
Finely STRAIN into a Collins glass over crushed ice.
TOP up with additional crushed ice and ADD garnish.
Cin-Cin!