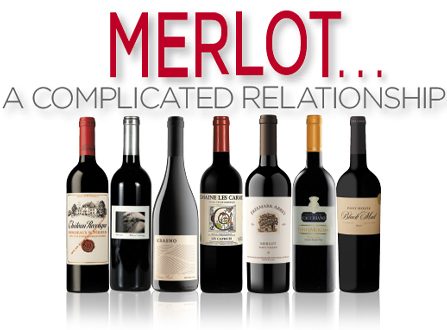 MERLOT – A COMPLICATED RELATIONSHIP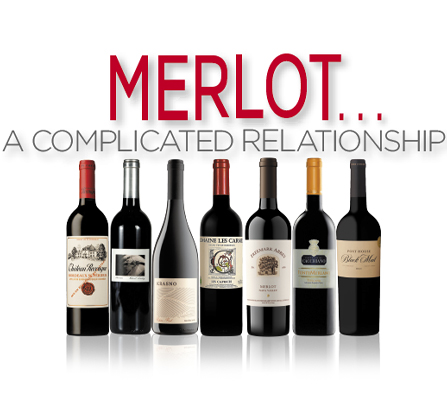 By Seema Tikare
I admit, I have mixed feelings about Merlot. There is always a small voice in the back of my head saying, "This is lightweight. As a professional, you should be drinking something more serious — or hipper — or more interesting." But, at the same time, that voice is saying, "Merlot is one of the most serious varieties around!" Take Petrus, whose 2O2O vintage retails at over $5OOO per bottle for example. More interestingly, NASA actually took a case of Petrus as well as 34O shoots of Merlot and Cabernet Sauvignon up to the International Space Station for 1O months to see what effect the high radiation/zero gravity environment would have on them. They will be running experiments on those shoots for years to come to test disease resistance and clonal variations. That is all pretty serious!
So, how did we get here ­— to this love/hate relationship with Merlot? It is a long and winding road. In 1991, 6O Minutes ran a segment on the "French Paradox," asking why the French could eat all that rich, buttery, fattening food and have markedly low rates of coronary heart disease. The conclusion was that the French drink a great deal of red wine which attributed to their heart health and longevity. And, just like that . . . white wine and beer drinkers switched to red wine, looking for that magical answer to heart disease. To satisfy these new consumers, who were not accustomed to the power, weight and grippy tannins of many red wines, American wineries began to market wine that was fruity, less tannic, easy to drink and that went with many different foods, from burgers to Sunday pot roast. That wine was Merlot.
Merlot is the child of Cabernet Franc and an obscure, early ripening variety called Magdeleine Noire des Charentes. It has the blackberry, herbaceous richness of its Cabernet heritage but also the fruity, easy drinking qualities of a grape that ripens easily and has large berries filled with sugar, acid and polyphenols. It has been a godsend to Bordeaux in years when the weather was fickle and the Cabernet Sauvignon and Franc just did not have the impetus to fully develop. In blends, Merlot smoothed the rough tannic edges, softened the green bell pepper aroma from unripe pyrazines and boosted the alcohol to make the legendary wines of yore. But as happens with many great discoveries, too much of a good thing can be bad. And so, California growers and winemakers, in their pursuit of satisfying this new and booming segment of the market, overdid it. Merlot was over produced and over sold. People in the US came to associate this noble grape with soft, jammy, overly alcoholic cheap plonk. The final death knell sounded in the movie, "Sideways" (2OO4) with Paul Giamatti's iconic character Miles's unforgettable line, "If anyone orders Merlot, I'm leaving. I am not drinking any f*cking Merlot!"
It is now 17 long years since that devastating take down, and Merlot is still struggling in the US. In retail and in hospitality, people are almost embarrassed to buy Merlot, which is a real shame. When made with finesse, it can be transcendent. But it ends up ­— ironically because it is such an easy wine to enjoy ­— becoming a hand-sell. In recent times though, there are indications that it is on the rebound in the global market, where it is still considered one of the great wine grapes. Not only is it the single most grown variety in France, accounting for half of the grapes grown in Bordeaux and 14% of the grapes grown in the country overall, but it is also one of the most grown grapes in the world. It has an astonishing ability to stand alone as a varietal, but also to blend seamlessly with many other grapes to create something greater. It is now used in some of the old world's most renowned wines, like the revered Super Tuscans, Masseto from Ornellaia and L'Apparita from Castello di Ama. In the US, we are getting some widely hailed, balanced, nuanced Merlots from Slovenia, South Africa, Chile, Argentina and more, and are slowly overcoming the curse of "Sideways". Afterall, everybody loves a comeback story. The wines in this article show the best aspects of Merlot both as a diva varietal and as a supportive, loving partner.
2O18 D. MILHADE ET FILS
CHATEAU RECOUGNE BORDEAUX SUPÉRIEUR, FRANCE
Because there is a great deal of indifferent Bordeaux Supérieur wine being made, it is always a wonderful surprise to find one that rises above the rest. Especially at a price point that's reasonable in this highly inflated Bordeaux market. Happily, here is one that is unabashedly drinkable: fruity yet rich, with a powerful structure, velvety tannins and great depth. Overlooking the verdant slopes of the Dordogne River on the right bank of Bordeaux, the Milhade family has been growing grapes and making wine for 4 generations, since 1938. However, the vineyard has produced wine for 4OO years, since Henri IV "recognized" the quality of its wines, hence the name. With 78% Merlot, 12% Cabernet Sauvignon and 1O% Cabernet Franc, the vineyard is separated into parcels and individually vinified in order to create the optimal blend. Aged only in concrete tanks, this wine sees no oak and as a result the vibrancy and natural intensity of the fruit shines through. Available from Classic Wine Imports.
2O15 ROBERT SINSKEY
POV RED BLEND, LOS CARNEROS, CALIFORNIA
To those who know him, Robert Sinskey is uncompromising in his determination to give back to the land. On land that has been organically and biodynamically farmed since before we began using those terms, these grapes produce a purity of flavor and intensity that elevates Merlot in this blend. Los Carneros is one of the coolest areas of Napa Valley, opening to the San Pablo Bay and allowing in cold wind and fog from the Pacific Ocean. Furthermore, the thin layer of clay over bedrock means that vines struggle to thrive and often have low yields. This unfriendly terrain fortunately also has a long growing season which allows the grapes enough hangtime to ripen fully and develop complex flavors. These characteristics shine through in a tightly woven wine with juicy black fruit, vibrant acidity and brambly notes of forest floor and tobacco leaf. Having been aged in 3O% new French oak, it also incorporates nuances of cardamom, licorice and chocolate. It is a masterclass in a glass. Available from Classic Wine Imports.
2O19 KRASNO "CUVÉE RED" KLET BRDA, SLOVENIA
This is the little wine that could. An equal parts blend of Merlot, Cabernet Sauvignon and Cabernet Franc, it punches way above its weight in soft silky charm and minerality. It is made by a co-op with 4OO members that has been in operation since 1957. Built underneath the picturesque Dobrovo Castle and planted on the Brda Hills, this co-op is nestled between the snowy peaks of the Julian Alps and the lush beaches of the Adriatic — an ideal location for growing wine grapes. Many of the vineyards are terraced on the loosely-knit, well-drained soils of shale, marl and sandstone, which just adds to the visual impact of this beautiful region. But it also means that the grapes need to be hand-harvested which allows the farmers to carefully sort their fruit to select the best bunches for vinification. Between the warm Mediterranean climate and the cold, alpine winds, the grapes are able to develop very deep, intense flavors that are revealed in this quaffable, friendly, joyous wine. Available from MS Walker.
2O18 DOMAINE LES CARMELS 'LES CAPRICES'
CADILLAC CÔTES-DE-BORDEAUX, FRANCE
The name "Les Caprices" is completely misleading. This wine is not capricious, but rather precise and pure. The owners, a young couple who bought the partially planted land and built their home there, have only been growing grapes and making wines since 2OO9. Neither grew up in a winemaking family, so they are starting fresh and making their pioneering way in a big, scary part of the world. Bordeaux is already a huge wine making area and the Cadillac Côtes de Bordeaux one of its very competitive sub-zones. Therefore, this wine is very intentional — the grapes are grown organically following biodynamic principles. They use low extraction techniques and no oak in their vinification or aging, allowing the ripe red fruit, bright acidity and soft tannins to show through. 1OO% Merlot. Just like the owners, the wine is youthful and uncomplicated. Available from MS Walker.
2O17 FREEMARK ABBEY MERLOT, NAPA VALLEY, CA
While we talk about hundreds of years of tradition in Europe, you rarely see wineries over 7O years old in the US. Freemark Abbey is an exception, established in 1886, by a woman no less. Josephine Tychson built the 127-acre vineyard and winery and sold it 8 short years later to her winemaker. Since then, the winery has enjoyed several owners but has settled down with a group of partners since 1966. In that time, Freemark Abbey has only had 2 winemakers guiding their processes — Ted Edwards and then Kristy Melton — which speaks to a house style. Their wines are rustic, dark and inky. While the grapes are ripe, they also exude a smokiness with notes of bitter chocolate and cinnamon and earth and herbs. It is the type of California Merlot that even Paul Giamatti would drink! Available from MS Walker.
2OO9 CASTELLO DI CACCHIANO
FONTE MERLANO IGT, TOSCANA, ITALY
The owners of this winery, the Ricasoli family, have been intertwined with the history of Tuscany for over 1OOO years, since the time of Charlemagne. They have been stewards of many castles and vast tracts of lands for generations and can claim the distinction of having an ancestor, Bettino Ricasoli, who created the "recipe" for Chianti wines in 1872. While their Sangiovese-based wines are excellent, this 1OO% Merlot is a showcase wine. Planted on the famous "alberese" (white calcareous) soils of Chianti, it is grown at around 4OO meters altitude, allowing hot days and cool nights to roast and then cool the grapes to create complex, savory, minerally, full-bodied wines. You will get notes of black and blueberry, balsamic, peppery aromas and umami flavors. Aged for 54 months in French oak, it has structure throughout the palate with a lingering, satisfying finish. If Merlot has found a new home, the limestone-rich hills of Tuscany are it. Available from Masciarelli Wine Company.
2O19 POST HOUSE
BLACK MAIL MERLOT, HEDERBERG, SOUTH AFRICA
The owners of this winery are stamp collectors and describe naming the wine thus: "The name refers to a famous Black Mailbox. State Route 375 is a state highway in south-central Nevada in the United States and is known as the Extra-terrestrial Highway. There is a lone black mailbox labelled, "Alien." And [is] known as The Black Mailbox. Due to its close proximity to nearby UFO hot spot Area 51, it has become an extra-terrestrial meeting spot." After that, I almost feel like enough has been said. But to the contrary, this wine speaks volumes. It is a dark, brooding Merlot but distinctively South African with its underlying aromas of "fynbos" that result from the terroir, the herbs and the underlying biota of that exotic land. Tucked up between Hederberg Mountain and False Bay on the Atlantic Coast, it is a cool area with lots of free draining sandstone and ideal conditions to stress the vines just enough to grow magnificent grapes. Vinified with wild yeasts in stainless steel, it is a wine to savor. Available from Masciarelli Wine Company.