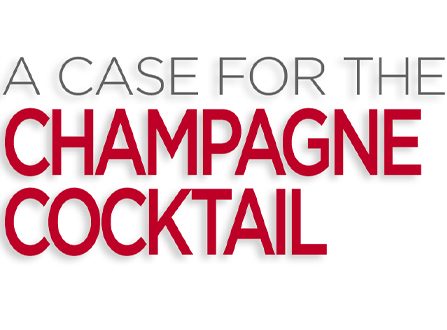 A CASE FOR THE CHAMPAGNE COCKTAIL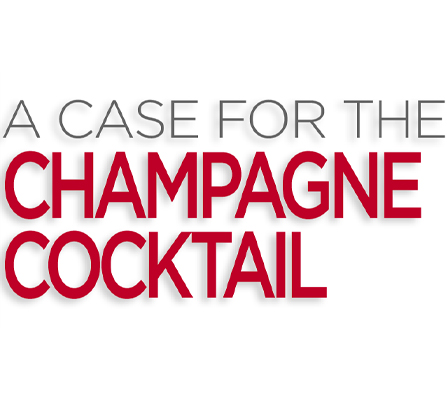 By Kirsten Amann
Champagne typically has quite an exhaustive run in the latter months of the year, between holiday parties and New Year's Eve. Oenophile friends start popping holiday bottles as early as Thanksgiving (but who are we kidding, most oenophiles pop bottles on days that end in Y), and bubbly flows at every event that dots the holiday soiree circuit through December 31st. Then, Champagne takes center stage: if you're not having Champagne when the ball drops, are you even celebrating? Come the sober dawn of January, Champagne gets swapped for gym memberships, fad diets and general austerity until February, when people come to their senses again and reach for the good stuff for Valentine's Day. The cycle feels time worn, automatic even, but it doesn't have to be this way. After two years in a global pandemic, haven't we learned that the old ways aren't always the best ways? In light of this, I suggest we try something new, and take our inspiration from the storied Champagne Cocktail.
There are many great cocktails in the pantheon of drinks made with Champagne (I'm looking at you French 75) and topping a delicious drink with Champagne is itself a wonderful way to innovate new recipes (hey there, Champagne Julep). But "the" Champagne Cocktail is a drink in and of itself, a simple, elegant formula that has been powering good times since the 185Os. The original formula for the cocktail was first printed in 18O6 and is widely understood as "a stimulating liquor, composed of spirits of any kind, sugar, water, and bitters." The Champagne Cocktail simply swaps the first ingredient for Champagne, basically its fancy cousin. Drinks historian David Wondrich calls the drink the first "evolved cocktail" on record: "The record is silent as to who came up with the idea of replacing the spirits in a Cocktail with Champagne, but whoever it was, he knew how to step high, wide, and handsome." Huzzah.
So who was drinking the Champagne Cocktail back in its heyday? You may be very familiar with Victorian mores, but on the opposite end of the cultural spectrum in 19th century America you could find the Sporting Fraternity: "The Sports (who came from all degrees of society) hung around in saloons and gambling halls, avoiding their civic duty to act all responsible and working sober hours for peanuts to increase the profits of other men. If they had hearths to go home to, you wouldn't know it. If they belonged to a church, you wouldn't know that either. And as for money, when they had it, they had it, when they didn't you wouldn't know it by looking at them — the sporting life was all about maintaining a front, and a true sport would spend his last fifty cents on a Cognac cocktail and having his coat brushed, with a ten cent tip for the boy who brushed it," writes David Wondrich in Imbibe. Sporting men loved Champagne, and the elegant, even decadent Champagne cocktail, which cost 3-4 times what a regular cocktail did, was a perfect accessory to their look.
The Sports weren't the only ones having fun with the Champagne Cocktail, though: the first printed reference to the drink was up in gold rush country in San Francisco "among the easy come, easy go Argonauts," writes Wondrich. It would eventually be nicknamed "chorus girl's milk" for its wide popularity among high-kicking ladies. The drink was well understood as a "morning bracer" (move over, Mimosa!) but the Sports would find a way to work the tipple in all day long, well into the evening, as a nightcap, and to greet the dawn.
If you've reverted to the old ways already in the first weeks of 2O22 (diets, austerity, etc.), there's still time to change your tune. I'm not saying we should sip Champagne Cocktails morning, noon, and night like the Sports and chorus girls of yesteryear, but there is absolutely no harm in mixing up one (or five) and toasting the joie de vivre of our cocktailing ancestors. If your aspirational gym membership is already languishing, maybe it's time to cancel it and spend what you're forking over to (not) work out at 5am on a nice bottle of suds for Happy Hour at 5pm. Life is short, why not make it sweet?
Speaking of sweet, the Sports were drinking the good stuff, which would have been a sweeter sec or demi-sec back then. For a 21st century drink (because you know the Sports would keep it current) a dry Champagne will work beautifully or even Cava, the Method Traditional sparkling wine from Spain. As for the sugar, go classic with a cube, as it will dissolve slowly and makes a beautiful train of bubbles that mesmerize as long as the drink lasts. There are ten million or so bubbles in each glass so to preserve as many as one can, the DIFFORD'S GUIDE suggests the following: "Tip the glass at a slight angle and pour the chilled champagne down the inside of the glass, before straightening glass to finish pour, so as to create as little foam as possible. The cube will continuously generate bubbles so a careful pour will retain CO2 in the drink and add to the drinking experience." And we'll leave the ice out for this drink, just make sure the Champagne is very cold. Cheers to living and living it up!
CHAMPAGNE COCKTAIL
Champagne or
Method Traditional sparkling wine, like Cava
Angostura Bitters
Sugar Cube
Lemon Twist
METHOD
DROP a sugar cube into a tall flute and soak it with Angostura bitters. TOP with Brut Champagne.
GARNISH with a twist of lemon.