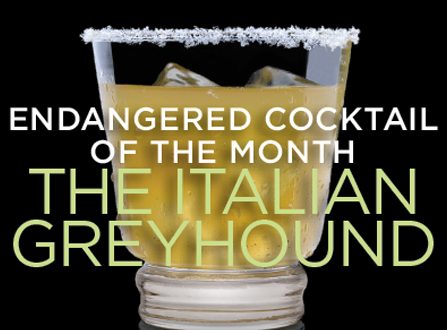 ENDANGERED COCKTAIL OF THE MONTH-THE ITALIAN GREYHOUND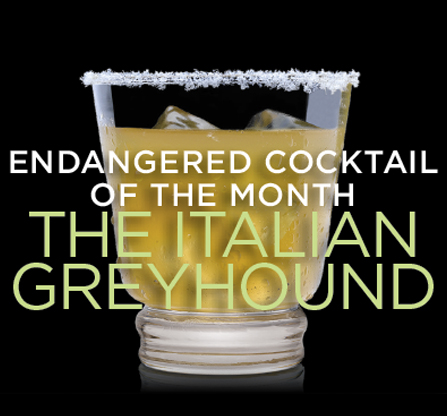 By Pink Lady
2O22 marks fifteen years that I've been at it, breeding, raising, and releasing endangered cocktails into the wild, or what some might call the Lord's work. A lot has come to pass in that time: a global recession and a global pandemic; industry trends like mustachioed barmen and password-only speakeasies; many wonderful bars and barrooms dreamed, realized, and in some cases now shuttered, thanks to the aforementioned pandemic. But the best part about being in the mix during the Cocktail Renaissance turned Second Golden Age of Cocktails is that what started with a bunch of nerds arguing about vintage recipes on chat boards like eGullet would be brought to life for us by true masters of the craft. This month, we raise a glass to that pantheon of greats and one of the finest among them, John Gertsen.
This month's drink, the Italian Greyhound, is one that John christened while working behind the bar at No.9 Park in Boston. John would go on to open Drink, one of Boston's most iconic cocktail bars and the first to move into a then-newly developing, up and coming area, Fort Point Channel in the Seaport. Thanks to the earlier recession, it would be a while before that neighborhood would up and come, though to look at the neighborhood today with its glossy luxury condos and 4OO-seat restaurants you'd never know it. Before all of that there was No.9 Park, tucked into tony Beacon Hill and serving luxurious dining experiences that I still can't afford since 1998.
On Sundays John, like many Boston restaurant industry folks, would head to the B-Side Lounge in Cambridge for brunch, where another iconic bartender Joe McGuirk would indulge his order of Italian vermouth Punt e Mes and grapefruit juice with a little salt, similar to the classic Greyhound cocktail but with an Italian twist. Back at work, John and his colleague Courtney Hennessy determined that the drink deserved its own name and a place on their innovative menu, one of the first fine dining cocktail lists to match the elegance of the cuisine.
You'll see many different recipes named "Italian Greyhound" on the internet but let this one have your heart. There's no better time to enjoy grapefruit juice than winter, the drink is low ABV so it's still on the table if you're moderating post-holidays, and there's simply no finer barman to toast to with this drink than John Gertsen.
ITALIAN GREYHOUND
2 OUNCES of Punt e Mes vermouth
2 OUNCES of fresh grapefruit juice
Salt for the rim
BUILD in a salt-rimmed
old-fashioned glass over ice and STIR.
Cin-Cin!