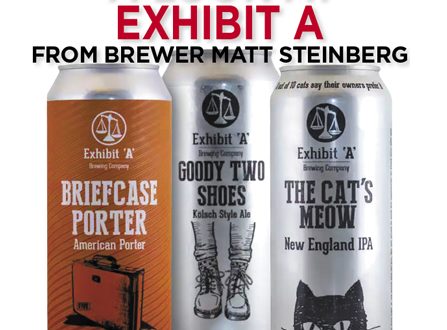 A LOOK AT EXHIBIT A FROM BREWER MATT STEINBERG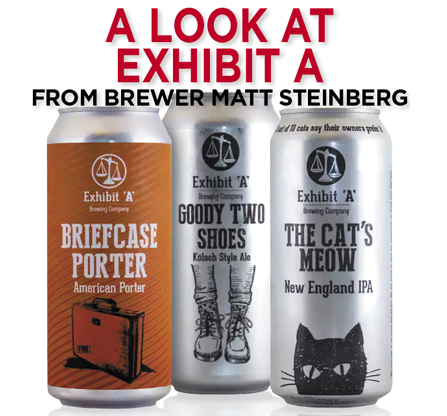 By Andy Crouch
From the Boston metro area to Western Mass and the islands, Matt Steinberg has brewed all over the state. For nearly 2O years, Steinberg has plied his trade, brewing solid and delightful beers in a wide range of styles. He began his brewing work in the state with stints at Harpoon, John Harvard's in Cambridge, before spending some time working sales at Concord Brewing. These opportunities provided him with a range of experiences that would serve him well in his future endeavors. In 2OO3, Steinberg transitioned to become the head brewery at Offshore Ales on Martha's Vineyard. In that position, Steinberg brewed a deep portfolio of beers, including Belgian styles, highly hopped ales, and barrel aged offerings. In addition to his brewing responsibilities, Steinberg also served as the brand manager for the pub's growing package and draft business. At the time, Offshore contracted its bottle production to Casco Bay Brewing and Steinberg spent several days each week off the island, traveling between package stores and tap accounts in the promotion of Offshore's beers.
In 2OO7, Steinberg would next go on to be the founding brewer at Mayflower Brewing in Plymouth, a brewery where he became known as a master of the porter style. Mayflower's Porter remains one of my favorite beers brewed in New England and that is a testament to Steinberg. From Mayflower. After leaving in early 2O1O, Steinberg went on to brew at Blatant and High Horse before finally settling into his own spot at Exhibit A in Framingham.
Steinberg is not an extreme brewer but one more drawn to modern takes on traditional styles. He spent earlier years in his career testing boundaries before settling on a course of producing expressive, full flavored beers within familiar guidelines. Let's take a look at the Exhibit A lineup.
BRIEFCASE PORTER
Exhibit A Brewing Company
Framingham, Massachusetts
alcohol by volume 5.4%
exhibit-a-brewing.com
A product of 18th Century London, debates over the origins of the Porter style have led to many a pub fight. When people tell me they don't like dark beer, I always suggest they try a Porter. These same individuals inevitably rely on coffee and its roasted fortitude to get through long days but somehow think a dark, lightly roasted beer is too foreboding. By the mid-2Oth century, Porter had all but died out in the United Kingdom. Leave it to enterprising American and British craft brewers to help resurrect this moribund offering. A style often subject to diverse interpretation, the resulting beers can possess sharply bitter roasted malt notes to milder chocolate and sweeter malt notes.
Matt Steinberg has long been a master of the Porter style. His Porter at Mayflower Brewing is a highlight of this oft-neglected classic style and his version at Exhibit A continues its legacy. Getting its start as Demo Tape Five, a one-off series of beers, this American Brown Porter pours deep black in color with a light tan hued head of sticky foam with moderate carbonation. The aroma brims with notes of dark chocolate, roasted coffee, lighter toasted malt notes, hints of cream and cocoa, without becoming acrid. The flavor follows suit with an initial burst of bitterness that quickly gives way to a long revealing of toasted malts, touches of dark, roasted coffee, mixed with patches of cream and cocoa. The Briefcase Porter finishes dry with flecks of bitterness in the form of roasted malts. A beautifully balanced beer that achieves the difficult goal of offering something for novice and expert drinkers alike.
GOODY TWO SHOES KOLSCH
Exhibit A Brewing Company
Framingham, Massachusetts
alcohol by volume 4.5%
exhibit-a-brewing.com
Steinberg describes his Goody Two Shoes Kolsch as "the soul of our brewery" and that makes sense. In embracing a brewing philosophy that casts a wide net in terms of flavor accessibility, there is perhaps no better style with which to capture beer drinkers than Kolsch. There are many pretenders out there, but there is only one Kolsch. Blonde and Golden Ales may offer some charms, but they cannot match the beauty that is a true Kolsch. Hailing from the brewing city of Cologne ('Köln' in German), on the Rhine River in Germany's northwest corner, Kolsch beers maintain a subtle balance between dryness and sweetness, soft but not cloying malts, and a touch of fruitiness that makes for one of the world's most drinkable and refreshing styles.
Goody Two Shoes is an excellent take on the classic Kolsch style, remaining popular with many visitors to the brewery. Pouring with a big blast of white head on top of a dazzling light golden sheen, the aroma fills with a light breadiness on top of mild fruit hints and slight spicy herbal hop aromas. Following the aroma, the flavor cascades across the palate with a light cracker-like malt note over mild waves of fruit and finishing with a dry mineral bitterness. Clean, crisp, and easy drinking, Goody Two Shoes is a great option for any drinker.
THE CAT'S MEOW IPA
Exhibit A Brewing Company
Framingham, Massachusetts
alcohol by volume 6.5%
exhibit-a-brewing.com
In this day and age, your brewery has to offer a handful of IPAs and Exhibit A is no different. The pick of the litter is The Cat's Meow, the brewery's flagship New England style IPA hopped with Citra, Mosaic, and El Dorado. The beer pours a luminous and bright hazy yellow with a substantial tuft of pure white foam. The aroma drops with mango, passion fruit, peach, and tangerine. An under-appreciated entrant in the highly competitive NEIPA style, The Cat's Meow is not a total juice bomb in the flavor department, but it delivers quite nicely. Packed with peach and mango notes with hints of grapefruit, and a touch of bitterness, it is true to style and does not overwhelm the palate. It also balances the sweetness and is never cloying. The fruit kicks from beginning to end over a medium body with a reasonable baseline of carbonation and a light, creamy character.
Exhibit A beers are available from ATLANTIC BEVERAGE DISTRIBUTORS.