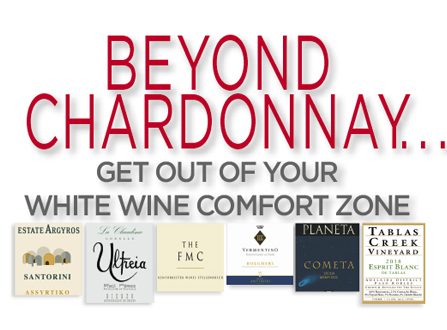 BEYOND CHARDONNAY…GET OUT OF YOUR WHITE WINE COMFORT ZONE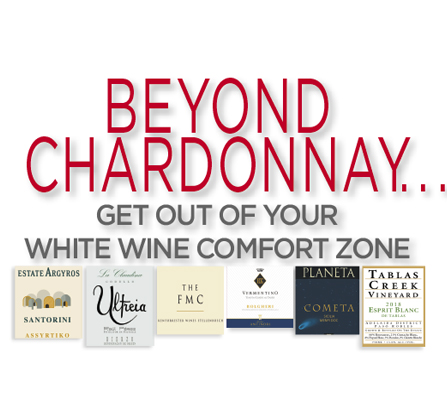 by SEEMA TIKARE
I only drink red wine," is something all of us in the wine industry have heard many times. And I totally get it — red wines are easier to choose, don't need to be chilled and can be very satisfying. The lovely, aromatic Pinot Noirs, the chewy, weighty Cabernet Sauvignons, the grippy, fruity Sangioveses, the jammy, powerful Shirazes and even the juicy, vibrant Gamays that can be chilled and enjoyed on a warm summer day. There is a wide variety of grapes and regions to choose from, and given the quality of winemaking these days, you will get a great wine in a wide range of prices.
I recall being told in graduate school that for the same price, it is often easier to find a higher quality red wine rather than a white wine because premium white prices escalate quickly. So, as a poor student on a meager stipend, I used to choose red wine, thinking a $1O red would be better than a $1O white. Whether it was ever true, that premise today is wrong. The world of wine has opened up since the 199Os and we have a much broader set of choices. Though many wine lists fall back on their stalwarts, Chardonnay, Sauvignon Blanc and Pinot Grigio, we also see wines that may be less familiar to customers — such as Assyrtiko from Santorini or Godello from Bierzo.
One of the reasons behind the increasing diversity of both grape varieties and wine regions in the market is that the world has become smaller. The internet has changed the way people do many things, including shopping for and selecting wine. I commonly see people using apps such as Delectable to photograph a label in stores in order to look up its profile and ratings. This allows people to become more adventurous with lower risk. Crowd-sourced reviews are also valuable to many consumers because, let's face it, sometimes we do use overly flowery or obscure language to describe wine – like discussing the "shape of tannins" or by referring to unfamiliar flowers and fruit like hawthorn or gooseberry or acacia. I do this myself and, in my defense, it is simply because I am desperately searching for descriptors that distinguish one wine from another in my notes. However, the average, informed customer may find it easier to relate to someone who simply says, "I love this wine!"
While all wines can benefit from this new connectedness, white wines seem to have especially thrived in this more adventurous world. It has allowed customers to discover that white wines can be just as versatile as red wines – light or heavy, sharply acidic or softly creamy, floral or fruity or structured. They can pair with a range of foods from pork and veal to garlicky, salty charcuterie and tapas, to summer salads, even if the old rules still pipe up in the back of the brain, saying "white wine with fish!" But as they say, rules are meant to be broken.
The wines on center stage in this article are all very powerful whites – with distinct characters. They all express their terroir beautifully, but they also reflect the hand of the grower and winemaker in their uniqueness. And I believe, despite being both a bit uncommon and from regions customers may not know well, they are crowd pleasers.
2O19 ESTATE ARGYROS ASSYRTIKO, SANTORINI, GREECE
The vines from Estate Argyros are ungrafted because they are blessed and cursed with dry, sandy, volcanic soils that discourage phylloxera. These own-rooted vines range from 3O to 15O years old and are shaped into the distinctive basket-shape that shelters the grapes from the intense sun and wind on the barren hilltops of Santorini. The wine itself is refreshing, minerally and citrusy — not your eurailing-retsina-soaked-rot-gut wine of yore. It is a wine that is naturally high in acidity and is fermented at cool temperatures in stainless steel to retain its delicate aromas of citrus and wet stone. This minerally and precise character is then softened with twice weekly bâtonnage on the fine lees, giving the wine a wonderful buttery and rounded mouthfeel. Available from Boston Wine Company.
2O16 RAUL PEREZ ULTREIA LA CLAUDINA GODELLO, BIERZO, SPAIN
Any wine by Raul Perez is a treat – he has been called the greatest winemaker of this generation and it may not be hyperbole. This wine, unlike other fabulous Godellos (e.g., Rafael Palacios Louro Godello) is another notch in his visionary belt. He wild ferments them in open 15OO liter foudres with some skin contact. In the spring, a cap of yeast spontaneously develops over the top and the wine is then aged from 11 to 24 months under this cap. This extended and unusual process yields a wine that blends an immense number of complex aromas and flavors: stone fruit, almonds, herbs and citrus on the nose while on the palate you get a minerally, honeyed wine with peaches, pears and bready notes. Despite its beauty and complexity, it is very quaffable and unfortunately, is drunk much too quickly. Available from Atlantic Beverage Distributors.
2O19 KEN FORRESTER FMC CHENIN BLANC, STELLENBOSCH, SOUTH AFRICA
The FMC is the legendary "f***ing marvellous Chenin," that Ken Forrester famously pulled out at an industry tasting. While the FMC actually stands for Forrester Meinert Chenin, the other story is more entertaining, not to mention wholly accurate. The grapes are hand-harvested from almost 5O year old vines, making multiple passes to ensure proper ripeness. Some grapes are botrytized by the last pass, adding complex honey flavors to the must. He ferments the wine in 4OO liter new French oak barrels, yielding a high acid, age-worthy wine full of dried apricot, vanilla, honey, toast and herbs. It is a rich, smooth, powerful wine that will develop into even more complex flavors over time. Available from Ruby Wines.
2O2O ANTINORI GUADO AL TASSO VERMENTINO, BOLGHERI, TUSCANY
This wine is fragrant, full of ripe golden apples and white peaches, fresh oranges and spring blossoms with distinct mineral notes. The Antinori family has been making wine since 1385, which shows in the dynamic range of wines they produce. Piero Antinori, whom I had the immense privilege of meeting along with enologist Renzo Cotarella, are true masters of their art. Vermentino is the only white wine they make in their small but prestigious estate in the coastal Bolgheri DOC, and it is the only indigenous variety grown there — among plantings of only red Bordeaux varietals. It is the perfect wine to enjoy with Tuscan melons and prosciutto, to be enjoyed for its youth and beauty. Available from M.S. Walker.
2O19 PLANETA FIANO COMETA, MENFI, SICILY, ITALY
Fiano is usually grown in Campania, but the Planetas wanted to expand their repertoire in the 199Os, so they brought Fiano to Sicily for its fruity aromas and structure. This wine is big. It is hand-harvested on the chalky, limestone soils around Menfi and destemmed. The must is then fermented in 9O% stainless steel and 1O% barriques and aged on the fine lees. The naturally fruity, floral, almost tropical aromas of Fiano are thus enhanced to become nutty and textured, with a beautiful finish. In terms of food pairing for this wine, the website charmingly states, "With no fear of being banal, [pair] with some freshly caught and grilled snapper"! Available from Ruby Wines.
2O18 TABLAS CREEK ESPRIT DE TABLAS BLANC, PASO ROBLES, CALIFORNIA
The infamous Rhône Rangers comprise some of the most respected wineries in California. The term was coined in the 198Os to refer to wineries using Rhone varietals. Tablas Creek was a late comer to the group but brought much prestige, being a joint venture between Chateau Beaucastel and importer Robert Haas, and much needed new clones to this pioneering effort. This wine is one of their only white wines produced, blending Roussane, Grenache Blanc, Picpoul Blanc, Picardan and Clairette Blanche, but is also one of their more wonderful wines. It is again, like the other wines in this article, fuller bodied and well-balanced with bright acidity, stone fruit richness, textural minerality and a viscous mouthfeel. It is also expected to age well over the next decade or two. Available from Carolina Wine & Spirits.
ABOUT THE AUTHOR…
Having come from the dry world of Political Economy, Seema has enthusiastically embraced the juicy, vibrant world of wine. After graduating with distinction from the Boston University Wine Studies program, she decided to learn as much as possible and has worked in several areas of the wine world, from retailing and marketing to teaching and writing, and has even dabbled in winemaking. She brings a nerdy, quirky and in-depth aesthetic to her articles.