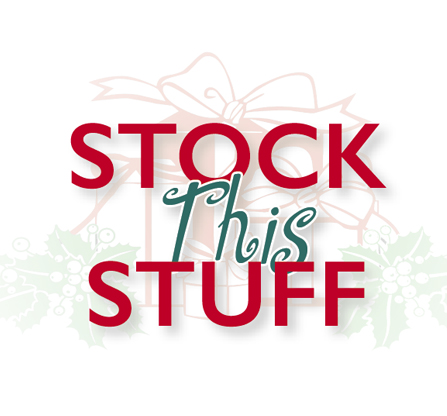 by KIRSTEN AMANN
As 2020 showed us, not even a global pandemic can deter the good people of Massachusetts from having a tipple. 2021 has seen a more hybrid period of socializing in and out of the home, but Bay State drinkers have not given up on the wine and cocktail skills and savvy they developed during their time in quarantine. That makes this the perfect holiday season to up-level our drinking game. This year's list of must-stock items for your store's shelves has been selected to help wine and cocktail lovers do just that!
---
For the home bartender who loves a good show . . .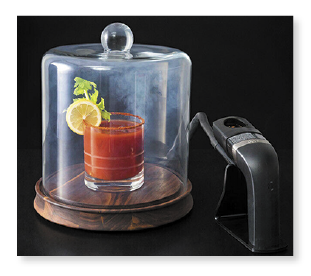 CRAFTHOUSE BY FORTESSA INDIVIDUAL SMOKING CLOCHE
If the drama of a billowing smoke machine can take your event to the next level, just imagine what it can do for your cocktails. Smoked cocktails are a modern mixology innovation that comes right to the home bar with this visually stunning Smoking Cloche from Fortessa. Complete with a handheld smoker, wood chips for smoking, and a beautiful glass cloche with a black walnut base, the set up alone will impress your houseguests. Once the bar opens and the smoked cocktail-making begins the real show starts, and all eyes will be on the bar. After all, we drink with our eyes first, and a smoked cocktail presentation will make both your drinks — and your party — unforgettable. WHOLESALE INQUIRIES cpdsalesforce@fortessa.com $24O
---
For the Italian at heart . . .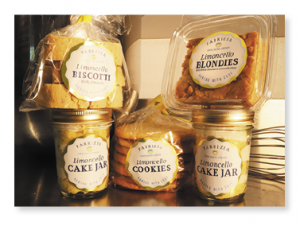 LIMONCELLO BAKED GOODS FROM FABRIZIA LEMON BAKING COMPANY
Whether you've been lucky enough to summer in Italy or have simply dreamed of it since Diane Lane's character reinvented herself in Under the Tuscan Sun, it's hard not to be romanced by the culture, especially if you love food and drink. Founded by Boston-based brothers Phil and Nick Mastroianni, Fabrizia limoncello has brought Italian sunshine to American glasses since the brand launched in 2OO8. Now you can experience limoncello love with a delectable line of baked goods from Fabrizia Lemon Baking Company. Imported lemons from Sicily give Fabrizia its golden hue and bright flavor, which is just as delicious in their cookies, biscotti, lemon loaves, blondies, cake jars and whoopie pies, sold both individually and in a variety of gift boxes. A perfect way to brighten up the day on the brink of a snowy New England winter! WHOLESALE INQUIRIES fabrizialemonbakingcompany.com/pages/wholesale-orders $2.99-$9.99
---
For the eternal student . . .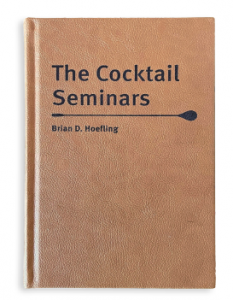 THE COCKTAIL SEMINARS BY BRIAN D. HOEFLING
Class is now in session, cocktailians! While studying at Yale in 2O11, Boston-based author Brian D. Hoefling was approached by a group of fellow Bulldogs (also known as Yalies) who, on the verge of graduation, realized their adult drinking skills were underdeveloped, and would not cut it at the networking that lay ahead on their bright career paths. Rather than toss a list of drink recipes at the group, and because graduating from Yale apparently wasn't hard enough, Hoefling developed his own class to teach these nubile drinkers the basics. Dubbed Mixology 11Ob, rigorous coursework ensued for these intrepid drinkers with weekly classes to learn the history of drinks, debate their merits, workshop recipes, and of course, raise a glass. The project kicked off a career in the spirits business for Hoefling, who has operated Herzog Cocktail School since graduating, bringing his cocktail wisdom to the masses with lessons, consulting, corporate events, and bartending services. Ten years and two books later, Hoefling's latest book, The Cocktail Seminars, reimagines Mixology 11Ob, and is an erudite introduction to mixology. Grouped in five sections of coursework, each with exercises and an examination or final project (depending on course level), the book is a comprehensive course in cocktails that interweaves history, techniques, and Hoefling's carefully constructed theory of how and why each cocktail works. It is designed to be worked through chapter by chapter, to give students the tools they need to mix with confidence, a real drinks education ­— but if you dip in and dip out, you'll still learn a bunch. Homeschool has never been this fun. WHOLESALE INQUIRIES The Cocktail Seminars by Brian Hoefling, published by Abbeville Press. Email specialsales@wwnorton.com $24.95
---
For the friend who likes to party like it's colonial times . . .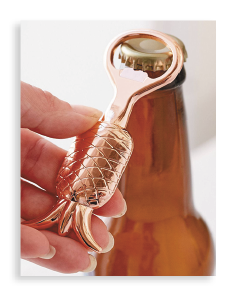 W&P PINEAPPLE BOTTLE OPENER
The pineapple was a symbol of wealth and status in the early American colonies, so sought after that confectioners would rent them out by the day to folks looking to impress their guests. The spiny, exotic fruit is affordable and abundant now, and pineapple imagery remains an iconic symbol of welcome. Pineapples also hold a special place in the hearts of bar stars from coast to coast: just ask your favorite industry veteran if you can see their pineapple tattoo. Crafted from solid stainless steel, this pineapple shaped bottle opener from W&P Designs is sleek, stylish, and functional, and available in both silver and copper. What better way to welcome yourself to your favorite beverage? WHOLESALE INQUIRIES verygreat.nyc/wholesale/#work-with-us $4
---
For pretty much any wine-lover . . .
PULLTEX ANTIOX WINE STOPPER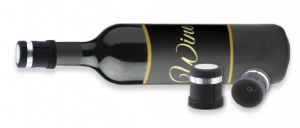 Whether you're a daily drinker, a wine scholar, or an occasional sipper, who wouldn't doesn't want to extend the life of the beautiful bottle of wine they've opened but can't finish? The Pulltex Anti-Ox wine stopper keeps open wine in perfect condition for up to ten days, using an active carbon filter. A manual day indicator on top of the stopper helps track how many days the vino has been open, and the airtight seal keeps leaks at bay, even when wine is stored on its side. Stoppers are available for both still and sparkling wine. Oenophiles can sample a variety of bottles with confidence and sip at their leisure – for up to ten days. WHOLESALE INQUIRIES info@pulltex.com or pulltex.com/en/contact/ $24
---
For anyone who needs cocktail bar quality ingredients . . .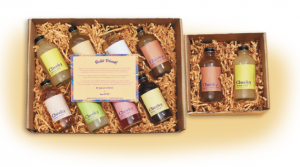 CHEEKY COCKTAILS
Cocktails taste as good as the ingredients you use to make them, and once you've up-leveled your drinks game with fresh juice and homemade syrups, you really can't go back. But when making drinks at home, without lots of prep time and a bar back on hand to help, having perfect citrus and fresh syrups at the ready is a pain. Cheeky Cocktails to the rescue! These shelf-stable replicas of the syrups and juices professional bartenders stock behind cocktail bars are a must have for busy cocktail enthusiasts. Cheeky's juices are fresh squeezed, strained, then heated and bottled, allowing for an extended shelf life; the syrups are shelf stable once opened (but best enjoyed within a year of opening.) Founded by industry veteran, podcaster, and former Boston bar star April Wachtel, the Brooklyn-based company offers a full line of syrups and juices, cocktail kits, sampler kits, and cocktail garnishes: there really is something for everyone. It's the fresh drinks solution we all need. WHOLESALE INQUIRIES 4oz bottles sold in cases of 12 and 24. Email hello@cheekycocktails.co or fill out the form on the Cheeky Corporate and Bulk Orders page of the site. If customers sign up through the Faire link, retailers who are new to the platform will get $1OO off, 1 year of free shipping, and Net 6O terms. Syrups and juices from $7.5O; sampler kits from $3O
---
For the cocktail lover who always comes prepared . . .

W&P COCKTAIL CANTEEN
It doesn't take much to make a delicious cocktail with the right ingredients, but as anyone who's been asked to bartend on the fly at a house party knows, few people have all the tools they need on hand to mix a perfect drink. With the Cocktail Canteen by W&P Design, you'll never be stuck shaking cocktails in a mason jar again. This handy, insulated shaker contains all the tools you need to mix a drink: a collapsible jigger, a telescoping bar spoon, a mini funnel, a TSA-compliant glass dropper bottle, and a combo peeler/zester. Say goodbye to stirring Manhattans with a chopstick and hello to your new status as the life of the party who always comes prepared. WHOLESALE INQUIRIES verygreat.nyc/wholesale/#work-with-us $4O
---
For the cocktail & wine lover who knows ambiance is key . . .

WINE AND COCKTAIL SCENTED CANDLES FROM REWINED CANDLES
A drink or glass of wine is just one component of your social experience, and every great host knows that lighting and aroma can make or break a mood. Whether you're settling in to sip solo or creating a mood for a holiday gathering, imbibers interested in creating a multi-sensory experience will love Rewined candles. Handcrafted from soy-based wax in Charleston, South Carolina, these candles were born out of an effort to repurpose wine bottles into candles with wine-inspired scents like Cabernet, Chardonnay, and Champagne. Today the collection includes so much more, from a full line of classic cocktail-inspired scents to the seasonally available Spiked Cider, Poinsettia, and Hot Toddy offerings. All of the Cocktail Collection candles come in 12oz, 7oz, 2.5oz and 9oz vessels, the latter of which doubles as a vintage style cocktail glass that you can fill with your favorite drink once the candle is finished, to toast and thank it for its service. WHOLESALE INQUIRIES wholesale-rewined.com/account/register $10