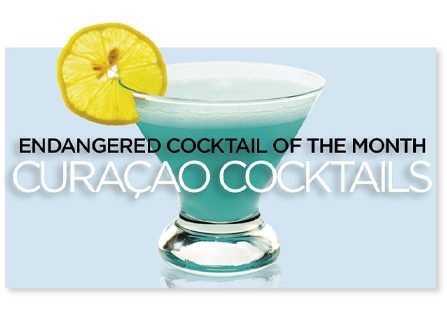 ENDANGERED COCKTAIL OF THE MONTH: CURAÇAO COCKTAILS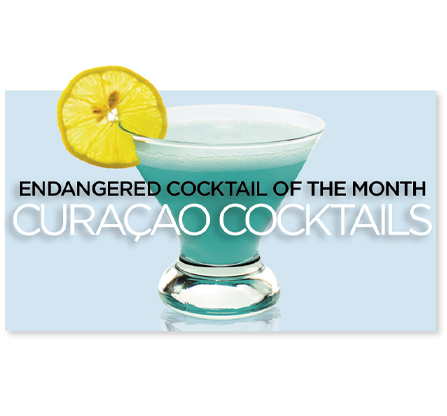 by PINK LADY
If you love cocktails, you most likely know your way around a bottle of curaçao. In the U.S. you can find this orange liqueur at most liquor stores in its natural clear hue or in the more vibrant blue form, which is simply the former dyed with food colorant, most commonly "E133 Brilliant Blue." This sweet orange potation is foundational in many classic and modern cocktails, and that may be where your relationship with Curaçao ends. We recommend taking your relationship more seriously as we did: by going right to the source.
This luscious liqueur hails from the island country of Curaçao located off the coast of Venezuela, adjacent to Aruba in the Kingdom of the Netherlands. According to unproven lore, sailors with scurvy were left here during the early years of Spanish and Portuguese exploration; when the ships returned to find them healed from consuming vitamin C laden citrus it was dubbed the Ilha da Curação or Island of Healing. Originally home to indigenous Arawak and Caqueito cultures, Spain first colonized the island in 1499, followed by the Dutch a little more than 1OO years later. Curaçao liqueur reveals the influence of all three cultures.
Curaçao is traditionally made with lahara oranges that grow on the island. Spanish colonizers brought Seville oranges to the island but they did not thrive in the local climate. What evolved from the abandoned trees was a lahara orange, which has bitter fruit and aromatic peels, perfect for liqueur-making. As the process was developed and refined, the green peels were both used locally and eventually exported to Holland for larger commercial production.
By 1894, an article in NEW YORK WORLD on the history of curaçao describes it as an international product also made in the U.S. and Europe in different varieties depending on the type of orange and hue of the peels used in production: red, orange, and white were common, with the Dutch-made "green ribbon curaçao" the most sought after. It was also made in varying degrees of sweetness: "the doux, or sweet, the demi-doux, the sec or dry and the triple sec." Today triple sec, curaçao, and other types of orange liqueurs are used interchangeably in drinks.
Originally enjoyed as an after-dinner cordial, in the hands of American bartenders curaçao became an exciting modifier to use in fancy cocktails, and is indispensable to many of the finest classic cocktails we still enjoy today.
Should you decide to deepen your relationship with this liqueur as we have, we recommend taking a pilgrimage to this beautiful island, where you can pay a visit to the Curacao Liqueur Distillery at Landhuis Chobolobo. blue curaçao may be internationally enjoyed for its showy hue, but here the water is as blue as the cocktails it makes. Sip vicariously at home with one of these, and get to making your Curaçao travel plans, because winter is coming.
BEACHFRONT DAIQUIRI
3/4 OUNCE of freshly squeezed lime juice
3/4 OUNCE blue curaçao
1 1/2 OUNCE white rum
SHAKE ingredients with ice. STRAIN into a chilled cocktail glass. GARNISH with lime or lemon wheel.
Cin-Cin!