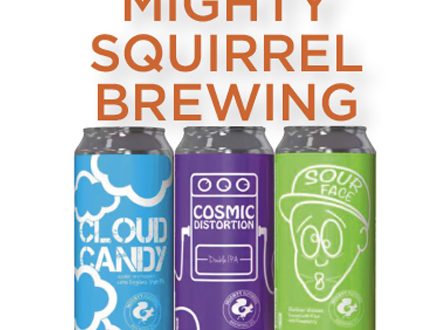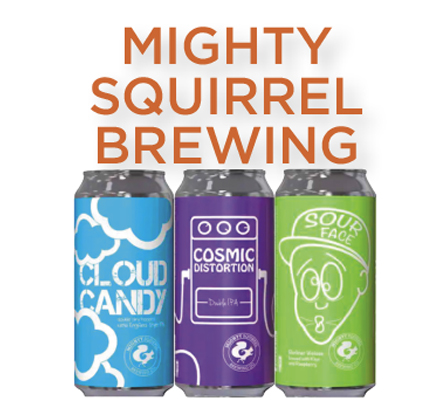 by ANDY CROUCH
Massachusetts breweries have long pushed the envelope when it comes to ingredients, brewing practices, and marketing efforts. Some of these have been great successes (Boston Beer's perennially popular Utopias on the positive side versus the company's garlic beer on the not so positive side). When it comes to unusual ingredients, breweries in the Commonwealth have used everything from heather and breakfast cereals to lobsters. Some of these creative endeavors have run afoul of federal regulators, including New Century Brewing Company's famed but short-lived caffeinated Moonshot beer, which the Food and Drug Administration regulated out of existence in 2O11.
In 2O15, partners Naveen Pawar and Henry Manice released beers under the Mighty Squirrel name. The hook? The beers contained five grams of protein per bottle, more than double the amount found in most craft beers. Plenty of craft beer fans shook their heads in confusion, as the public had not exactly been clamoring for a protein fortified beer. But looking to other protein-forward products, the pair forged on, contract brewing their beers out of Von Trapp Brewery in Vermont. By late 2O18, the pair decided to go in a different direction with their beers and opened a more traditional craft beer focused taproom and brewery in Waltham. They went big out of the gate, launching with a 3O-barrel system and a sizable space. During the COVID-19 pandemic, Mighty Squirrel's growth initially slowed but the business pivoted, added a huge new outdoor beer garden, and focused on its line of hazy India Pale Ales. Let's take a look at Mighty Squirrel's beer portfolio.
CLOUD CANDY NEW ENGLAND IPA
Mighty Squirrel Brewing
Waltham, Massachusetts
alcohol by volume 6.5%
Mightysquirrel.com
Perhaps as far removed from a protein beer as one could get, Mighty Squirrel's popular flagship is a delightful and classic hazy New England India Pale Ale. It pours with a deep, thick, and hazy orange hue and a substantial dollop of off-white foam. The aroma explodes with notes of a wide variety of fruits, ranging from mango and papaya to pineapple and touches of orange. There is a mild but suppressed sweetness in the aroma for balance. The resulting flavor is a cavalcade of fruit loops, including tangerine, orange, mango, and other citrus fruits. The mouthfeel is smooth and mildly light, cascading gently across the palate with no astringency or bitterness to stand out. The beer is double dry-hopped with Citra, Mosaic, and Amarillo hops and finishes mildly dry but with occasional flecks of sweetness.
COSMIC DISTORTION DOUBLE IPA
Mighty Squirrel Brewing
Waltham, Massachusetts
alcohol by volume 6.5%
Mightysquirrel.com
By their very definition, a Double India Pale Ales should signify a substantial jump in hops and alcohol. Well, that's the old definition. Today, IPAs, especially of the hazy variety, tend to have higher alcohol levels. Yet the muted bitterness of these new wave IPAs often makes the Double sized versions much easier to palate. Cloud Candy's big brother Cosmic Distortion is similarly situated. It pours with a solid pale golden hue with a medium level of even haze. Double dry-hopped with six pounds per barrel of Galaxy and Mosaic hops, the beer's nose is filled with mango and a solid bready malt base at first, followed by a long line of orange, lemon, passion fruit, and mango notes. The flavor is noticeably fuller and sweeter than lower alcohol IPAS. The alcohol presence is smartly minimized, and it remains eminently drinkable. There is an even wash of peach, papaya, and mango and sweeter, breadier malts. A lovely Double IPA that does not forsake a malt backbone for all out juicy hop flavor.
SOUR FACE BERLINER WEISS
Mighty Squirrel Brewing
Waltham, Massachusetts
alcohol by volume 5.O%
Mightysquirrel.com
Beyond its hoppy and hazy offerings, Mighty Squirrel also produces a line of tart and sour beers, including this Berliner Weiss fermented with kiwi and raspberry. Once an outlier in the world of beer, Berliner Weiss has grown in popularity as a base beer or jumping off point for many American craft brewers in search of a sour beer to add to their portfolios. Berliner Weiss is a style whose representations in its region of origin had all but disappeared until Americans started brewing their own versions of the historic style. The style often involves a mixture of tart, sour, and acidic notes, is often slightly hazy and luminous in appearance. Foreboding in the opposite manner of an Imperial Stout, with a pale straw color and a simple, quickly evaporating head, this rare style delivers with its tart, sharp aroma and distinctly and pleasantly sour flavor. Similar to the thirst-quenching qualities of lemonade, Berliner Weiss delivers a refreshing blend of tartness derived from a lactic acid bacteria addition. Light-bodied and very low in alcohol, often around three percent by volume, many American brewers have amped up the traditional German practice of adding a lightly sweet raspberry or woodruff syrup that dyes the beers either bright red or green and mellows their acidity by heavily fruiting their new versions. While traditional brewers often blend batches of various ages to achieve their preferred level of sourness, the practice is rarely employed in modern or American recreations of the style.
Mighty Squirrel brewery produces several versions of Sour Face, including one with strawberry and kiwi and a blackberry focused version. As with many fruited Berliner Weiss examples, Sour Face will undoubtedly catch your eye. With its bright reddish-pink hue and sizable dollop of lightly red hues foam, it resembles a tall foamy glass of Kool-Aid. The aroma is bright and sweet, filled with juicy raspberries and a slightly tart and acidic note. The raspberry flavor shines through on first sip, without any particularly strong sour or tart elements but enough for balance. It finishes with a light bready malt character, some lactic sourness, and a bit of sweetness. A great entry point for folks interested in dipping their toes into the waters of sour and tart beers or for someone interested in something fun and new.
Mighty Squirrel Beers are available from ATLANTIC BEVERAGE DISTRIBUTORS.