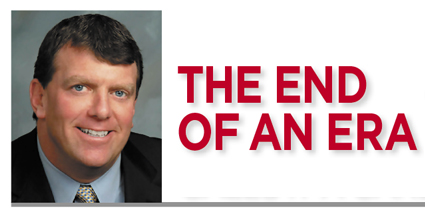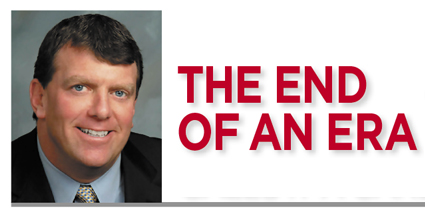 by KIRSTEN AMANN
Mark Fisher has been a fixture of the beverage alcohol business in New England for forty years. Since 2OO6 he has been President, Sales & Marketing of Martignetti Companies, the largest distributor in New England, and the 6th largest distributor of wine and spirits in the United States. This month Fisher will retire from his post, closing the chapter on a forty-year career during which he's seen an industry transformed. It marks the end of an era in the New England beverage business as, in the words of colleagues and customers alike: "There's no replacing Mark Fisher.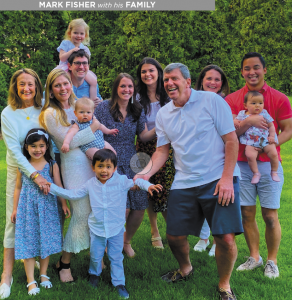 3O DAYS OR 4O YEARS Fisher got his first big break in the business in 1981 when he was offered a position at Heublein quite by chance. A forerunner to today's Diageo, the iconic producer of food and beverage was then based in his hometown of Hartford, Connecticut. "A friend of mine lived across the street from the President of Heublein, Charlie Herbert," says Fisher, "and I used to see Charlie quite frequently because he was very good friends with their father. Charlie said to me one day, if you ever want a job in the beverage alcohol industry, give me a call." Upon completing his law degree at what is today Quinnipiac University, that's exactly what Fisher did. "I had no idea whether it was going to be a 3O-day gig or, as it turned out, a 4O-year career. I just said 'I'll give it a shot. Why not?'"
Fisher spent the next nine years working as a supplier, first at Heublein from 1981 to 1984 in metro and upstate New York, then with Somerset Importers, Ltd. covering Connecticut and Rhode Island, and adding Massachusetts to his territory list when the company merged to become Schieffelin & Somerset (known today as Moët Hennessy USA) in 1987. By 199O, Fisher was ready to set down his roots in one place: "I was calling on United Liquors as a supplier rep for Schieffelin & Somerset, and they asked me if I had any interest in potentially coming to work for them as the Boston sales manager for the United Division." The decision wasn't difficult for Fisher, who had a young family, and knew that "in order to really move ahead and get to where I wanted to be as a supplier, I was going to have to move around a lot." Fisher had attended Tufts University for his undergraduate degree and loved Massachusetts. "It was strictly a quality-of-life decision, about being able to spend time with my family, to coach my kids," says Fisher. "I had the opportunity to set my roots into a state that I really liked and raise my children there. Taking the job at United Liquors provided me with that." Fisher would spend the rest of his career on the wholesale side of the business, but never lost the valuable insight he gleaned from his time as a supplier. "I knew as a wholesaler what the supplier was thinking, and I understood and respected it. I think it gave me an advantage," he says.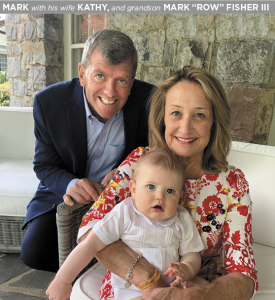 Fisher was a sales manager with the United Division until 1992, then promoted to Vice President, and continued to rise through the company ranks, from Senior Vice President to President and Chief Operating Officer. In 2OO6, Martignetti Companies purchased United Liquors and Fisher was appointed President, Sales and Marketing, the position he retires from on October 1.
"We thank Mark for his inspired leadership and exceptional contributions to the Company," say owners Carmine and Carl Martignetti. "He has been a great leader, mentor and colleague to so many in the Company and within the industry. Under Mark's leadership, the Company has grown substantially and achieved new levels of innovation, positioning us for future success. We wish Mark all the best in this next chapter of his life."
LUCKY NUMBERS "I've been in this industry for exactly 4O years, I've been married to the same woman for 4O years, and I have four children," says Fisher. In those four decades, the industry has seen dramatic changes. "When I started in 1981, there was not even a fax machine," he says. "You'd call on your accounts and at the end of the day come home and check the answering machine for messages. They could not be retrieved from the road. That became your to-do list for the next day." Fisher points to technology as the biggest driver of change over the course of his career, impacting everything from the business communication once done in person and now conducted via cell phone, email, text, and video calls; to digital marketing, advertising, and social media; to the wealth of sales and marketing data that's now at the supplier or wholesaler's fingertips. "There are many more tools available to stay on top of the business," says Fisher.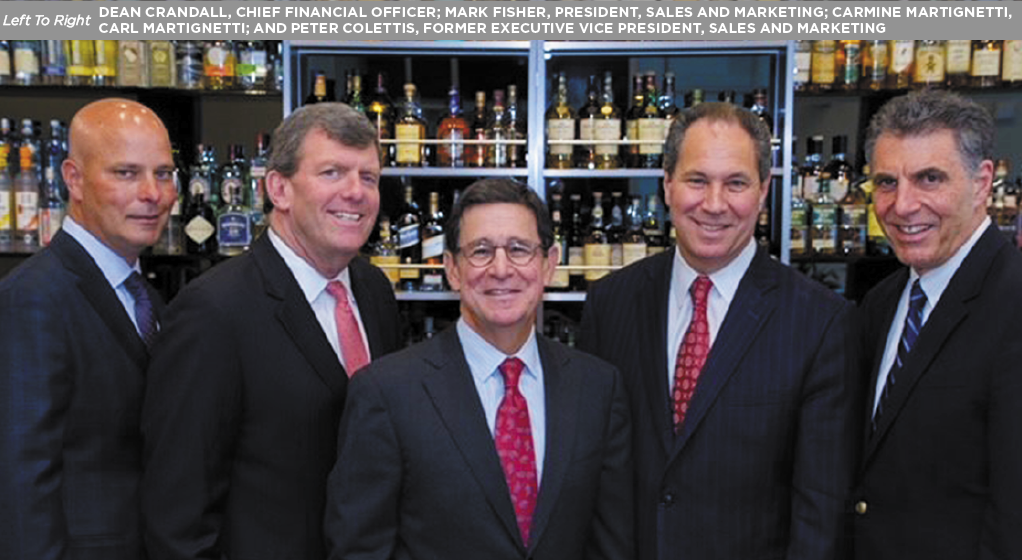 The 199Os and 2OOOs saw mergers and acquisitions across many industries, and the beverage alcohol business was no exception. When Fisher's career began, "there were so many distributors. The amount of consolidation on the wholesale end of the business has been phenomenal," he says. It's had a streamlining effect on the business: "Today most lines are exclusive, so instead of spending your time competing with other distributors to grab market share, you spend time brand building, working on the right marketing and merchandising, all the proper things you need to get done to promote the brands and to get them moving forward." Through the many industry mergers, Fisher has brands he's worked on for most of his career, and in the case of Smirnoff, since he started in the business at Heublein. "I've had the privilege of working with some of the best suppliers in the world, like E&J Gallo Winery, Diageo, Pernod Ricard, and Moët Hennessy USA," says Fisher. The number of suppliers he's worked with and brands he's touched over the course of his career is vast.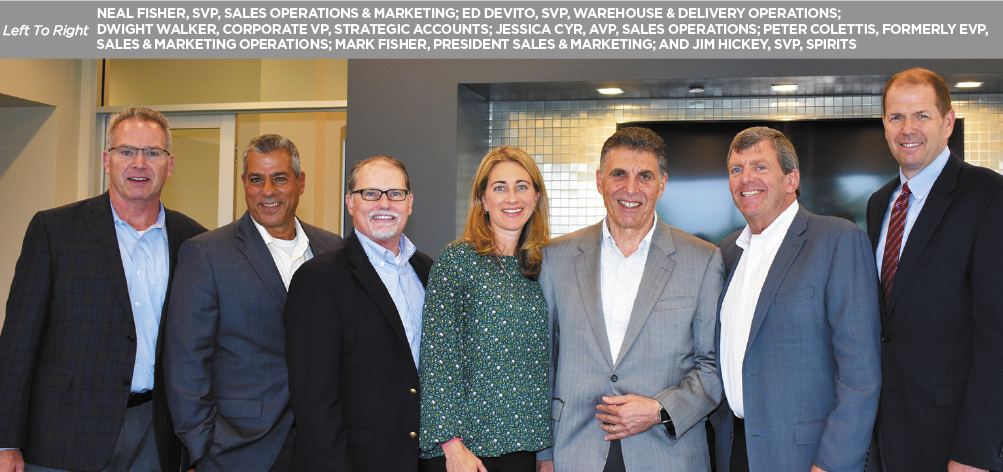 Another notable industry change in Massachusetts has been the shift from a completely independent retail market to one with a growing number of national chains. "We have club stores that came in, grocery stores, and the number of licenses allowed has increased," says Fisher. He describes Massachusetts today as a kind of hybrid market, where "the independent world used to be the whole world, and now it's a smaller piece, but still a major piece of the business." For all the changes Fisher has witnessed since 1981, he says the core of the business has stayed the same: "It's still about distribution, getting products placed on the back bar, and building a brand one drink at a time." Off-premise, Fisher says, "is about merchandising properly, making sure the store sets are in perfect shape, whether that be displays, shelf sets, counters, that part of the business hasn't changed." It's been a dynamic time, and Fisher's forward-thinking approach has allowed him to adapt these best practices to the market's changing needs.
Adaptability is also a hallmark of Fisher's leadership: "Mark has got a direct style and a definitive point of view on most things that he's presented with, but he's flexible," says Gary Keimach, Senior Vice President, Supply Chain & Pricing Strategy, who has worked with Fisher for over 3O years. "If presented with additional facts or something contrary to his original point of view, he will consider that," says Keimach, even on topics where he is very opinionated. "I've seen him over the years be very considerate and accepting of a point of view that maybe he didn't originally consider and change his stance. It speaks to his leadership," says Keimach. "He's present. He's accountable. He leads by example."
"Between my beer, wine and spirits career I've probably managed close to 1OO different distributors in different states around the country," says Joe Lehane, who has worked with Fisher for over 15 years, first as a supplier at Diageo and today as Chairman for YaVe Tequila. "Mark is one of the best people, executives, and managers that I've worked with over the years. He's smart, he's tough, he's fair, he's fun, he's honest," says Lehane. "I've had difficult conversations with Mark over the years, but it's always with positive intent, and I really enjoyed our personal and professional relationship."
"You might have a spirited debate with Mark," says Melissa Linehan, who has worked with Fisher for the past 15 years as a supplier, "but it's always for mutual growth." Linehan was a supplier at Terlato Wine Group, later with Rodney Strong Vineyards, and most recently with Pernod Ricard, where she will move into a new role as Vice President of Commercial Marketing this month. She describes business negotiations as always with the best interest of both parties in mind: "It's always for mutual growth, conducted in such a kind and honorable way that you walk away with a smile on your face, knowing that you'll be able to go celebrate over a cocktail afterwards."
MENTOR TO MANY Fisher has spent 29 of his 4O years in the business in executive level positions, a testimony to his formidable leadership. "You can't ask for anything more than what he gives in terms of being a leader," says Keimach. "He's got an inside and out knowledge of the industry that is really second to none. I've known him for over 3O years. It's been a privilege to work for him and with him over all that time."
"Shortly after joining the Company in 2OO6, Mark quickly became a mentor and then a strong sponsor for my career development at Martignetti," says Jessica Cyr, Assistant Vice President, Sales Operations. "He has an amazing ability to see your capacity and abilities, then challenge you to live up to those abilities. He absolutely makes the people around him better because he doesn't settle for anything but Best in Class."
Fisher's work ethic is legendary. "Nobody outworks Mark," says Jim Hickey, Senior Vice President Sales, Spirits for Martignetti Companies. Hickey has worked for Fisher for two decades and called on him as a supplier rep for three years. "Mark's work ethic is 24-7 dedication to performing for the company, and his level of integrity is untouchable. Nobody replicates his honesty, his transparency. The fairness that Mark operates with, both as a business professional, and in his personal life is remarkable," Hickey says. "Mark delivers for the Martignetti Companies. It's not about what's best for Mark Fisher, it's about what's best for the company. It is an amazing example and the engine that drives our company," Hickey adds.
"Mark has been a tremendous leader for us for so many years, he will be truly missed. His passion, drive and work ethic for the task at hand are unmatched by anyone," says Dean Crandall, Chief Financial Officer for Martignetti Companies. "I speak for many, as well as for myself, when I say that he has been a mentor but more importantly he has been a friend. I wish him all the best in his retirement."
Fisher is as known for his compassion as he is for hard work. "He's passionate about the business, and he's really passionate about the employees of the company and their families," says Ron Weathers, Vice President, Connoisseur Division for Martignetti Companies, who has worked with Fisher since 1996. "He's one of those individuals who sends thank you notes for everything, sympathy cards. He's a tough and driven manager, but he's very compassionate, and understanding of the employees and things they're going through." In this regard, Fisher strikes a balance that isn't always easy to find as a leader.
Chris Conrad, who will take over as President, Sales and Marketing this month, describes Fisher as having unparalleled energy and capacity: "Mark prepares better than anyone I've ever met for every single day. He gets up very early, and he's always the best prepared in the room," says Conrad. Fisher is known for an ability to retain all sorts of details and information: "Sometimes if he corrects me about a number or a detail that I've missed, I joke with him and say: 'How come you're always right?'" says Conrad. "He brings a capacity to the industry that is second to none, with his knowledge, his passion, his preparation, and his ability to make decisions so thoughtfully." Fisher has an extraordinary memory, and no small detail goes unnoticed. But he doesn't belabor mistakes, says Hickey. "I can tell you from personal experience. It's an amazing attribute that he possesses: if an issue comes up, Mark Fisher will let you know about it, but once it's been addressed, it's like it never happened." He is not one to dwell on the past.
Fisher is famously responsive to both colleagues and customers. "I don't know anybody, in the business or otherwise, who calls back or answers the phone faster than he does," says Bob Selby of the Kappy's retail chain. "Whether he's here in Massachusetts, in other parts of the country, or other parts of the world, if I call him to leave a message, it's usually 1O minutes or less before I hear back," says Selby. The two have worked together since Fisher took over the Massachusetts market for Schieffelin & Somerset in 1987, and even more closely since he moved to the wholesaler side in 199O: "Mark and I have been in this mess a long time. He's a great guy. He's always very accessible, and great to do business with. Any problems, any issues, he takes care of them faster than anybody," notes Selby. "He works harder than anybody."
Joe Lehane describes the same level of attention, access, and lightning-fast response time as a supplier partner. "His follow up is ridiculous for someone running a business that big. He has treated our little tequila brand with so much respect and importance. I really, really appreciate that. I don't take it for granted."
"Mark works tirelessly with everybody that Martignetti touches in terms of business," says Melissa Linehan, "No matter how big or small of a supplier you are, he always gives you time and makes you feel like you're a priority. I've always appreciated his approach to the business," she says, working with a shared goal "of mutual growth between the distributor and the supplier. His goal is to meet the needs of the distributor, but overall industry growth is something he's super passionate about, and it comes through every day."
"He could be one of the most authentic people I've ever met in my life," adds Lehane. "He and I have had a very trusting and transparent relationship. It was an important business relationship that was filled with a lot of pressure," he notes, "And just an absolute pleasure getting to know him personally and professionally."
UNPRECEDENTED TIMES, REMARKABLE LEADERSHIP No amount of experience or business acumen could have prepared Fisher, or the beverage alcohol industry at large, for the challenges that 2O2O would present. "It never crossed my mind that I might live through a pandemic," says Fisher, "not in a million years. I had no idea what a pandemic really entailed." It was an unprecedented moment of uncertainty, for the industry and the world. "I am proud to say that during the pandemic, Martignetti Companies helmed by Carmine and Carl Martignetti, did not lay off or furlough one individual," says Fisher. As distributors and suppliers across the country laid off tens of thousands of personnel, Martignetti Companies kept all their staff employed, paying a minimum of their team's 2O19 earnings. "It's an amazing place to work and the two owners are just incredible people," says Fisher. "Nobody in any industry treated their employees better than the Martignettis during the pandemic." With lockdowns in the rear view, at least for now, and the business back to some semblance of its pre-pandemic self, Fisher highlights the new avenues for success that have emerged in the beverage alcohol industry: "It was unquestionably a great time for e-commerce, and we saw how well things like Drizly and Wine.com did," says Fisher. "The truth of the matter is the business far exceeded anybody's biggest expectations."
2O2O also saw a racial justice reckoning in the aftermath of the murder of George Floyd, which propelled diversity, equity, and inclusion to the forefront of every industry, beverage alcohol included. Fisher speaks passionately about the need for institutional change. "If you go to industry events, you run into a lot of people that look just like me," he says. "We need to get people of color and women into higher level management jobs. We need to make sure that we are promoting people and putting them in a position to win." Today, Martignetti Companies is working with full time DE&I consultant, Dr. Tom Bourdon, to create more opportunities for people of color and women within the company. "It can't be something that you just do when the heat's on. It's something that you've got to continue building and moving forward," says Fisher. "I think the DE&I movement is fantastic, and our company is fully committed to it."
"Mark is a big presence with an even bigger heart. When I started in this business in 1999, I didn't have any connections to the Company. Yet, I got to know him early on and he sponsored me throughout my career," says Nicole Olivier, Vice President, Excel Division for Martignetti Companies. "When I became pregnant with my first child, I was worried about how it would affect my career plans, but he worked with me and for that I worked harder for him. He was an early advocate of women in this industry, and a valued friend and mentor."
Since 2O14 Martignetti has produced an annual Women's Beverage Alcohol Symposium, which was born out of a dinner conversation between Fisher and Carol Francolini, who was then the New England Regional Manager for C. MONDAVI & FAMILY and works today as Division Manager, New England, for 375 Park Avenue Spirits. "I said, I really think we need to do something to promote women in the beverage alcohol industry," says Fisher, "so at dinner that night we came up with the idea of putting together the first annual Martignetti Women's Symposium. Then, as any good leader would do, as soon as we got a committee together to work on it, I got out of the way. They've done an unbelievable job over the years bringing the event to levels we had never imagined." Fisher is proud of the symposium, and for good reason: "He's championed women, and diversity," says Linehan, who also describes Fisher as a mentor and someone who has helped and supported her throughout her career: "He's done a great job with that, and the symposium is probably the most well done in the northeast."
WHAT LIES AHEAD As Chris Conrad steps into his new role as President, Sales and Marketing this month, Fisher's endorsement could not be stronger: "He is a tremendous human being and he will take this company to the next level, there's no doubt in my mind," says Fisher. "His work ethic is unparalleled and his desire to succeed is tremendous. I think he is going to really drive the business in the next 1O years, and I couldn't be happier to hand the reins over to Chris Conrad, I can tell you that for sure," says Fisher. "I know that I can't replace Mark Fisher," says Conrad, "and I'm incredibly honored that Carmine and Carl felt that I was the right choice to backfill Mark." Conrad is in his 27th year with Martignetti Companies, most recently serving as Senior Vice President, Wine. "This is an incredible company with a lot of very talented people, and we will continue to evolve. The industry is very dynamic right now, and our goal is to stay ahead of that curve and continue to evolve the business so that we remain best in class with our people, education, training, technology, and most importantly of all supporting, building and continuing the great relationships we have with our customers and suppliers."
Fisher leaves behind a legacy of great leadership that has impacted the beverage alcohol industry across New England, and beyond. "Rhode Island Distributing and the Mancini Family have had the honor of working closely with Mark Fisher for over 35 years," says Ken Mancini, President. "Mark set the highest standard for excellent leadership, team building and integrity that few managers could match. His tireless energy, competitive spirit and industry expertise are unrivaled. The deep professional and personal relationship the Mancinis enjoyed with Mark through the Martignetti Partnership is something we will always treasure. Mark's wisdom, counsel and mentorship will be sorely missed. Congratulations to Mark on his incredible career and inspirational leadership!"
"Since our founding more than a century ago, there have been few, if any, who have contributed as much as Mark to our Company," say the Martignettis. "Mark has played a vital role in establishing our leadership position in the New England market and nationally. While our entire Company will miss him greatly, he leaves a personal and professional legacy that will benefit us all for many years to come. We wish Mark a happy and healthy retirement."
As for Fisher's retirement plans, after forty years shaping the beverage alcohol industry in Massachusetts and beyond, Fisher has rest, relaxation, and fun on the agenda: "I'm looking forward to spending time with my grandchildren and relaxing. I'm a sports fanatic, so I'm looking forward to being able to stay up late and watch games," says Fisher, who usually starts his work days at three or four o'clock in the morning and caps them with a business dinner or work event. He's excited to not have an itinerary, he says, "but first and foremost to spend time with my children, grandchildren, and my wife, maybe do a little bit of traveling, and spend a lot of time with sports."
"I'm a simple person," says Fisher. "When I took the job with the Martignettis I told them I only care about three things: My job, my family and sports. And they told me 15 years later, I couldn't have been more spot on because that's all I seem to care about: my job, my family and sports." A better word to describe Mark Fisher is focused, and as he closes the chapter on his forty-year career and takes work out of the equation, it is a bittersweet moment for the industry. "He is an innovator and pioneer in the industry," says Carol Francolini. "He raised the bar for professionalism and excellence in the trade, and he will be greatly missed."