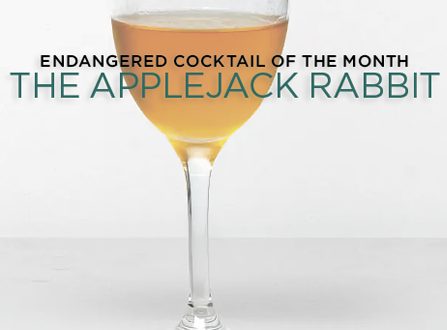 ENDANGERED COCKTAIL OF THE MONTH: THE APPLEJACK RABBIT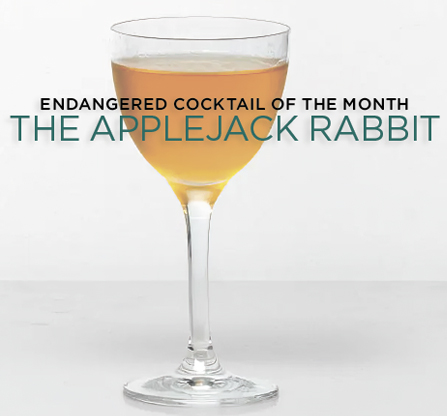 by PINK LADY
We love to drink applejack any time of year, but it feels especially cozy to do so in the fall here in New England. The leaves are changing, temperatures are dropping, and autumn pastimes are back, like Sunday brunching, corn mazes, apple picking, and day drinking as you cheer on the Patriots. The Applejack Rabbit is a classic cocktail with modern resonance, perfect to whip up for the next tailgate.
The Applejack Rabbit recipe first appeared in 1927 in Here's How, a quirky Prohibition-era cocktail book written by Judge Jr. (cartoonist, illustrator and JUDGE magazine editor Norman Hume Anthony.) The book provides a neat little window into what and how people were drinking during Prohibition, one that will most likely make you very happy to be patronizing bars in 2O21 (Spoiler alert: good ingredients were hard to come by then and it shows.) You'd be hard pressed to find a copy of the book today for less than a small fortune, but the Internet provides: digital editions of the second and third printings are easily accessible to page through, and the toasts and recipe notes are fun. The Applejack Rabbit toast: "Here's to the National Bird — the swallow!"
Before acclaimed bartender Jim Meehan opened the now world-renowned speakeasy PDT in 2OO7, he contributed mightily to the cocktail revival of the early aughts by dusting off and fine-tuning endangered cocktail recipes like this one. The Applejack Rabbit made its way into the rotation while he worked at Gramercy Tavern, turning on a whole new generation to the delights of America's oldest distilled spirit. Lisa Laird Dunn, the 9th generation family member at the helm of Laird's applejack, called the drink a revelation.
The drink is just as refreshing today as it was in the early aughts, or the 192Os, and provides a fun drinks history lesson to drop during half time.
APPLEJACK RABBIT
2 OUNCES of Laird's Bonded Apple Brandy
3/4 OUNCE of lemon juice
3/4 OUNCE of orange juice
1/2 OUNCE of Grade B Maple syrup
SHAKE ingredients with ice. STRAIN into
a chilled coupe glass. No GARNISH.
Cin-Cin!