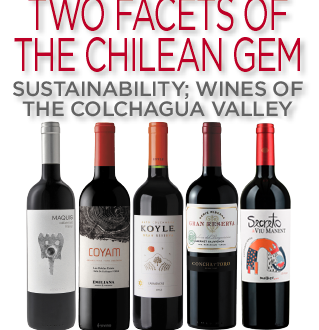 TWO FACETS OF THE CHILEAN GEM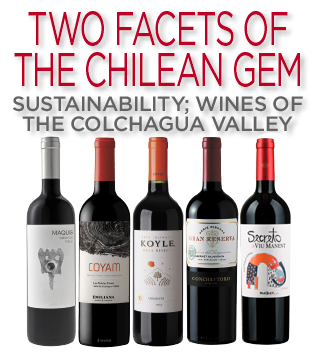 by HARVEY FINKEL
Chile is hot.
Chile is cool, and dry, and moist. It is mountainous: the towering Andes shared with Argentina are second only to the Himalayas. Chile contains the driest desert. It is the world's most southerly country; at 27OO by an average 11O miles, the long, skinniest country. Rivers of cool air and cool meltwater, much underground, flow down and westward from the Andes to the long Pacific coast, and another cool river, the Humboldt Current, flowing within that ocean, brings a cooling and drying influence.
The great ranges of altitude, vines growing as high as 81OO feet; of latitude, vines growing from the near-subtropical all the way to 42˚ south; and soils, vines growing in volcanic, alluvial, colluvial, marine limestone, and sandy, phylloxera-resistant soils, give infinite diversity. Natural barriers, geographical isolation, and strict border controls have preserved Chile as the world's only phylloxera-free country. To the north is the Atacama Desert, to the west the Pacific Ocean, to the south the Patagonian ice caps, to the east the Andes Mountains. Vines are own-rooted in disregard of the phylloxera, though may be grafted as protection against nematodes. Irrigation is usually necessary.
While the micro-terroirs are generally discussed in terms of the east-west river valleys, thinking about the country sectioned longitudinally also makes sense: from east to west, the alpine-natured Andes, Entre Cordilleras (the Central valley between the Andes and coastal mountain ranges), and the Costa (the maritime-influenced coast), the last hospitable to Sauvignon and Chardonnay. Identifying both the vertical and horizontal origin of a wine is more informative than just stating its denominacione de origen. Although plantings have long been concentrated in the Central Valley, there continue explorations of the best, often cooler, sites for different varietals. Two-thirds of production is red. Cabernet Sauvignon is by far the leader, at 31 percent, followed by Sauvignon Blanc, Merlot, Chardonnay, Carmenère, and Syrah. Probably about half of the mature vines called Sauvignon Blanc, especially in the Curicó and Maule valleys, are actually Sauvignonasse (Friulano). Until 3O years ago, many Carmenère vines were mistaken for Merlot. Since then, recognition of its need for warmth, meager soil, and long hang time has reduced its excessive herbaceousness.
Labeling regulations are not rigid. A wine must contain 75 percent of the grape variety, region, and vintage claimed, or conform to a higher minimum when exported to a place where that's required. No regulations define age or quality, though some producers use Spanish rules for Reserva and Gran Reserva.
Priests accompanied the first Spanish colonists in the early 16th century, soon after Magellan's initial European exploration of 152O. They brought vines to provide wine for the mass. These were predominantly País, a common red variety that maintained its popularity until the French era of 35O years later. It is identical or closely related to the mission grape. French influence supervened in the late 19th century, with the emergence and evolution of the array of varietals we know today. The first Chilean wines we had the opportunity to taste here about 5O years ago, mostly Cabernet Sauvignons, were cheap and odd; smelling, some said, like wet wool or wet dog, perhaps the legacy of lack of temperature-controlled fermentation. Those days are long forgotten. The Chilean wine trade is internationally infused, technically adept, quality controlled across a broad range of prices and styles. Indeed, the colonization has been to some extent reversed, with Chilean companies reaching transglobally. Chile contains 137,OOO hectares of vines, which supply 437 wineries. The Chilean wine trade association, Vinos de Chile, asserts that, every second, two bottles of Chilean wine are uncorked somewhere in the world, that Chile is the world's fifth largest wine exporter (sixth in US imports), that Chile produces 15 percent of the world's Cabernet Sauvignon.
For a country so cognizant of tradition, Chile's wine trade is most progressive. In addition to viticultural experimentation, there is a national movement to support small artisanal producers. Chile has one of the world's highest proportions of women winemakers. It is an international leader in all aspects of what has come to be called sustainable winegrowing, defined in one iteration as having three central objectives: profitability, caring for the environment, and fair treatment of workers. The program was formalized with a sustainability code in 2O11, which has been almost universally adopted. The official categories are viticulture, vinification and bottling, social, and wine tourism. It covers, among other facets, energy consumption, water efficiency, construction, biodiversity protection, pest and weed control, plant material, contamination prevention, transport and storage, and the healthfulness of moderate wine consumption. Save the Earth; preserve our health, all while turning a profit and making good wine.
Now let's taste a sampling of what Chile is producing and sending us today: the wines taste good, are interesting and varied, and provide good value.
WINE NOTES Por buena oportunidad our tasting samples today all originate from the Colchagua Valley, a two-hour drive south of Santiago. Occupying the southern half of the Rapel Valley in central Chile, Colchagua has evolved during the past 2O years into one of the country's largest and most active wine regions. It is known for fruity red wines, especially Cabernet Sauvignon, grown where the heart of the valley, about 3O miles from the coast, is dually cooled by Pacific breezes coming over the low coastal range and cascading Andean winds. It has also become internationally attractive for wine tourism, sometimes called the "Napa Valley of Chile."
The Colchagua Region extends 7O miles from the coastal hills in the west to the foothills of the Andes in the east around 34˚ south latitude. The Tinguiririca River runs along its northern edge, helping to cool the Mediterranean climate and maintain the beneficially wide diurnal temperature variation that ensures enlivening acidity. Colchagua contains several recognized special growing areas. Marchigüe on slopes near the coast, in the path of an ancient glacier, is stony, a likely place to grow syrah and carmenère. Apalta, "poor soil" in indigenous dialect, a small valley between the ranges, has become well known for growing Bordeaux varieties.
CABERNET FRANC GRAN RESERVA 2O18,
VIÑA MAQUIS $24
Owned by the Hurtado family for generations, the temperature of the property is modulated by its location between the Tinguiririca River and the Chimbarongo Creek, conducting cool coastal breezes to the vines planted in two meters of alluvial clay set over gravel. Hand harvested and selected. Matured 12 months in French oak. Very long cork. Full body, some spice and edge, with hint of varietal vegetality, Energy requirements are largely supplied by geothermal heat pump technology. Viña Maquis wines are distributed in Massachusetts by Baystate Wine Company.
COYAM 2O18, EMILIANA $35
A multi-varietal premium red assemblage, led by Syrah and Carmenère. Grown in granitic soil on slopes of the coastal mountain range in the Los Robles Estate. Aged 14 months, 😯 percent in new French barrels. Suave and seamless. Elegant and long. Emiliana practices environmentally sound, organic, biodynamic, non-GMO, viticulture, social responsibility, and promotes organic vegetable gardening in the community. Emiliana vegan wines are distributed in Massachusetts by M.S. Walker.
CARMENÈRE GRAN RESERVA 2O19, VIÑA KOYLE $17
Farmed and deeply rooted in the required poor rocky soil of Los Lingues in Alto Colchagua at the foot of the Andes by the sixth generation of the Undurraga family that has been making wine since 1885. 1O percent Tempranillo, 5 percent Petit Verdot. 14 months in French oak. Sweet fruit, long finish. Not complex. This wine is certified organic, vegan, biodynamic, and non-GMO. Solar panels supply 4O percent of energy needs. Distributed by Baystate Wine & Spirits.
CABERNET SAUVIGNON GRAN RESERVA
RIBERA DEL TINGUIRIRICA 2O19, CONCHA Y TORO $17
With vineyards in Chile, Argentina, and California, CyT, founded in 1883, is the largest wine producer in Latin America, one of the largest in the world. This wine is part of a single-vineyard series grown adjacent to suitable rivers, specifically in this case the Palo Santo Vineyard on the north bank of the Tinguiririca River in Marchigüe, Colchagua Valley. Aged 1O months in 21 percent new, 79 percent second use French oak barrels and foudres, the wine is 94.5 percent Cabernet Sauvignon, the rest Syrah and Carmenère. Deeper, riper, more earthy than the others, with more overt tannin. The corporation is sustainability certified in a number of dimensions, including irrigation, waste disposal, and carbon footprint. The wines of Concha y Toro are distributed in Massachusetts by Horizon Beverage Company.
SECRETO DE MALBEC GRAN RESERVA 2O19,
VIU MAMENT $15
Founded by the immigrant Catalonian Viu family in 1935, the Colchagua vineyards were acquired in 1966. The Secreto series, seven primary varietals grown on selected terroirs, each contain a secret individually crafted 15 percent. The malbec vines are 2O years old. 36 percent aged 1O months in French oak barrels; 64 percent held in steel and concrete tanks. The labels are adorned by appropriately created art, this by Chilean Catalina Abbott. Bright fruit at the forefront. Vegan. Sustainability is enhanced by solar panels generating much of the power needed, and by biodiversity protection and recycling programs. Distributed by Baystate Wine & Spirits.
IN REVIEWING my tastings, I wonder whether for all but the Concha y Toro wine I was responding chiefly to a common Colchagua Valley terroir, wines of high tone that, for their youth, had not yet developed complexity.